Nigella Lawson Just Dropped A Gluten-Free Banana Bread Recipe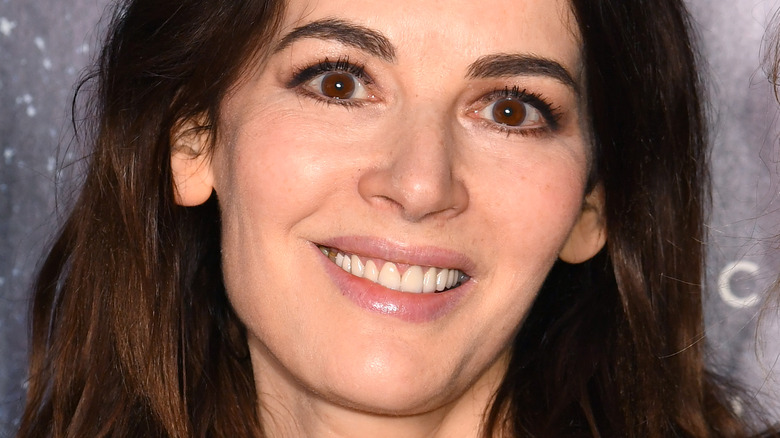 Dave J Hogan/Getty Images
It's not every day that you come across a gluten-free recipe that would easily pass for one that's gluten-filled. Even the most practiced bakers balk at the task of creating something that's gluten-free yet delicious.
Gluten-free baking is not as simple as omitting the ingredients that contain gluten. Each component of a baked creation has a different reaction and response to the other ingredients. For example, gluten-free flour contains more starches and, therefore, absorbs more liquid, according to Simply Recipes. This means that these recipes also require more liquid than a non-gluten-free recipe would, and the resulting batter will be looser instead of the thick consistency one may be used to. Furthermore, gluten-free batters bake longer because of the excess liquid. Some of the mistakes you can make with gluten-free baking include not executing precise measurements or using the wrong binding ingredients (via Prevention.com)
Now, Nigella Lawson has revealed a gluten-free banana bread recipe that promises to eliminate all of these gluten-free pitfalls and give you a delightful result.
Nigella Lawson's banana bread offers universal delight
Attention, everyone who either needs or prefers gluten-free bakes: Nigella Lawson just birthed a gluten-free banana bread recipe that boasts both walnuts and chocolate. The superstar cook tweeted a photo of the finished product, and it has her followers drooling over its melty chocolate chips and moist-looking crumb.
"We all need to hang on to a bit of sweetness right now," Lawson wrote in her tweet advertising the recipe. On Lawson's website, where the recipe can be found, Lawson wrote that this banana bread offers "universal delight." Yogurt, oil, and eggs give the banana bread all the moisture it needs with the ground almond flour used in the recipe. Even better, the finished loaf can be wrapped and frozen for a treat you can enjoy for up to three months.
Twitter followers have been thanking Lawson for her latest release. One user wrote that they would be making the banana bread in large batches. "I will make 6 and hide 4 from my children," they said. Another person responded, "Lovely!!! Thank you for this one especially!" with a heart emoji.