7-Eleven Is Bringing A Fan-Favorite Fall Flavor Back Early
Whether you need something to kick start your morning or an afternoon pick-me-up, coffee is always a good idea. As Moving Beans notes, there are so many things to love about this popular beverage, from the smell and the taste to its energizing and mood-boosting qualities. And let's not forget about the social opportunities it provides. Drinking coffee at a cafe is the best excuse to meet up with friends and catch up for hours on end. 
One of the best things about coffee? It's always in season. From peppermint mochas in the winter to pumpkin spice lattes in the fall to iced coffee in the summer, there's a coffee drink for every month of the year. Now that warmer weather has begun to arrive in full force, coffee chains and local cafes have begun to shift their menus towards cold and refreshing beverages. That said, 7-Eleven seems to have thrown a wrench into the typical spring coffee trends, and instead has debuted a traditionally fall-flavored coffee (via PR Newswire).
A wide variety of beverages and syrups for springtime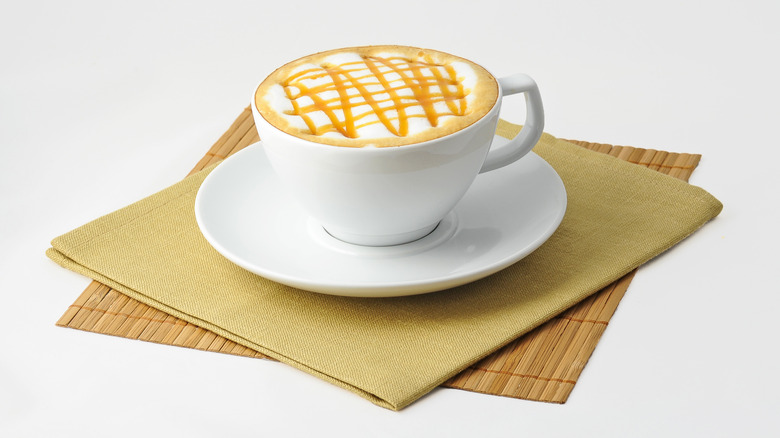 Jean Robert Fareou/Shutterstock
From pumpkin and salted caramel to chai and apple cider, there are many comforting flavors that perfectly capture the essence of fall. While many individuals impatiently await September, when fall-flavored drinks begin to appear on menus, it would be unusual to spot someone sipping on a pumpkin spice latte in the middle of July. Why? Because the flavors and the temperature just don't complement the season. Indeed, outlets like Food Sided are acknowledging that it's a bold move for 7-Eleven to roll out a salted caramel coffee in the middle of spring. While this sweet and salty coffee drink may air on the richer side, salted caramel lovers will have the chance to opt for this beverage despite the seasonal mismatch (if only it was salted caramel iced coffee instead!). 
To help balance out its spring line-up, the convenience store chain has also debuted a more seasonally appropriate offering: lavender syrup. Subtle, light, and sweet, this floral flavor is wonderfully suited for this breezy, flower-filled season (via Serious Eats). Lavender also happens to be an ideal addition to a caffeinated beverage, and can also taste right at home in other dairy-based treats like ice cream and shortbread. According to a press release, 7-Eleven recommends that customers use this syrup in its Lavender Honeybee Buzz drink. This concoction calls for iced coffee, creamer, one pump of honey-flavored syrup and two pumps of lavender syrup.