Air Fryer Plantains Recipe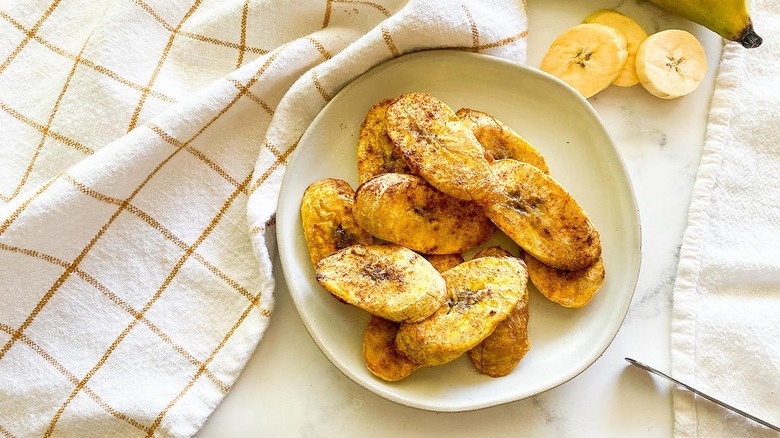 Miriam Hahn/Mashed
Plantains may look like bananas, but they sure don't taste like them. Bananas are primarily eaten plain or used for desserts as they have a sweet flavor, but plantains are far starchier and not all that sweet. While recipe developer Miriam Hahn says "you can make plantains either sweet or savory," if you want them sweet you'll probably want to add sugar or another sweetener to boost the flavor. Yet another difference between the two is that while bananas can, and often are, eaten raw, plantains must always be cooked.
One typical way of serving plantains is to fry them, but here Hahn uses the air fryer instead. She says using this appliance "is an easy way to cook these," adding that "you won't waste time preheating the oven or heating up the kitchen." Hahn calls these air-fried plantains "a super easy side dish or snack," particularly in that they require very few ingredients to make. She notes that plantains have their health benefits, as well, telling us they are "high in fiber and also vitamin C, making them great for the immune system." A delicious snack that's easy to make, tastes good, and is good for you? Count us in.
Collect the necessary ingredients to make air fryer plantains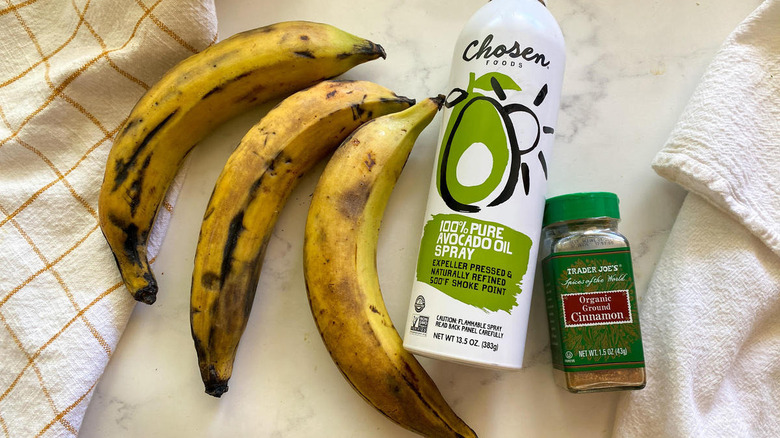 Miriam Hahn/Mashed
To make air-fried plantains, all you really need are the plantains, plus some cooking spray (Hahn likes to use the avocado oil kind, but any cooking spray will work). You may also with to add flavorings. Hahn says she likes to use cinnamon, saying "it adds a little something extra without making them too sweet," but she notes that you could leave it out. If you don't want plain plantains, you can always use savory seasonings such as salt and garlic powder.
Prepare the plantains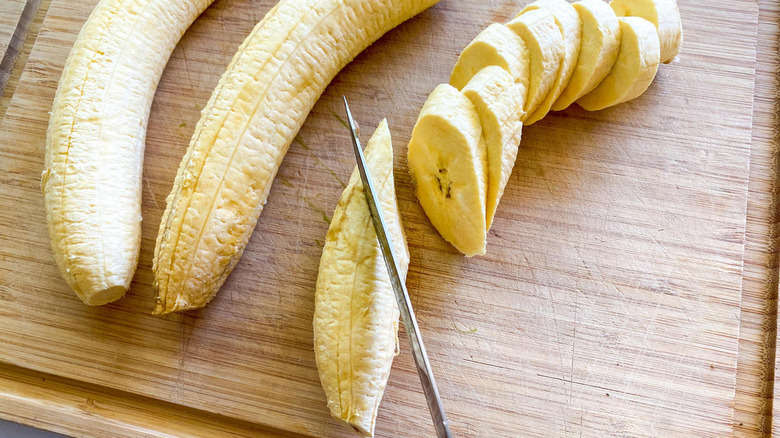 Miriam Hahn/Mashed
The first step in prepping your plantains is selecting them at the store. Hahn explains that "a ripe plantain is yellow with some black," and says that green ones will need to be left out at room temperature until they ripen. All-black ones, she says, are "just too soft to work with."
Once you've got your plantains, you'll need to peel them. Hahn advises cutting the ends off first, then using a sharp knife to score the peel all the way down the length of the plantains. Once you can get a finger inside, peel that skin off, then slice the plantains into rounds (or ovals) ½-inch thick.
Cook the plantains on one side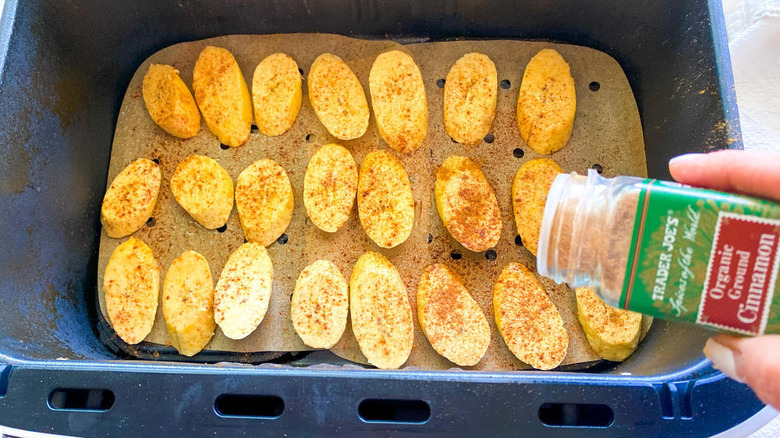 Miriam Hahn/Mashed
Put the plantain slices on the air fryer rack, leaving a little room between each one. "Based on the size of your air fryer," says Hahn, "you might have to work in batches." Spray the slices with cooking spray, then sprinkle them with any desired seasonings: cinnamon, sugar, salt, or anything else you wish to flavor them with. Set the air fryer to 400 F and cook the plantains for 6 minutes.
Flip the plantains and keep cooking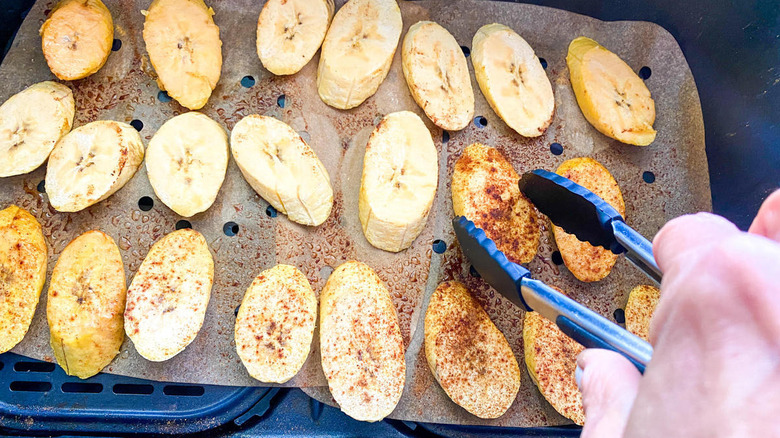 Miriam Hahn/Mashed
Once the air fryer timer goes "ding!", open up the unit and flip the plantain slices over. Spray the other side with the cooking spray, then sprinkle them with your chosen seasonings. Cook them for 6 more minutes, then check the color. If they're golden brown, they're good to go. If not, give them another minute or three.
Hahn says plantains are often served alongside pork, beans, or rice, and says "They make a good side dish for many things like food off of the grill or saucy stews." If you've sweetened your plantains, she suggests they're "great dipped in whipped cream or even peanut butter."
Air Fryer Plantains Recipe
Plantains make a great snack, and this air fryer plantains recipe provides an easy and quick way to prepare them.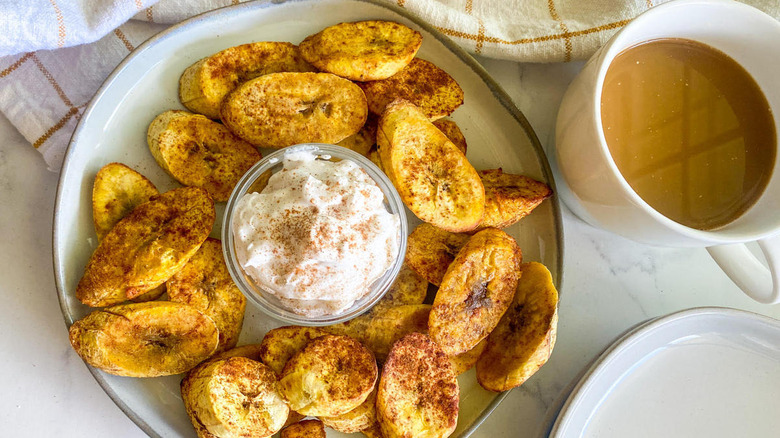 Ingredients
3 plantains
cooking spray
1 teaspoon cinnamon
Optional Ingredients
Directions
Cut off each end of the plantains. Slice through the peel for the entire length of each plantain, then remove the peel. Slice each plantain into ½-inch thick rounds.
Arrange the slices on the air fryer rack, leaving space in between each one.
Spray the plantains with cooking spray and, if desired, sprinkle with cinnamon and/or sugar.
Set the temperature control to 400 F and cook the plantains for 6 minutes.
Open the air fryer and flip each plantain over, then spray the other side with oil and add the cinnamon and/or sugar if using. Cook the plantain slices for 6 more minutes.
Check the color of the plantain slices – if they are not golden brown, cook them for 2 to 3 minutes longer.
Once the plantains are cooked, serve them immediately and enjoy.
Nutrition
| | |
| --- | --- |
| Calories per Serving | 326 |
| Total Fat | 16.4 g |
| Saturated Fat | 1.2 g |
| Trans Fat | 0.0 g |
| Cholesterol | 0.0 mg |
| | |
| --- | --- |
| Total Carbohydrates | 47.5 g |
| Dietary Fiber | 3.4 g |
| Total Sugars | 20.2 g |
| Sodium | 17.4 mg |
| Protein | 1.8 g |