Aldi Shoppers Are Excited About This Year's German Week Specialties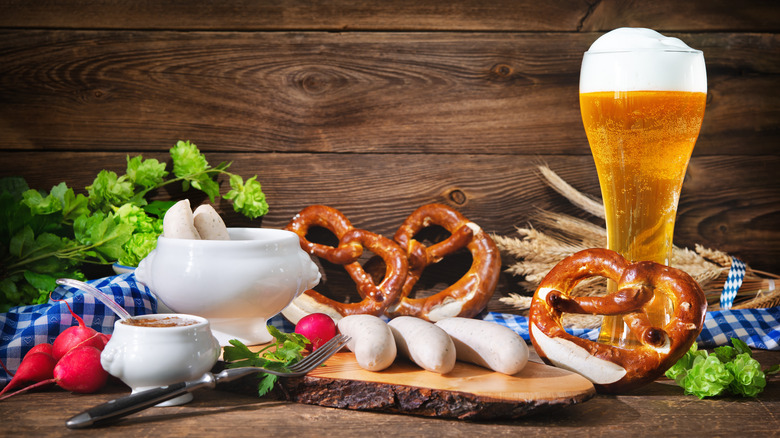 Alexander Raths/Shutterstock
Although Aldi is now a popular grocery chain around the world, the store got its start in Germany, when Anna Albrecht opened the first location in Essen in 1913. Her two sons took over the store in 1948, and within sixty years they had expanded to thousands of locations worldwide, according to Business Insider. However, the store hasn't forgotten its German roots. Each year, the store pays tribute to its heritage by hosting a biannual German Week, during which store shelves are stocked with a variety of German products (via Aldi Things).
Aldi's German Week is usually held twice a year: Once in the fall to coincide with the German festival of Oktoberfest, and another time in the spring. For most locations, this year's spring German Week started on May 4, meaning the shelves at participating stores are stocked with Deutsche Küche meals and desserts. And based on some of the responses on social media, these limited-edition European goods are a hit with many Aldi fans.
Some German Week favorites
This week, the official Aldi Instagram account (@aldiusa) made a post alerting their followers "German Week is here!" This year's offerings include savory snacks, like a box of classic Bavarian soft pretzels and jars of Deutsche Küche beer mustard and sweet mustard to pair them with (via Mashup Mom). Shoppers who are craving a full German meal can also pick up a box of frozen pork schnitzels and a package of German cabbage blend for the side. And if desserts are more your thing, Aldi is offering no shortage of Deutsche Küche-branded German desserts and sweets, including apple strudel, chocolate covered wafers, and cakes like donauwelle and bienenstich, as well as a Specially Selected German chocolate mousse cake.
Many Instagram users reveled in the excitement over German Week's return. "I love German week!! I stock up on the purple cabbage to last me until next time!" @mhhetzel celebrated, while another user called it "My favorite time at ALDI!!" "Worst part is I need much more freezer space!!!!" @trudytbo joked, while @ilpiuoscuro said "Honestly, German week should just be a permanent thing." It doesn't seem like the chain has any plans to do that anytime soon, so fans will simply have to stock up on their favorite German items while they can.