Costco Members Are Pumped To Try Its Massive Strawberry Shortcake Cheesecake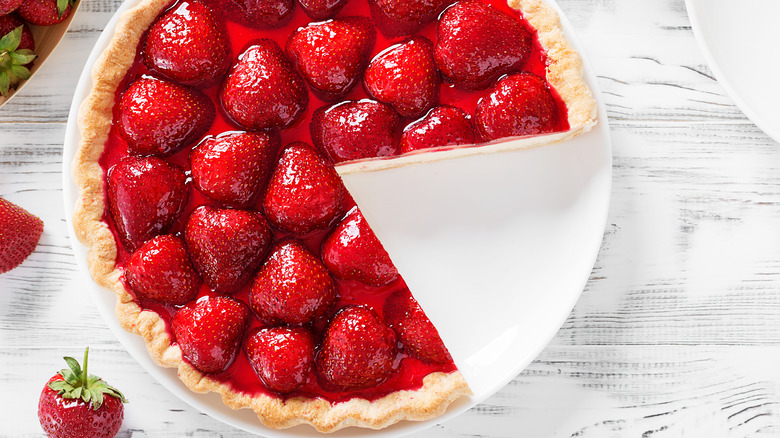 nelea33/Shutterstock
In its most basic form, cake has been around since at least ancient Egypt, when ancient Egyptians would bake bread sweetened with honey, nuts, and fruit. However, it wasn't until around the 17th century that bakers were able to get even more creative with their cakes, thanks to the invention of more advanced ovens, improved baking tools, and access to better ingredients, according to Food Timeline. By the 19th century, refined white flour and baking powder arrived on the baking scene, bringing with them the sweet, moist, frosted type of cakes that we know and love today.
But cake innovation didn't stop there. These days, there are upwards of hundreds of different types of cake recipes out there, from layered cakes and pound cakes to biscuit cakes and even flourless cakes. Perhaps one of the most popular cake types is strawberry shortcake, which is traditionally a type of sweet biscuit cake topped with strawberries and sugared frosting. This cake first appeared in "Miss Leslie's Ladies Receipt Book" in 1847, per Love to Know. However, strawberry shortcake recipes have come a long way since then, and now, the popular wholesale store Costco is offering a decadent new strawberry shortcake cheesecake that has some of its fans drooling.
This strawberry shortcake cheesecake is under $20
This Junior's strawberry shortcake cheesecake brings together the best of both worlds by combining the fresh, tart flavor of strawberries with three layers of yellow cake and a rich layer of cheesecake, all topped with buttercream and whipped cream, according to Junior's. This hearty dessert also weighs in at a whopping 3.5 pounds, making it the perfect cake for satisfying a big crowd. And while this dessert retails for a hefty $54.95 on the Junior's website, this substantial helping of strawberry sweetness is one sale now at Costco for just $18.99 (via Instagram).
Instagram user @costcohotfinds made a post raving about the new find, calling the price "insane for Junior's cheesecake" and saying "this looks so amazing." Many of their followers couldn't help but agree. "I want this so bad," one user replied, while another user agreed, saying, "I need this in my life!" 
"This kind of challenge I'll do for free in the comfort of my home in front of the TV. Easily," a third user joked. Many other followers expressed their hope that this item would be available at a Costco location near them. And while this strawberry shortcake cheesecake isn't sold everywhere, Costco shoppers who are fans of both cheesecake and saving money seem excited to try this new cake. Now, perhaps one of the things you didn't know about cheesecake may just include that you can get it as a steal at Costco!