Padma Lakshmi's Mother's Day Post Is Relatable For So Many Moms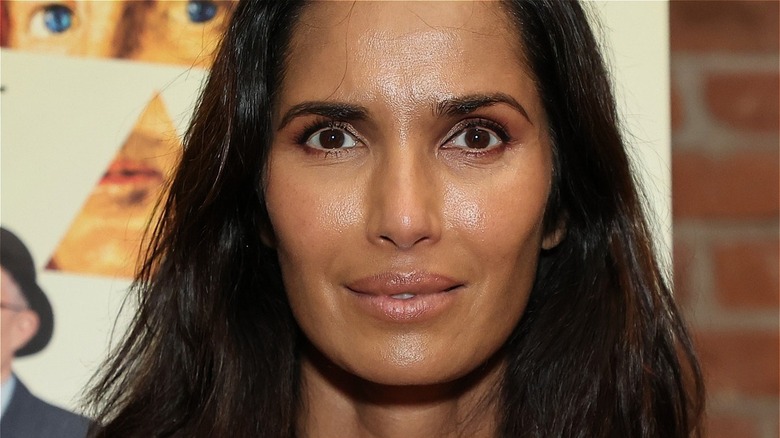 Arturo Holmes/Getty
Padma Lakshmi is a busy woman. She's probably best known for her role as the host of Bravo's "Top Chef," a gig she's held for all but one season of the long-running cooking competition show. But these days, she's also the host of her very own food travel show, "Taste of the Nation," and to top it all off, she's also a parent. She frequently posts about her daughter, who she calls "Little Hands," on social media, and the pair also has a pup, Divina, who makes frequent appearances on Lakshmi's Instagram account. Who wouldn't get emotional over Lakshmi's heartwarming journey to becoming a dog person?
So, when Mother's Day rolled around, Lakshmi decided to keep things real. She didn't post some glossy mother-daughter photo that made it seem like what she — and so many other parents — does is a piece of cake, but rather an intricate balancing act that can only be achieved with the help of a supportive community. 
Lakshmi shared a video on Instagram of herself behind the scenes while filming an episode of "Top Chef" in 2010. Lakshmi's hair is in curlers, a makeup artist is working on her eyes, and her mother is holding a plate of food in front of her so she can eat. Meanwhile, Lakshmi is nursing daughter Krishna under a blanket. "Three generations of feeding: me, my daughter, and my mom" was overlaid on the video. Lakshmi captioned the video by saying, "Mommy multitasking,"  and fans were impressed.
Padma Lakshmi was applauded for her realistic Mother's Day post
It's not every day that a celebrity posts such a realistic look at the balancing act of being a working parent, and with more than 21,000 likes on the video, it's apparent that Lakshmi's Mother's Day post resonated with people. "You are forever fly, look at you postpartum and shining on TV," said one fan, while another said, "This is just so real." A lot of people thought the moment was beautiful, and people wished Lakshmi and her mom a happy Mother's Day left and right.
This isn't the first time that Lakshmi has shared such an intimate look at her attempts at work-life balance. She often posts pictures of her family on social media, and she's spoken in interviews about how she's had to make sacrifices for both her career and family to try to make everything work together. By sharing her experience, she hopes to make the world a more equitable place for working women. 
"As women become more powerful in the professional world, we need to pass on these gestures to help the next generation of women succeed," she told Food & Wine in 2017 while talking about how important it is to be flexible with working parents, just as "Top Chef" was when she was still nursing Krishna and took the video featured in her Mother's Day post.