Crumbl's New Cookie Lineup Is Both Savory And Sweet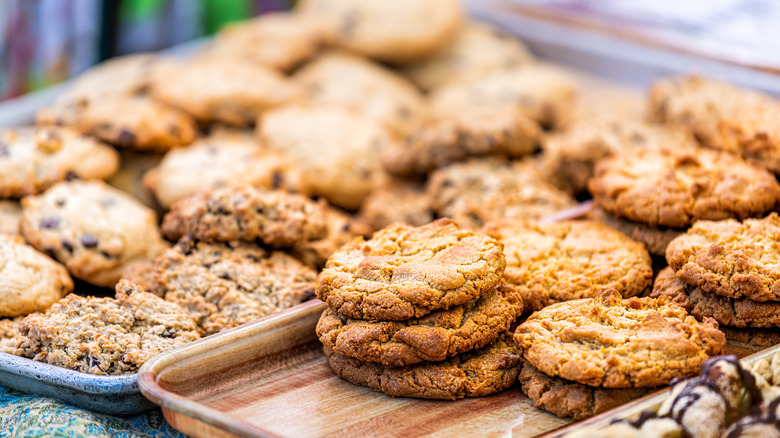 Andriy Blokhin/Shutterstock
A savory cookie sounds strange, but in actuality, snacks like this make sense. Bakers have experimented with salty and umami flavors in the past and have come up with creations like cheddar and rosemary shortbread cookies, savory oatmeal cookies, cumin cookies, and even tomato cookies coated with pesto, per Insanely Good Recipes.
Over the years, Crumbl has touched on some of these flavor combos. Bellewood Cottage reports that the cookie company has tested the waters with savory options like cornbread cookies but rarely dives headfirst into cookies packed with savory flavor. Its latest treats may not fully explore this realm but do promise to flirt with some uncommon flavors you don't always see in desserts.
In a recent Instagram post, Crumbl announced that it plans to highlight the current week's cookie offering with a Salted Caramel Cheesecake cookie that blends a cheesecake frosting and graham cracker layer together with caramel and sea salt. This item may marry sweet and savory flavors together but also might not strike too many buyers as that strange. On closer inspection, another cookie in this week's lineup has the potential to raise some eyebrows based on how it melds flavors.
An avant-garde cookie combo
In a separate Instagram post, Crumbl outlined the other items it plans to feature this week. Some of these offerings just make sense. The brand plans to continue selling its classic milk chocolate chip cookie and its peanut butter bar that comes with an oatmeal cookie base. The Piña Colada cookie pushes the envelope by topping a coconut pineapple cookie with piña colada frosting, cherries, and grated coconut pieces, while the brand's pecan pie cookie blends together the taste of the pie's iconic filling with a sugar-butter cookie.
Crumbl takes its cookie game to new places with one standout item that truly takes on the mix of savory and sweet. Shoppers can pick up a chocolate potato chip cookie that lives up to its name. The dessert is billed as a savory cookie that comes topped with pretzel and potato chip pieces while getting filled with semi-sweet chocolate and toasted coconut flakes. The history of potato chips is about to include a lot more sweet applications!
This new cookie might not sound as daring as a tomato cookie topped with pesto, but it should boldly pair together some sweet and salty flavors you don't see together all that often in a cookie. Now, it's not too hard to see why Crumbl cookies suddenly became so popular.