This Might Be The Exact Date Chick-Fil-A's Peach Milkshake Returns In 2022
Nothing says summer like warm breezes, beach days, backyard barbecues, iced tea, and peach milkshakes from Chick-fil-A. However, the official start of summer is more than a month away, so you'll have to sit tight for some of these seasonal treats, especially the peach milkshakes.
Chick-fil-A is a Southern-bred fast food chain best known for its chicken sandwiches. The company is based in College Park, Georgia — which also happens to be known as the Peach State. Because of that connection, it would be easy to assume all the peaches used in Chick-fil-A's highly anticipated seasonal sipper come from its home state, but Georgia actually ranks third in peach production behind California and South Carolina, according to the U.S. Department of Agriculture.
Not that it really matters where the peaches in Chick-fil-A's peach milkshakes come from. What's most important is that they're ripe, sweet, and steadily available. Peaches might be ripe and ready in some spots as early as May, but the stone fruit reaches its sticky-sweet, juicy prime from June to about the end of summer (via The Spruce Eats).
When will Chick-fil-A's peach milkshake show up on the menu?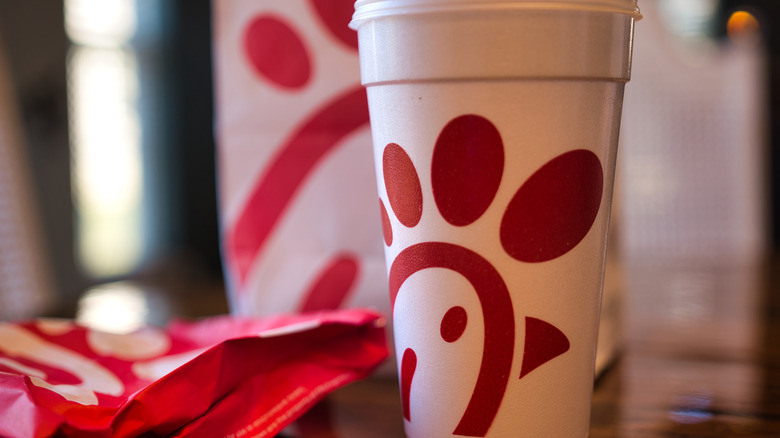 jmac23/Shutterstock
Peaches are unpredictable, and "sometime in June" is vague for folks who are eagerly awaiting the cold, fruity taste of peach milkshakes. If past years are any indication, look for Chick-fil-A's peachy-keen shakes to drop in mid- to late-June. Release dates in recent years happened on June 14, 2021 and June 29, 2020. Plus, there's always the chance this most desirable menu guest could surprise fans and show up early — in 2019, the pretty-in-peach shakes arrived on May 27 (via Southern Thing). All those dates have been Mondays, so we can guess the shakes could show up this year as early as Monday, May 30 and as late as Monday, June 27.
Chick-fil-A knows that for peach milkshake lovers, the waiting is always the hardest part. The summertime shake is available each year for a limited time only. Seasonal items come and go for a reason: To everything there is a season. And the season for peaches is short, but sweet.
As Chick-fil-A executive Ben Bolling once said, "Our priority is serving the best menu item possible, and that means using real ingredients we can find, when they are in peak season."
While you're guessing and counting the days, you can always make do with a chocolate, vanilla, strawberry, or cookies and cream milkshake — with whipped cream and a cherry on top — from the regular Chick-fil-A menu.