Here's How To Get A Free Bundt Cake At Long John Silver's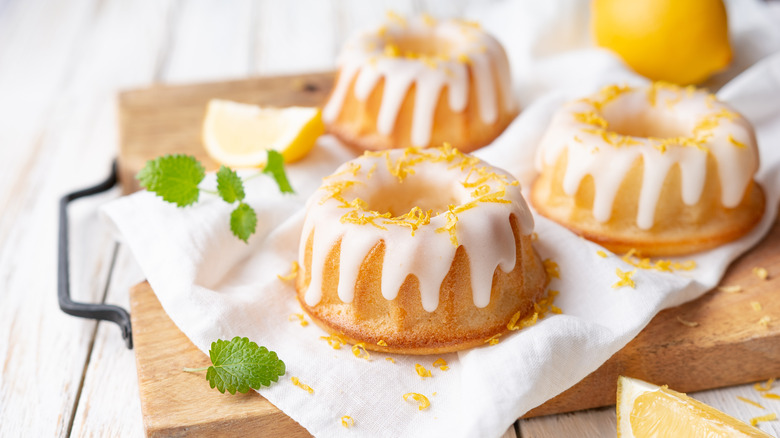 Marcus Z-pics/Shutterstock
When you make a stop at Long John Silver's, you're probably craving a plate of seafood — be it shrimp, salmon, Pacific cod, or Alaskan pollock — that's dipped in batter and fried in a vat of oil. The fast food chain, named after the cunning antagonist of Robert Louis Stevenson's adventure novel "Treasure Island," is the famished road-tripping family's answer to fish 'n chips and hushpuppies. Of course, the restaurant's menu also features things like chicken, fish tacos, and classic Southern-style sides like coleslaw, green beans, corn, and "crumblies," the gloriously crunchy fallen-off bits of the restaurant's signature fry batter. 
While Johnny Silver certainly has a reputation for catering to families, there's no rule against placing a solo order — get an extra order of crispy crumblies! Live your life! That said, the chain is tacking a pretty sweet perk (pun intended) onto its Family Meals: free lemon or chocolate bundt cake. 
The free cake comes with 10-piece meals or larger
A "family-sized" bundt cake — a simple cake made in a special mold that resembles a giant donut — now comes free with any 10-piece, 12-piece, or 16-piece Family Meal, according to Long John Silver's website. Family Meals at Long John Silver's are nothing new, and as always, customers can "mix and match chicken and fish" and add "family-sized" sides and hushpuppies to their liking. 
The lemon cake is a fairly new addition to Long John Silver's menu, according to Fast Food Post, which adds that the "sweet, citrusy" dessert features "refreshing lemon flavor that pairs perfectly well with the chain's signature battered fish and chicken." If you prefer smooth decadence over lemony brightness, the chain's Triple Chocolate Fudge Cake, which "comes layered with chocolate frosting and chocolate morsels," is another free option. The promotion is only available for a limited time, so act fast if you want to get your free cake and eat it too.