Best Espresso Makers Of 2022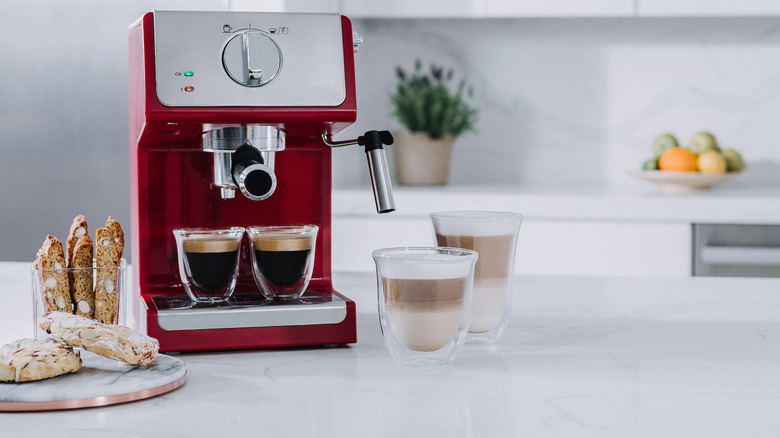 YozikKoshechkin/Shutterstock
We may receive a commission on purchases made from links.
Espresso machines have come a long way since 1884, when the first espresso machine patent was submitted by inventor Angelo Moriondo from Torino, Italy (via SmithsonianMag). This was a piece of equipment that was, like most technology, born out of necessity. That being said, it was Luigi Bezzera's single-serve espresso machine that really brought the concept of espresso — strong coffee made in a short time frame — to the masses.
According to the coffee blog CoffeeAffection, espresso machines come in at least 15 different varieties, but ultimately fall under one of three categories: manual (you're in control), semi-automatic (you do some work), and full or super automatic (you do nothing). There is no one-size-fits-all, either. Some manual machines have quite the learning curve, while others are incredibly user-friendly. Home espresso machines also vary in price, with some reaching upwards of $18,000. (Don't worry — those machines aren't included on the list.) What you need to know is that all espresso machines will have the exact same parts, but in different configurations. So hopefully the only thing you'll really have to worry about is if you want your espresso machine to pull one shot or two.
How we selected these espresso makers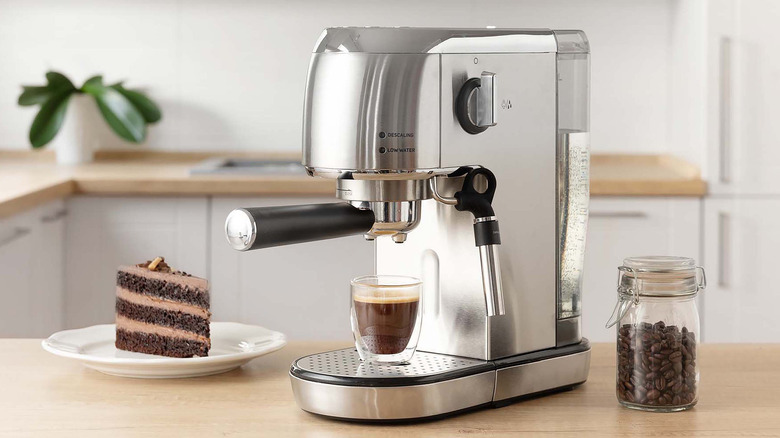 YozikKoshechkin/Shutterstock
The following espresso machines we selected are based on not only trusted customer reviews from reputable online retailers (including reliable small businesses, the manufacturer's website, and other mainstream shopping outlets), but also independent assessments by professionals in the coffee industry. Price point and affordability, size and weight, key functions and features, as well as how user-friendly each espresso machine actually is, were also taken into consideration.
The thought of being your own barista can be both exhilarating and frightening. There are a lot of tiny nuances that non-baristas (and even experienced espresso lovers) might not be aware of when it comes to picking the right machine for you. An espresso machine can be relatively inexpensive or incredibly pricey. Lucky for you, the following espresso makers cover all the bases, so there's a little something for everyone with the following picks. Now bring on the caffeine. 
Best for beginners (aka best overall)
When it comes to espresso machines, undoubtedly the most frightening part is the steamer wand, and with good reason. BaristaHustle states that steam is (obviously) hotter than boiling water, and is roughly around 212 F (or 100 C). If you've ever been on the jet side of a steam wand, or even accidentally touched one, you know that this is true. And when are you most likely going to get burnt? When you're steaming milk, or right after.
That's why Breville's Infuser is great for beginners — it actually has an auto-purge function that cools down the steam wand right after you've finished frothing your milk. While it's garnered a 4.6 rating with over 2,250 reviews on Amazon, some individuals note that they've experienced issues with the pressure gauge, and there is no bean grinder, so you're going to have to invest in one (and also learn how to operate it). On the flip side, it's important to mention that this machine is durable and affordable. LatteArtGuide mentions that it also comes with a free espresso tamper and steamer pot. Independent reviewers at SipCoffeeHouse report that there's also a bit of a learning curve when it comes to cleaning it (coincidentally, cleaning espresso machines is also a pain in the portafilter for baristas).
If you're interested in this barista skill-building semi-automatic, Amazon offers Breville's Infuser starting at $569 at the time of this writing.
Best budget buy
The Bella Personal Espresso Maker is compact, light, and (as this section suggests) incredibly affordable. It can pull up to four espresso shots (if you really need an espresso boost in the morning). It receives average ratings on Amazon (hovering around 4 with 2,425 reviews) as well as a 7.7 out of 10 on BestViewsReviews.
The Bella Personal Espresso Maker has multiple safety functions which aren't usually found in its competitors. It has a polarized plug for better electrical safety, as well as a built-in pressurized cap to prevent possible burns from escaping steam. That being said, the Bella Personal espresso maker is made of plastic, and CoffeeAffection writes that due to the extreme heat the machine emits, plastic has sometimes leached out onto kitchen countertops and left a stain. The manufacturer is transparent about this, and to prevent any damage, putting a heat-resistant silicone mat will save your counters. TrueCoffeeAddict highlights that the Bella Personal Espresso Maker is super easy to clean, which is always great to hear because no one wants to go scraping caked-on espresso.
Ultimately, it's an affordable, middle-of-the-road option for a personal espresso machine that's also easy to use, incredibly compact, and still creates a tasty espresso. 
If the Bella Personal Espresso Maker sounds like something you'd like to scope out, it starts at around $46 on Amazon.
Best for baristas
The Flair Pro 2 is probably the closest you're going to get when it comes to authentic espresso because it's 100% manual. It's made from aluminum and stainless steel, which are both covered by a 5-year warranty. The Flair Pro 2 is available in three colors: White, black, and chrome, and is lightweight, portable, and comes with a carrying case, (so you can take it to a party and impress party-goers with your espresso pulling skills). While some customers find that the Flair Pro 2 takes up quite a bit of kitchen counter real estate, it makes you wonder who would actually want to hide something this beautiful? (Hint: Probably not a barista, even if there was a lack of space).
TheCoffeeConcierge mentions that it has a lot of parts, which means they can easily get misplaced. The biggest concern that reviewers seemed to hone in on is the learning curve for using the Flair Pro 2. The folks at GoffeeGeek state that it's hard to get used to the Flair Pro 2, and that there's a potential that you could make a serious mess if things aren't lined up properly. BakedBrewedBeautiful chimes in with the fact that the manual doesn't help much, either.
But, if you know a thing or two about coffee and also like to show off your neato, super-cool coffee toys, you can purchase the Flair Pro 2 for $325 on Amazon.
Best with built-in grinder
The Gaggia's Accademia is not only great for personal use, it's great for parties. This espresso machine is designed to pull up to an astounding 60 shots per day. The Gaggiia Accademia is an incredibly user-friendly semi-automatic that's decently priced and comes with a built-in ceramic burr grinder as well as the ability to steam and froth milk. With a 4-star rating and over 200 reviews on Amazon, customers appreciate the fact that the Gaggia Accademia shuts itself off and self-cleans after making drinks. That being said, reviewers also noted that they spent a fair amount of time cleaning the actual machine once it's done self-cleaning, and that's because of this added self-cleaning feature, water is constantly being wasted.
The folks at CoffeeAffection give kudos to the Gaggia Accademia's intuitive operating system, stating that it's easy to operate and that anyone can learn how to use it in a matter of minutes. But they also note that it only has a one-year warranty, which isn't what you'd expect with a pricier piece of kitchen equipment. This espresso machine grinds beans but can also use pre-ground coffee, writes Coffeeness. It has eight different grind settings, but is unable to grind greasy (oily) beans because it will mess up the grinder. (The grounds stick together and become like clay, according to CoffeeBeans101.)
If you're ready to throw an all-night espresso-fuelled rager, as of May 2022, you can purchase the Gaggia Accademia starting at $1,399 on Amazon.
Best super automatic
The De'Longhi Magnifica Super Automatic Espresso & Coffee Machine has all the bells and whistles and is pretty much the magic genie of the espresso machine world. What makes it even better is that it's incredibly affordable, and can make pretty much any coffee drink known to mankind. The De'Longhi Magnifica is programmable, has a built-in grinder with 13 settings, a container for spent grounds, and even allows you to program the water hardness with the provided water test strips. It's also easy to clean. Reviewers adore this super-automatic machine, with over 3,500 global ratings, ranking it in Amazon's top 10 super-automatic espresso machines (at the time this article was published). Customers frequently mention that they're incredibly happy with the drink consistency, as well as the speed and the actual longevity of the machine itself. TheCoffeeMaven notes that it's incredibly easy to clean.
Is this too good to be true? Nothing is perfect, after all. Some common complaint are that it's too loud — which can be contributed to the grinder — and that, according to ArtofBarista, coffee enthusiasts can't steam milk and pull a shot simultaneously, and that the steam wand uses a lot of the water in the large-capacity water reservoir.
If you can deal with the sound of fresh coffee being ground and don't mind waiting to steam your milk as your espresso shot is being pulled, you can purchase the De'Longhi Magnifica Super Automatic on Amazon starting at $750.95.
Best all-in-one
You would think that an "all-in-one" would also mean "super huge,", but that's not the case with Breville's Barista Express. It's only about the size of a coffee maker, is decently priced, and compared to other machines in its league, relatively easy to clean and keep clean. The Barista Express not only grinds and pulls shots, but it also steams milk and supplies hot water for tea (or, you know, Cup Noodles). It comes with numerous different accessories (including the portafilter and filter baskets, coffee scoop, tamper, steamer pot, cleaning disc and tablets, and more).
The Breville Barista Express has amassed over 17,900 reviews on Amazon, with 85% overall satisfaction. CoffeeGeek notes that while this isn't the same quality machine as the ones made in Italy, if taken care of, the Barista Express can last up to 10 years. Other customers mention that even with frequent and consistent use, the Barista Express shows minimal wear and tear. That being said, some individuals have had issues with the burr grinder, which has also been noted by the folks at Coffeeness.
If you want a machine that does it all, the Breville Barista Express is available on Amazon starting at $680.
Best for travel
If you frequently find yourself on the road or are living in a constant state of wanderlust, but also want consistently good espresso on demand, then look no further. Wacaco has created a series of different travel-friendly espresso makers, but the Picopresso will give you the most capacity (it's also the newest). It has an 80% overall favorability on Amazon, with customers praising the quality of the crema that is produced by this little manual espresso bullet.
Wacaco's Picopresso is built tight and compact — BrewCoffeeHome reports that it's only around 4 inches or so, and while it looks like it would be heavy, the Picopresso weighs in at just under a pound. Wacacao's Picopresso also comes with a carrying case, which conveniently stores not only the espresso maker itself, but the multiple little goodies that come with it. It produces a double shot per use.
Some individuals have noted that compared to previous models, there is a bit of a learning curve. TaskandPurpose documents how someone who is lacking in coffee experience (or equipment) might find setting it up rather annoying (there are a lot of specifics involved). That's where you need to immerse yourself in the process.
If you can sit tight and appreciate the process of making tasty, high-caliber espresso while on the road, check out the Wacaco Picopresso on Amazon for $129.
Best stovetop traditional
Bialetti has been in operation since 1933, and is responsible for producing the iconic, aluminum Moka Pot and Moka Pot variants (like the Bialetti La Mokina). While the actual Moka Pot didn't experience a surge in popularity until the 1950s (via TheSprudge), it's highly likely that you've crossed paths with one of these brewers over the course of your existence. (It's estimated that at least 70% of Italian households have one).
Baialetti's Moka Pot is, in essence, just a super stripped-down coffee maker. It's not technically an espresso maker, but because there are different capacity options, it can be used as such. The Bialetti La Mokina produces ½ a cup of morning fuel — that's a little under three single shots of espresso. It takes time to brew, but that makes it perfect for a morning revolving around ritual (or good for camping). Reviewers think it's cute and functional. 
One minor critique is that the Bialetti La Mokina is small. Really small. And some reviewers were really surprised at its size, even though they knew it only had a ½ cup capacity. You'll also have to purchase a coffee grinder. As with any stovetop cooking, you'll need to keep an eye on it, or you might run the risk of burning your precious espresso. It doesn't work with induction burners.
The Bialetti La Mokina is durable, simple, and also super long-lasting. (And super cute). As of May 2022, you can find them starting at $25 on Amazon.
Best statement piece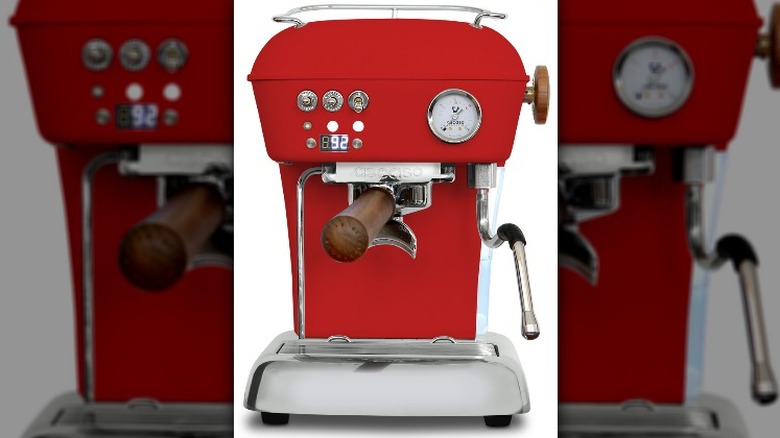 Ascaso USA
This beautifully crafted, lightweight semi-automatic espresso machine will make you go "wow" every time you look at it. Assembled in Spain, the Dream PID by Ascaso has a unique retro-inspired design and comes in seven unique colors. It has an aluminum shell and uses stainless steel tubing (which resists lime buildup). PID stands for Proportional Integral Derivative, which basically just means that the espresso machine consistently monitors the water temperature and makes small changes to keep it at the specified temperature (via MajestyCoffee). It's toted as having commercial-grade construction, which means this baby is a beast when it comes to pulling shots.
The steam wand on the Ascaso Dream swings out of the way, which makes it relatively easy to clean (though you'll need to remove and rinse the drip tray regularly, or else it gets a bit messy). Reviews on SeattleCoffeeGear give high marks for aesthetics and functionality, though some note that the fact it can't froth milk and pull a shot at the same time is a bit annoying. If you don't have too much knowledge or prior barista experience, then the Dream PID might have a bit of a learning curve, writes TheCoffeeMaven.
If you're up for learning or improving your barista skills, as well as working on cultivating patience, you can purchase the Ascaso Dream PID starting at $1,250 on Amazon.
Best for small spaces
The Nespresso Essenza Mini totes a lot of power in such a tiny little module (it's 8 inches tall, 12.8 deep, and about 4.3 inches wide). It can pull two different types of espresso — a single and a long shot. The actual size of the machine was frequently mentioned as a major plus, with one individual even bringing it along on their travels. TheCoffeeMaven highlights its sturdy construction, stating that it's solid and won't break down easily. With over 7,050 reviews rating it 4.7, the Nespresso Essenza Mini has garnered an 84% approval for overall satisfaction on Amazon. Multiple individuals also thought that adding a variety pack of sample pods was a good selling point.
The one major pitfall for the Nespresso Essenza Mini is that it only uses Nespresso pods, which means the price of operating this little guy will increase over time as pods become scarce. That being said, one savvy commenter (who loves their Nespresso Essenza Mini) says that there are third-party coffee capsules available online. RoastyCoffee also adds that it doesn't have much versatility (but it is, after all, a personal espresso maker).
If you're more of a coffee-pod person and have limited counter space, and are always on the go, you can find the Nespresso Essenza Mini starting at $144.95 on Amazon.
Best splurge
Rocket Espresso has created a compact, high-powered semi-automatic espresso machine that can fit on most kitchen counters. It's not only a statement piece, it's a hefty piece of equipment, weighing in at around 75 pounds. The Appartamento has only been on the market for a little over a month, as of the date this article was published.
Not only can you steam milk and pull a shot at the same time, the Rocket Espresso's Appartamento also comes with a whole slew of accessories — from portafilter heads to tampers to cleaning brushes. It's all included (in the price, that is). TheCoffeeFolk mentions that even with experience, expect there to be a learning curve. However, the Rocket Espresso Appartamento is incredibly straightforward and easy to learn. This isn't an espresso machine for the faint of heart, as CoffeeBeans101 states that everything about has a more industrial look, feel, and sound. (Read: Possibly quite loud.) There's also mention of having to empty the drip tray more frequently than desired. It doesn't come with a grinder.
That being said, the Rocket Espresso Appartamento is painstakingly crafted by hand in Milan. It's built to last and is perfect for the professional or savvy at-home barista.
You can be the envy of all your coffee-loving friends by purchasing the Rocket Espresso Appartamento, starting at $1,850 on Amazon.