Why Vogue Magazine Has A Problem With This Pub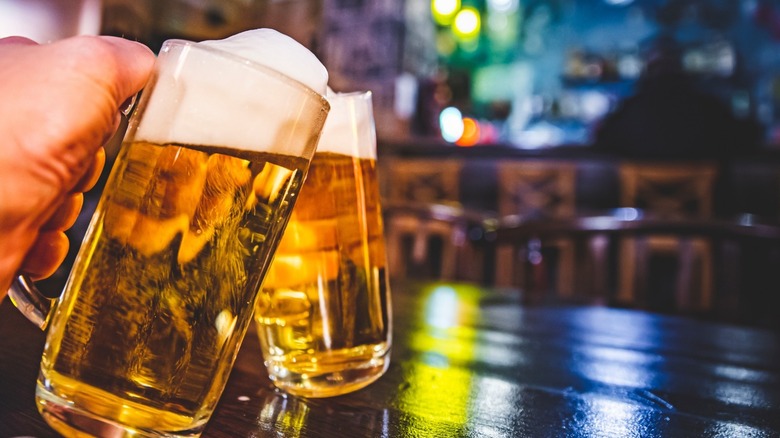 siamionau pavel/Shutterstock
Until recently, The Star Inn at Vogue and its owners quietly met the needs of locals and tourists in search of a glass of beer or a well-cooked, moderately priced meal. The pub was ranked four and a half stars for food, service, value, and atmosphere on Trip Advisor, with one guest raving about the dessert. "Huge sticky toffee pudding the best ever," wrote the reviewer.
But all that changed when global publishing giant Condé Nast swept down on the pub and its owners Mark and Rachel Graham with a cease and desist letter, slapping them with threats of a lawsuit unless they stop using the name "Vogue," per CornwallLive. The reason was outlined in a letter from Condé Nast COO Sabine Vandenbroucke, which the pub's owners thought was a joke at first. The letter was shared with the pub's fans through a Facebook post with requests for comments. In it, Vandenbroucke claimed the company was "concerned that the name which [the pub is] using is going to cause problems because as far as the general public is concerned a connection between your business and ours is likely to be inferred." 
The pub is located in a placed called Vogue
To be clear, the pub never pretended to be anything but what it was. On its Facebook page, The Star describes itself as "A small family run village pub with a library, hair salon & food served daily. We advise any tables of 5 or more please book in advance to avoid disappointment." According to The Guardian, it has been owned by Rachel and Mark Graham for almost 20 years. The couple said they had purchased the pub after stopping by for a beer after an outing and were disappointed to find it closed.
Pub regulars were up in arms over the letter, some of which took to social media to express their support for the Grahams. "Let's all bombard them with our photos having fun in The Star..in front of street signs.. and inform them that we are now, as a community, suing them for the rights to our village name," suggested one Facebook user. "Pub should sue vogue!" said another.
Condé Nast withdrew its objection to The Star Inn's name
A tongue-in-cheek response from the owners set the publication straight. The owners wrote, "If a member of your staff had taken the time to investigate they would have discovered that our company, the Star Inn is in the small village of Vogue near St. Day in Cornwall. Yes that's right Vogue is the name of our own village, which has been in existence for hundreds of years, and is in fact a Cornish word not English," per Facebook.
They added, "I note in your letter that you have only been in existence since 1916 and I presume at that time when you chose the name Vogue (in the capitalized version) you did not seek permission from the villagers of the real Vogue for their permission ... In answer to your question of whether we would change the name of our company, it is a categoric NO."
The story ends well for the Grahams. Per Deadline, Condé Nast has since sent another letter that said, "You are quite correct to note that further research by our team would have identified that we did not need to send such a letter on this occasion." The publishing company also sent its regards to the citizens of Vogue. It seems the Star Inn at Vogue can continue serving British food without changing its name.