Dunkin' Enthusiasts Can't Wait To Get Their Hands On Its New Tumblers
Single-use coffee cups have come under fire in recent years over concerns about their host of negative environmental impacts. Disposable plastic iced coffee cups and plastic-lined hot paper cups utilize a lot of fossil fuels to create an item that will only be used a single time, and are usually made with type of plastics known as polyethylene and polypropylene, which are almost impossible to recycle, according to Food Print. As a result, these disposable cups tend to clog landfills, potentially leaking harmful chemicals into the surrounding ground and water.
But what can be done to help prevent that? One of the easiest ways to help limit the negative environmental consequences of single-use cups is to simply get into the habit of using your own, reusable coffee cup. Reusable cups can help save energy and cut down on waste. And now, Dunkin' is making it easier than ever for its fans to start this environmentally friendly habit with the launch of their newest line of colorful branded tumblers. The chain has just announced they will be selling new reusable coffee tumblers that are not only available in four bright, Dunkin' themed colors of pink, orange, purple, and white, but also come with fun, color-changing straws to complete the look (via Instagram).
Colorful tumblers will be available at participating Dunkin' locations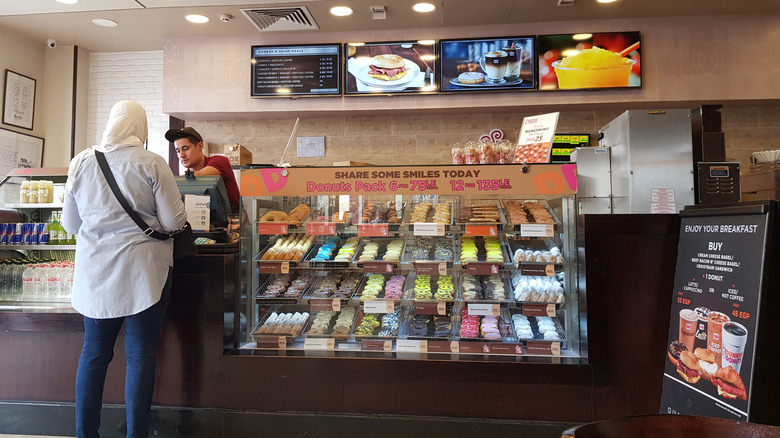 Novie Charleen Magne/Shutterstock
This isn't the first time that Dunkin' has branched out into tumbler territory. In 2021, the chain released a confetti tumbler, complete with an orange lid and pink straw, along with its line of colorful commuter mugs and metal reusable water bottle, according to Taste of Home. Those new cups definitely generated some interest on social media last year, with many fans calling them "awesome" and saying they needed the cute cups (via Instagram).
However, fans just might be even more excited to get their hands on this newest line of color-changing tumblers, which is hitting shelves just in time for iced coffee season. "Okayyy living for these summer colors," one commenter wrote while another user agreed, "I think this is a must have." "THESE ARE SO CUTE I NEED," an Instagrammer raved. "And my toxic trait is that I need another new Dunkin tumbler!!!" joked another user. The new tumblers, which one user shared are selling for $12.99 apiece, can be purchased at participating Dunkin' locations nationwide.