Why All Of The Queen's Formal Menus Are In French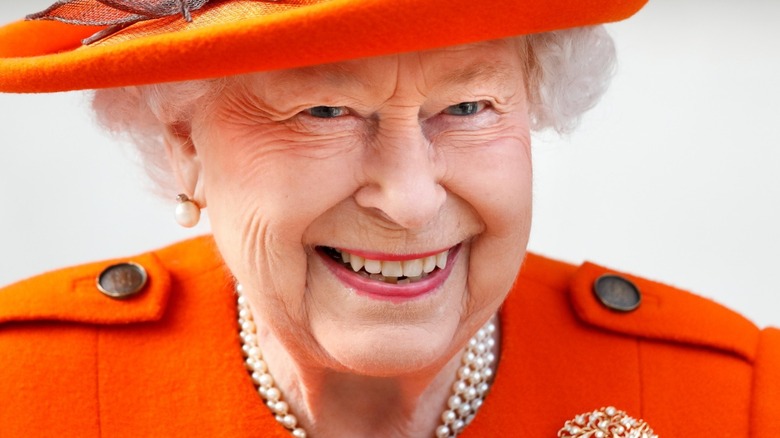 Max Mumby/indigo/Getty
Fairly simple but elegant. Not too spicy. Not too cold. Portions neither too big nor too small. That doesn't sound like a lot to ask, but in actuality, that is how the meals set before Queen Elizabeth II and members of Britain's Royal Family need to be. 
As former Royal Chef Graham Newbould reveals in "Secrets of the Queen's Kitchen," there is no margin for error. As he put it, "They like things done a certain way, whether it's right or whether it's wrong. That's the way they like it, and that's the way you've got to do." One of the things the queen insists on is that royal chefs (past and present) must create menus in French. Tom Parker Bowles, son of Camilla, Duchess of Cornwall, reveals in Town and Country that it is "a tradition stretching back many centuries."
"Her Majesty loves the menu in French, and if I get an accent wrong or mix up the masculine and feminine on the menus I send up for her approval, she'll let me know," says Mark Flanagan, current royal chef to the queen. "Her Majesty misses nothing."
The chef says he usually offers the queen five menus but expects that they will be treated as a starting point. "Her Majesty will make the final decision, interject her own suggestions, or remember that, 'So-and-so really liked that the last time they came,'" he explained. "Her memory is incredible. All the menus have her hand on them."
The queen's menus are works of art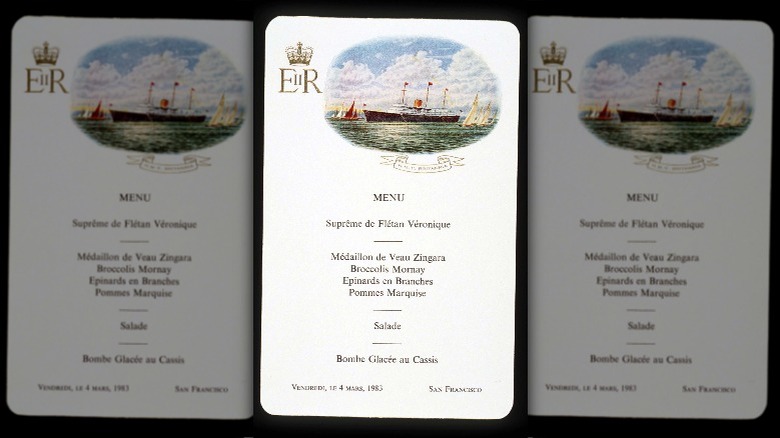 Anwar Hussein/Getty Images
HuffPost suggests that the practice dates back to the Norman conquest, which took place in the 11th century, a time when French was the language of the court. Former butler Grant Harrold says, "If the queen hosts a dinner at Buckingham Palace, the menu is normally in French. [And] When she and the duke hosted dinner following the wedding of the prince and princess of Wales, it was done in their style, with the menus in French."
But in a break with tradition, the menus from the weddings of Prince Charles to Camilla Parker Bowles and Prince William and Kate Middleton were written in English. Charles and Camilla's wedding reception broke even more norms — not just because the menu was in a language everyone could speak and understand. It was also not a formal meal but a buffet of sandwiches, canapés, and pastries. Harrold, who was invited to the wedding, noted, "It was a very much a canapés and drinks affair. There was a very relaxed atmosphere." William and Kate's meal was decidedly more formal, but still it was described as a "down to Earth, best of Britain" repast.
In a surprise twist, and like the weddings of her eldest son and grandson, Mark Flanagan reveals that the queen's Platinum Jubilee menu has been prepared in English. It was a decision made "to make life easier," as the chef put it.