The Healthy Snacks That Are Always In Diane Keaton's Pantry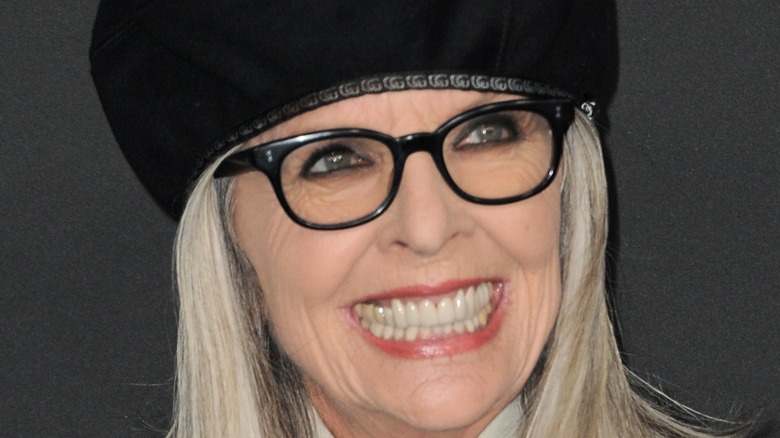 Tinseltown/Shutterstock
Forty-five years after Diane Keaton became a fashion icon and celebrated actor with her performance in the 1977 Woody Allen film Annie Hall, neither she nor her career has shown any signs of slowing down (via The Hollywood Reporter). At 76, Keaton has joined the company of legends like Jane Fonda, Helen Mirren, and the late Cecily Tyson, all of whom won praise for their distinctive style well into their seventies. If it seems the actor has never struggled with insecurities about her looks, having famously embraced her natural hair color and declined to fill wrinkles and age lines with Botox or plastic surgery, Keaton dispels that idea expeditiously in her 2014 memoir, "Let's Just Say It Wasn't Pretty."
According to The Daily Beast, the book details the ways in which Keaton, with varying degrees of success, managed to resist the pressures from image-obsessed Hollywood by building her self-esteem and remembering to be grateful. Keaton shared some of her more pragmatic beauty lessons in an interview with Vogue, extolling the virtues of kohl eyeliner and the importance of wearing sunscreen. Given Keaton's relatable and accessible wisdom about how to embrace our bodies as they age, might there be any lessons we can glean about maintaining a nutritious diet of the healthiest foods from a peek into Keaton's pantry?
Diane Keaton shows how to stock up on snacks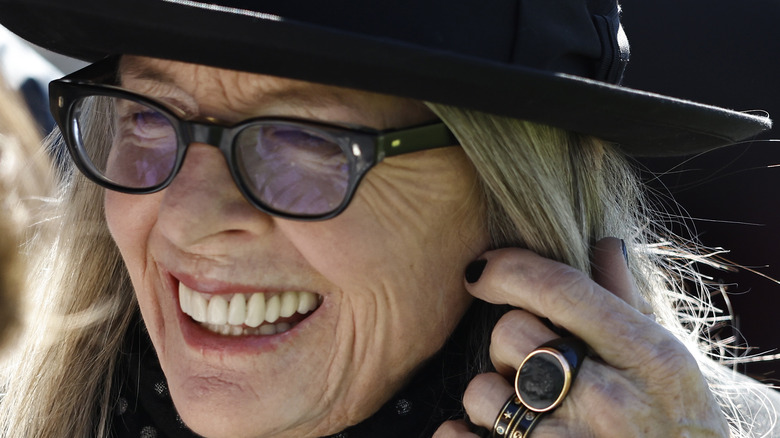 Michael Owens/Getty Images
Despite her status as a fixture in Hollywood and stature as both an actor and fashion icon, Diane Keaton has earned a reputation for being down to earth (via azcentral). It should perhaps not come as a surprise to learn the 76-year-old enjoys a snack from time to time. In a video shared on her Instagram account, the actor showed her followers some of her favorite items to keep in stock for when a snack attack strikes.
Some of Keaton's faves? When it comes to sweet treats, she likes to reach for some toasted coconut hard toffees or See's Toffee-ettes. If something more savory is needed to settle the craving, the actor enjoys Quinn microwave popcorn in the kettle corn and aged parmesan varieties. Along with these sugary and salty items, Keaton's pantry also holds a wide selection of nutritious options — nuts, peanut butter, canned beans, tinned fish, and raisins. She also discovers, to her surprise, oatmeal. "Don't tell me that's oatmeal," Keaton says in the video. "I hate oatmeal. Let's forget that one." It's an important lesson: Oscar-winning actors sometimes forget food items that are stowed away in the back of their pantries, too.