Instagram Is Craving Trader Joe's Everything But The Bagel Nut Duo
Bloomberg/Getty Images
For those of us who love trail mix combos that deliver a healthy snack with a flavorful punch, Trader Joe's is a great go-to. Its array of trail mixes features nuts with seeds, nuts with dark chocolate chunks, nuts with coffee beans — it's a cornucopia of clever, delicious options and we're here for it. One Trader Joe's product reviewer, @mrs_traderjoes, has her followers in their Trader Joe's feels with a post professing her love for the Everything But The Bagel Nut Duo trail mix. "Once I started eating these, I couldn't stop," she said, thanks to its signature sesame seed, poppy seed, sea salt, garlic, and onion seasoning that clung to the nuts rather than scattering off to the bottom of the bag. Every bite delivered a "chazzle, dazzle" taste that she qualified as "amazing."
Her followers agreed, but with one complaint. Several found the mix had too few cashews for their liking and the original poster also noted that the trail mix ratio of cashews to almonds was off, stating the bag "was 70% almonds with only 30% being cashew." This snafu didn't stop the shoppers from picking up a bag, or two, as one fan said "I love these! I have two bags in my pantry right now!"
Two trail mix contenders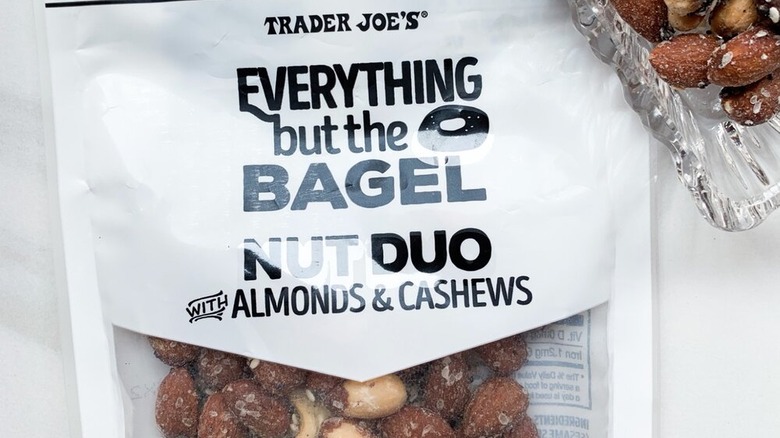 Svetlana Monyakova/Shutterstock
Many of the comments on @mrs_traderjoes post were those of praise, and one mentioned that she liked but "wasn't obsessed" with Everything But The Bagel Nut Duo, again, because she wanted more cashews, which another follower said may come down to price. One commenter noted "Target's Good and Gather brand Everything seasoned cashews are amazing; highly recommend them!"
Lisa Freedman, Executive Lifestyle Director at The Kitchn, loves Trader Joe's extensive snacks list, but she also swears allegiance to Target's Good & Gather Everything Seasoned Cashews trail mix, which she describes as having a punchy flavor with the added bonus of featuring cashews only. 
Whichever trail mix you're going for, know that both of these versions contain corn syrup, which some people like to avoid. The TJ's Everything but the Bagel Nut Duo comes in at 180 calories per serving and the Good & Gather version is at 170 calories per serving. While these aren't an astounding amount of calories, keep in mind that a serving size is generally ¼ cup, and most people can eat way more than that. This is one of the reasons trail mix may not be worse for you than you think.