Trader Joe's Shoppers Are Stocking Up On Its 'Hurricane Popcorn'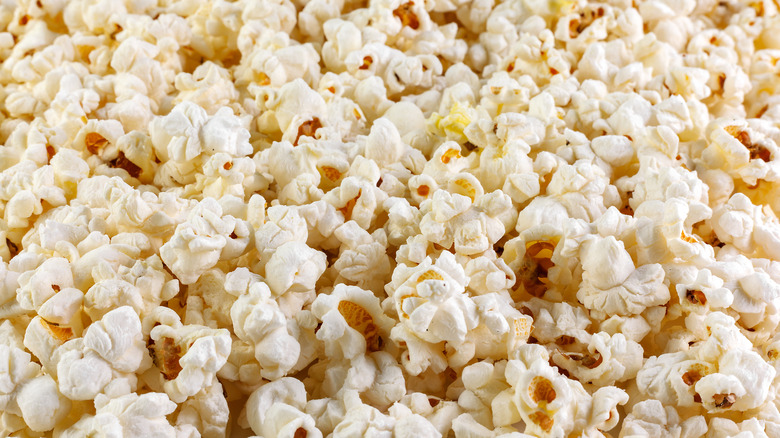 Mykhailo Baidala/Shutterstock
Ah, popcorn. Name a better movie snack — we'll wait. Whether you are at the cinema, going to a drive-in movie theater, or simply curling up on the couch at home, popcorn is always a good idea. Airy, crunchy, and drenched in butter, what more could you want in a late-night snack?
One of the best things about this versatile food? Popcorn appeals to both sweet and savory snackers alike. From crispy caramel varieties to cheesy choices, there's a flavor out there that matches every flavor profile. Not to mention, there's also a wide variety of popcorn brands each targeted at a different type of consumers (these are the best and worst microwave popcorn brands to buy at the grocery store). While Newman's Own butter popcorn is perfect for traditionalists, Nori Sesame popcorn is a great-go for adventurous eaters who want to try something new, according to Women's Health. One of the latest popcorn brands to enter the market is Trader Joe's Hula Cruncha Popcorn & Rice Cracker Mix and customers can't seem to get enough of it (via Instagram).
The snack is inspired by a popular Hawaiian brand
Step aside Orville Redenbacher! We've got a new popcorn brand in town. Joining the ranks of innovative popcorn brands is Trader Joe's Hula Cruncha Popcorn & Rice Cracker Mix. User @traderjoeslist shared this latest TJ find on Instagram, revealing what the consumer experience was like for them. "Picked this up today and it did not disappoint," they captioned their post. "There was a higher ratio of popcorn to rice snacks, and I would have liked an even ratio, but the flavor is delish. It's quite vinegary, a bit tangy and savory!"
Many other shoppers shared their mutual delight in the comment section. "Bought this today and love it," one user shared, while another wrote, "I had an entire bag tonight. SO GOOD." A few users described this snack as "hurricane popcorn" in the comment section. Hurricane Popcorn is a Hawaiian popcorn brand that includes butter, salt, nori seasoning, and mochi rice crackers in its most popular flavor (via Hurricane Popcorn). TJ's brand, which is described as a "Hawaiian inspired snack with seasoned popcorn and crunchy rice crackers," seems similar to this product. If you are a fan of Hurricane Popcorn, there's a strong chance you may also enjoy Hula Cruncha.
The post also included a pro tip. If you plan on purchasing this Trader Joe's snack, @traderjoeslist recommends opening the bag upside down to get a nice even blend of popcorn and rice crackers.