What You Probably Didn't Know About The Whataburger Founder
When entrepreneur Harmon Dobson opened a burger stand in 1950, offering generously portioned patties that required two hands to hold, his hope was for customers to exclaim "What a burger!" (via Whataburger)
And they certainly did. According to ScrapeHero, six decades later the fast food chain boasts 893 locations across the country, in states from Florida to Arizona. Along with its signature "bigger, better burger," the Whataburger popular menu items now include popular breakfast items, chicken sandwiches, and milkshakes. Whataburger's popularity has yielded major earnings for the quick service burger joint. According to Restaurant Business, in 2020 the family-owned company raked in nearly $2.67 billion in sales, a 1.7% year-over-year increase. Not bad, especially given its humble beginnings.  
By 1960, Dobson had overseen his restaurant's expansion into Florida and Tennessee with a total of 17 locations. But tragically, in 1967 Dobson died in an accident along with his business associate Johnny Sneed when the two engines in Dobson's Cessna Skymaster plane malfunctioned during a steep takeoff (via StMU Research Scholars). After he passed, Dobson's wife Grace took over the Whataburger business and led its continued expansion to 200 restaurants in 12 states by the 1970s, as well as the addition of the first drive-thru in 1971 and several new menu items that remain available to this day, per Whataburger. 
That is hardly a complete picture, however, of the extraordinary life Dobson led before he opened that Corpus Christi burger stand. 
From oil driller to diamond miner to pilot to burger magnate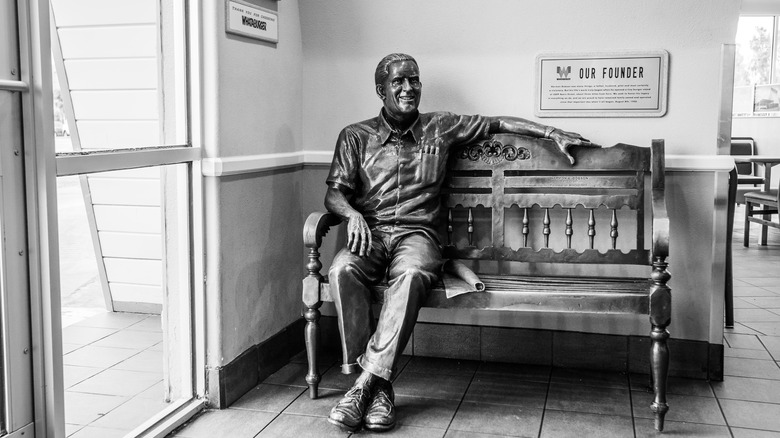 stock_photo_world/Shutterstock
Hip-hop trio Salt-N-Pepa may not have written their 1993 bop "Whatta Man" about entrepreneur Harmon Dobson, but upon learning the details of his extraordinary life, you might find yourself exclaiming "what a man, what a man, what a man."
After the stock market crashed in 1929 when he was sixteen, plunging the country into a depression, Dobson decided to enlist in the Navy. This brought him to Egypt where he worked on the Suez Canal, and then to Bahrain, where he worked in an oil refinery and managed the mess hall (via Texas Living). Upon his return stateside, Dobson founded a new business venture selling used automobiles, and soon enough he'd earned enough money to purchase an oil well in Arkansas along with a private plane. Dobson then decided to partner with a friend and travel to Africa to try their luck in the dangerous business of diamond mining.
Four weeks later, after suffering the loss of his friend in a fatal mining accident and having failed to turn a profit, Dobson came home and eventually settled in Texas. Ultimately, Dobson would not strike it rich with either diamonds or oil, but he was not deterred from taking another big risk: starting a restaurant to sell customers a burger so big and delicious it might cause them to exclaim, "Whataburger."