Why Guy Fieri's Newest Food Network Show Has Reddit Changing The Channel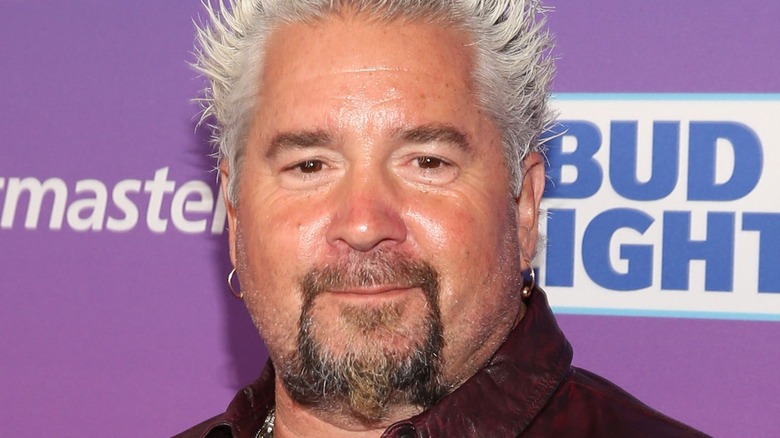 Jesse Grant/Getty Images
He has a shock of spiky bleach-blonde hair, a bi-colored goatee, a peppering of gold jewelry, and an ensemble that probably features a flame motif. He's the unmistakable Guy Fieri, and he has taken over Food Network. Sure, he's not everyone's cup of tea, but mega-celebrities rarely are. Propelled into fame by his eponymous show "Diners, Drive-Ins, and Dives," the boisterous host is intent on remaining a blazing star in the Food Network galaxy.
Let's review the man's oeuvre on the channel, shall we? Before he was a host with an $80 million contract, Fieri was a humble contestant on the second season of "The Next Food Network Star," which — you guessed it — he won. As a reward, the channel gave him his very own six-episode show, "Guy's Big Bite," which aired in 2006. The show's popularity led to Fieri's aforementioned claim to fame, which sees him tucking into greasy delicacies at no-frills standout eateries all over the country. Fieri has since headed up "Guy's Grocery Games," "Tournament of Champions," and "Guy's Ranch Kitchen," per his website — and he's nowhere near the end of his tenure as Mayor of Flavortown. 
Barring his loyal fans, some viewers think Food Network has transitioned into Guy Fieri Network, and they're not happy about it. One viewer took to Reddit this week to air their grievances, and they were certainly not alone. 
Reddit pleaded for Food Network to 'please, please stop the vacation series'
"As if we don't have enough of Guy [...] [Food Network], please, please stop the vacation series," reads a Reddit gripe posted this week. "We had to live thru the Chicken Guy, Hawaiian vacation, and now this latest one. I don't know who watches this, but I can't even watch the commercials." The user is referring to Guy Fieri's latest show, "Guy's All-American Road Trip," in which Guy and his family pile into their RV for an "epic road trip" punctuated by roadside restaurant stops, per Food Network. "I have gone from having Guy Fieri being my favorite to refusing to watch him," the post concludes. 
Overall, commenters agreed that Food Network has been dipping a little too far into the Fieri-verse lately. "I don't mind the specials nearly as much as I mind the 8 hours straight of triple D," wrote one user, backed by another, who added, "I know! Like it's the only show on the network! Give someone else a chance. There are so many good chefs!" 
Some have also noticed that Fieri doesn't seem like his usual energetic self lately. "I think Guy hates it," speculated one user. "He isn't the same anymore, he acts as if he heard it all before and has no joy in his voice." Evidently, signing a multi-million dollar contract can sometimes mean getting overworked.