Can You Make Peanut Brittle In The Microwave?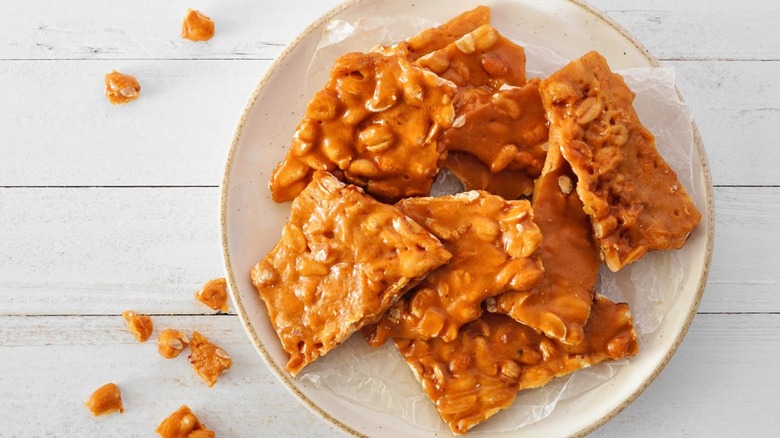 JeniFoto/Shutterstock
Crunchy nuts transformed into a sugar rush. It's no wonder peanut brittle has nut lovers and food enthusiasts across the world saying, "more, please!" It's thought that peanut brittle was first made fortuitously at the end of the 19th century when a New England woman botched her would-be taffy recipe and has been used as both a holiday and anytime treat ever since (per kitchn). This candy has been delighting so many for so long that it's even earned its own national day (via National Day), so it's only natural that you might want to try your hand at making some.
But maybe you've shied away from making peanut brittle because of the time constraints. After all, preparing a recipe takes up enough time as is and sometimes you just might not feel like waiting for your oven to heat up. Or maybe you're a beginner baker in search of the right tools, and also slightly intimidated. Could your microwave — that trusty kitchen appliance beloved for its convenience — help in the quest to make your peanut brittle dreams come true?
Peanut brittle was practically meant to be microwaved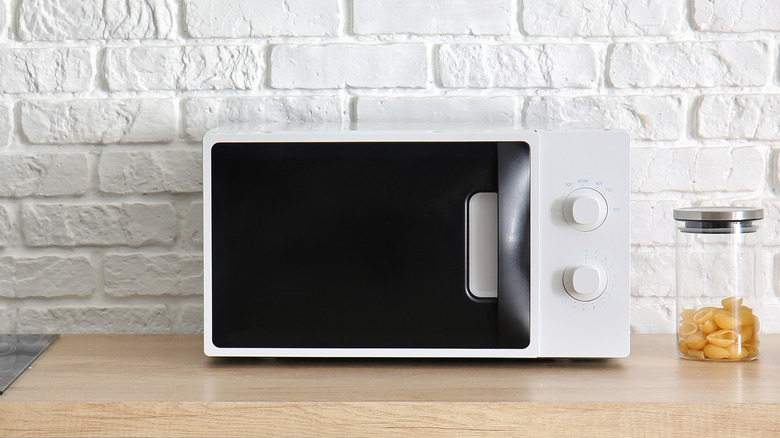 Pixel-Shot/Shutterstock
The microwave has been a good friend to many of us since it first appeared in the 1940s (via The Sun) and has made life more convenient by making food preparation faster and more accessible. As noted by All Recipes, peanut brittle is indeed one of the many foods that can be made in the microwave.
According to the provided recipe, you can prepare the peanut brittle with the same ingredients. The only change is you will likely need to make the brittle in batches, and so you'll have to pour in the ingredients anew each time you use the microwave. If you abide by your microwavable peanut brittle recipe's instructions, your peanut brittle should be as crunchy as peanut brittle prepared the old-fashioned way (via Belly Full). However, Southern Bite states that you'll want to be mindful of your microwave wattage, explaining that the power of your appliance will be the ultimate deciding factor in how long you'll need to microwave your peanut brittle.