The Best Drip Coffee Makers In 2022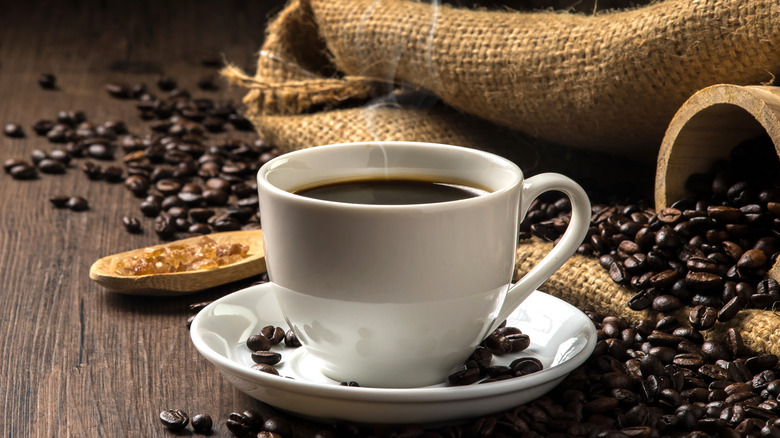 Kingmaya Studio/Shutterstock
We may receive a commission on purchases made from links.
There's nothing like a freshly brewed cup of coffee. What once was a rare delicacy from tropical regions is now a daily necessity for millions of people around the world. The rich, dark taste and pleasant buzz of energy (which may actually be good for you) is consumed by people the world over, whether you're dashing out the door or sitting down and savoring a mug, sip by sip. 
While choosing what type of coffee to drink can be an ordeal of its own, once that's done you have to then brew the coffee correctly. Want to take the guesswork out of making coffee? Have you had trouble getting a decent cup of coffee right? The right coffee maker can change your life, and there are tons of models on the market for every type of coffee drinker and situation. We broke it down to help you find the right maker for your lifestyle.
How we chose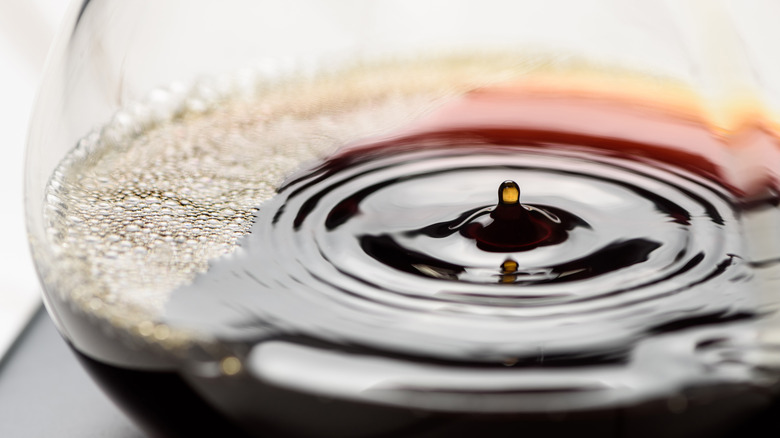 Andrey Zhernovoy/Shutterstock
For the best drip coffee makers of 2022, we started by looking at everything currently on the market. Before considering which were the best, we considered what types of makers would be important to various consumers and what people would be looking for in different categories. We considered the different types of coffee drinkers out there and what kinds of situations they require a coffee maker for. 
Once we had created our categories, we looked at coffee makers new to the market, and ones that have stood the test of time. Some makers have been around for decades, but still get great reviews from hundreds of buyers for their great design. It's definitely impressive when a maker created in the 1960s can go toe-to-toe with brand-new models. On the flip side, we also took a look at the cutting-edge technology and the newest breakthroughs in excellent coffee creation. 
Best overall coffee maker
The absolute most popular coffee maker available for a reason, the Cuisinart PerfecTemp 14-Cup hits all the right marks for a coffee maker and then some. With 27,000 reviews on Amazon (90% are four stars and higher), it's easy to see what makes this a top choice with consumers. There are a few clutch features that buyers love: a charcoal water filter to improve taste and water clarity, a reusable filter for grounds, a hot plate that keeps the coffee hot for hours, and a comprehensive control panel with handy features such as 24-hour programmability and a self-clean function. 
The 14-cup capacity is big enough for coffee lovers who enjoy multiple cups and large groups, but there's an option to make as little as one cup. A few reviewers have remarked about the potential for leaking when moving the machine across the countertop, so take care when moving a full coffee maker.
The Cuisinart PerfecTemp 14-Cup was available on Amazon for $99.95.
Best affordable coffee maker
Whether you're on a tight budget or only enjoy brewed coffee at home from time to time, if you are looking for a coffee maker on the cheaper end, check out the Hamilton Beach 12-Cup Coffee Maker. At less than $30, this maker is one of the most affordable possible options available on the market today. For the money, this maker can make a decent cup. It comes with a clock and a programmable timer for setting the night before a busy morning. As one reviewer stated, " no-frills, does a great job." A low price may come at the cost of flavor and longevity, as some reviewers have stated. There is also no reusable filter, so you'll have to buy your own or use disposable paper filters.
At the time of this article's publishing in June 2022, the Hamilton Beach 12-Cup Coffee Maker was available at Target for $22.99.
Best small-space coffee maker
Some people love the small countertop footprint that pod coffee machines feature, but hate the plastic waste that comes with using coffee pods. The Mr. Coffee Ice and Hot Coffee Maker offer simple, pod-free coffee brewing in a super-small size. Even former pod coffee enthusiasts find themselves loving the great taste the Mr. Coffee delivers. It can make 16 ounces of hot or 22 ounces of iced coffee at a time and comes with a handy reusable plastic tumbler. The small size also comes with a super-fast brew time of just four minutes from grounds to a hot cup of joe. Some reviewers have remarked on the lack of a warming plate, so it's best to enjoy any cup from this machine immediately.
As of June2022, when this was published, the Mr. Coffee Iced and Hot Coffee Maker was available to purchase on Amazon for $52.34.
Best drip coffee maker with grinder
Coffee enthusiasts and aficionados know that freshly ground coffee beans create a much more flavorful cup of coffee than pre-ground. However, the hassle of getting out a grinder and blitzing up beans early in the morning is just out of the question for many. Plus, this eliminates the possibility of pre-setting your automatic coffee maker to brew the night before. 
One of the newest coffee makers on the market is the Breville Grind Control, which has a container at the top that you can fill with whole coffee beans. The machine grinds the beans and deposits them into the filter before delivering perfectly heated water to make a supreme carafe of coffee. Most reviewers love the ability to adjust the grind and weight of coffee beans and the machine will automatically calculate the correct ratio. As with many coffee bean grinders, oily beans tend to get stuck and frequent cleaning is required, so keep that in mind before investing.
At the time of this writing, the Breville Grind Control Coffee Maker was available on Amazon for $328.
Best splurge coffee maker
Many coffee snobs turn their noses up at automatic drip coffee machines. That's because cheap plastic parts and a lack of control over the purity of the water and grind of beans can really affect the final flavor. The Technivorm changes all that. 
The design is meant to mimic the quality achieved by a pour-over system. The water reservoir is positioned next to the heating element, eliminating travel time and opportunities for flavor contamination. The water comes out of a specially designed spigot that ensures even extraction and hydration. The quality hasn't diminished since 1968, and it's still one of the most highly-rated (90% are four stars and up) coffee maker available on the market. Almost every review states that despite the high price tag, it is "worth the price!"
At the time of writing in June 2022, the Technivorm Moccamaster was available from Moccamaster for $349.
Best aesthetic coffee maker
In 2021, Drew Barrymore launched a kitchenware line for Walmart called (aptly) Beautiful. This line of products jumps on the recent trend of consumers desiring an aesthetically pleasing design for their kitchen appliances. The Beautiful 14-Cup coffee maker is, well, beautiful and features many of the best features of similar coffee makers at a great price. It comes in a few colors (all cool, matte tones) with brushed gold finishes and a seamless touchscreen. 
Some reviewers report difficulty with the touchscreen, which could be tricky to use for some buyers. The features and functions aren't exactly reinventing the wheel, but everything expected of a coffee maker in this day and age is included. That means a no-wait pause and serve function, a replaceable filter, programmable settings for night-before set-up, and dishwasher-safe parts.
As of June 2022, the Beautiful by Drew Barrymore 14-Cup Coffee Maker was available at Walmart for $53.
Best combination coffee maker
While some people are die-hard espresso lovers, and others are devoted drip-coffee lovers, some people just can't choose. Luckily, a few options have come onto the market that offer a combined experience for people who want the best of both worlds. The De'Longhi All-In-One Combination Coffee and Espresso Machine is the best combination coffee maker on the market for its versatility and style. 
The machine features a dual-action heating element so you can brew a pot of coffee and pull a shot of espresso at the same time. A built-in steam wand allows you to make any kind of espresso drink, from lattes to macchiatos. Several reviews do mention that both the coffee and the espresso could stand to be hotter, but the overwhelming majority report no issues with the temperature. 
The De'Longhi All-In-One Combination Coffee and Espresso Machine is available at BestBuy for $289.95.
Best smart coffee maker
In 2022, we expect things to be smart. Technology has come a long way, and smart appliances are at the forefront of consumers' minds. Even the most basic coffee makers come with settings like built-in timers and programmable settings. For savvy coffee enthusiasts looking for cutting-edge smart technology in their coffee maker, the newest device by Spinn has just hit the market. 
Like any great modern appliance, WiFi connectivity is a must. The Spinn Original coffee maker includes integration with an app for getting your morning cup of coffee brewing while still in bed. There's also a program for scanning a bag of coffee beans with your phone's camera to automatically activate precise brewing specifications. As for actual brewing, the Spinn coffee maker features precision grinding with the built-in grinder, G-Force infusion, and a 50-ounce water reservoir with NANO water filter. 
At the time of this writing in June 2022, the Spinn Original Coffee Maker was available from Spinn for $999. 
Best portable coffee maker
Some people love pour-over coffee for the superior taste and greater control of hydration and extraction. An added benefit? It's completely portable and there's no need for an outlet. The FELLOW Pour-Over Set is stylish, well-made, and mobile. There's a highly specialized design that maximizes taste while still maintaining a streamlined shape. 
Have you ever tried to travel with a Chemex? The dripper at the bottom comes with a travel cover that can also function as a drip tray. It also can be used as a measuring cup for scooping out a perfect amount of grounds. The double-walled borosilicate glass cup can be taken with, or you can put this pour-over right on top of any old coffee mug. One potential downside is the lack of filters — so you'll have to buy disposable ones.
As of June 2022, the FELLOW Stagg X Pour-Over Set was available from Madewell for $69.