Priyanka Chopra Jonas Has A Hilarious Hack For When You Overeat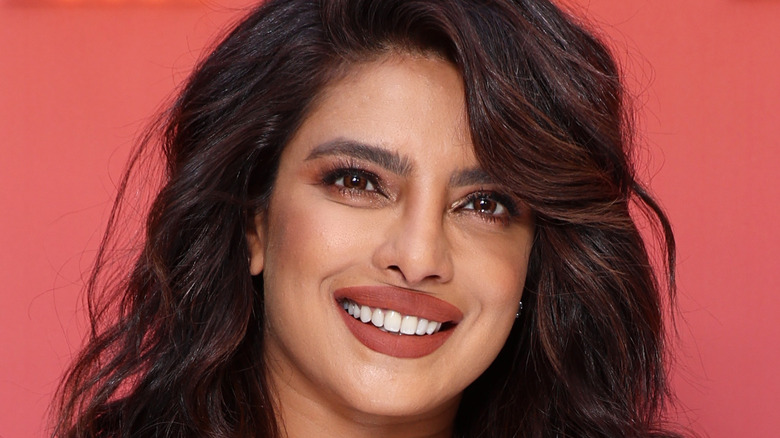 Daniele Venturelli/Getty Images
It's always tough to decide what to do when you're halfway through a meal at your favorite restaurant and you start feeling full. Listening to your belly and calling it quits would probably be wise — after all, you don't want to feel uncomfortably full for hours. On the other hand, however, there's still half a plate of mouthwatering grub in front of you just begging you to take another bite. You curse yourself for trading your stretchy pants in for a pair of trendy jeans while pondering whether or not you should throw caution to the wind and continue chowing down; if only there was a solution to this frustrating conundrum! Luckily, celeb Priyanka Chopra Jonas recently took to social media to share her hilarious hack for this exact situation, and you don't even have to get up from your seat to do it, either.
Taking to Instagram on April 10, Hindustan Times reports that the restaurateur shared a video taken while she was out enjoying Korean Barbecue with friends in L.A. In the clip, Chopra Jonas was captured shaking her stomach in a shimmy-like fashion — a trick she explained to her confused pals was (allegedly) to help make room for more of the food covering the table in front of her. "Do you think shaking after u overeat will make room for more?" she asked in a question box on the post. If only it was that easy.
Does Priyanka Chopra Jonas' overeating 'hack' actually work?
Instagrammers are loving Priyanka Chopra Jonas' overeating trick, with fans commenting on her cuteness and hearts raining down on her post. But, as much as we wish that shaking is the solution to quickly making room for more food when you're feeling full, it, unfortunately, looks like her "hack" is nothing but a myth. There does not appear to be any evidence supporting the theory that shaking your stomach as the former Miss World demonstrated will free up any space in your belly, or help alleviate any discomfort after you've overindulged. However, there are a few helpful tips that could actually come in handy when you feel like the button on your pants is fixing to pop off after a meal.
According to Cooking Light, one of the best methods to aid in the digestion process after overeating is to make sure you drink plenty of water. As R.D. and nutritionist Angela Onsgard explained to the outlet, "the liquid will be absorbed by any soluble fiber in your system," ultimately helping you get the remnants of your meal out with a trip to the bathroom faster than if you weren't hydrated. Additionally, here are more tips to help you if you've eaten too much, including which foods can assist in your plight after you've eaten a heavy meal.