Classic Tequila Sunrise Recipe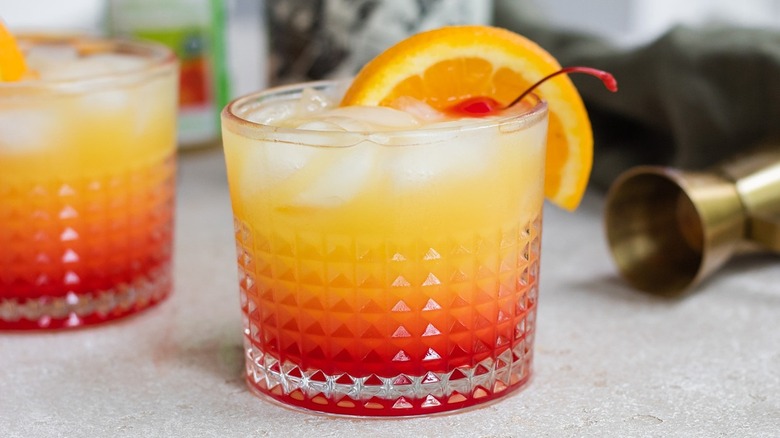 Jaime Shelbert/Mashed
If you are of a certain age, or have parents of a certain age, or have listened to any amount of classic radio in your life, then there's a good chance that you can't see the words "tequila sunrise" without hearing the lyrics to the Eagles 70s hit. Of course, the tequila sunrise cocktail also feels like a blast from the past in some ways, yet it still remains a popular cocktail today, especially for fans of sweet drinks.
If you haven't tried a tequila sunrise, it's basically a screwdriver made with tequila, except there's one additional ingredient adding the "sunrise" effect: some pink stuff, which is typically grenadine, but recipe developer Jaime Shelbert says "you could use the maraschino cherry juice." In fact, this is a preferred zero waste alternative if you're going to be garnishing the drink with a cherry anyway, since that way the juice gets repurposed and you don't have to go out any buy another ingredient. Shelbert, however, does say that if you want to upgrade the drink, and/or add some extra booze, you could "even [use] creme de cassis" to provide the pink. If you like sweet cocktails, then you simply cannot go wrong with a tequila sunrise — so let's get started!
Obtain the necessary ingredients for a tequila sunrise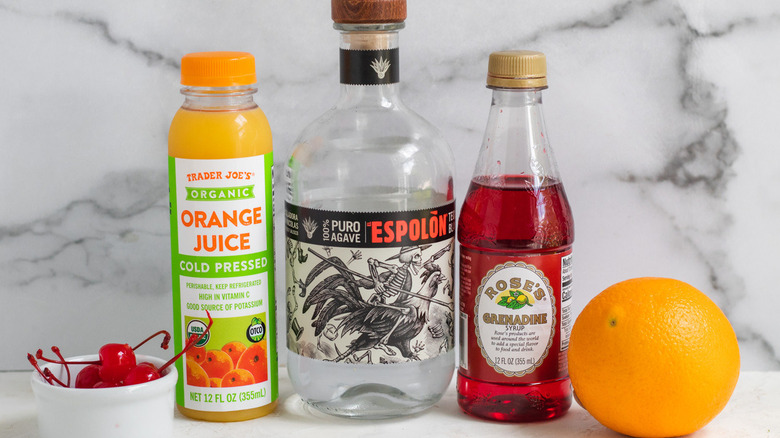 Jaime Shelbert/Mashed
First of all, you'll need some orange juice for the drink. You'll also need tequila, of course. Shelbert uses tequila blanco, which will give the drink the best "sunrise" effect, but you could use whatever you have on hand. To make the sunrise, you'll need the aforementioned pink stuff, whether that be grenadine, maraschino juice, or a pink liqueur. Shelbert also tells us that "the typical garnishes for a tequila sunrise are orange slices and maraschino cherries," so if you're into garnishing things, you'll want some of those, too.
Mix the booze and the juice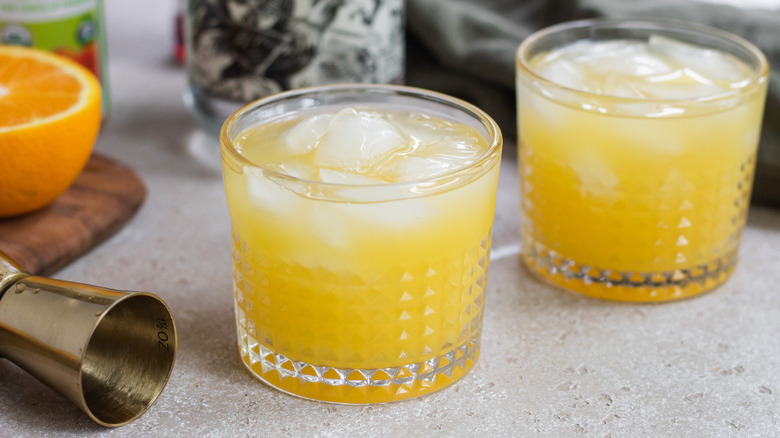 Jaime Shelbert/Mashed
Fill two glasses with ice, then pour half of the orange juice into each glass, then stir in half of the tequila. If you prefer a lower-ABV beverage, you can reduce the amount of tequila by half.
Give it that sunrise effect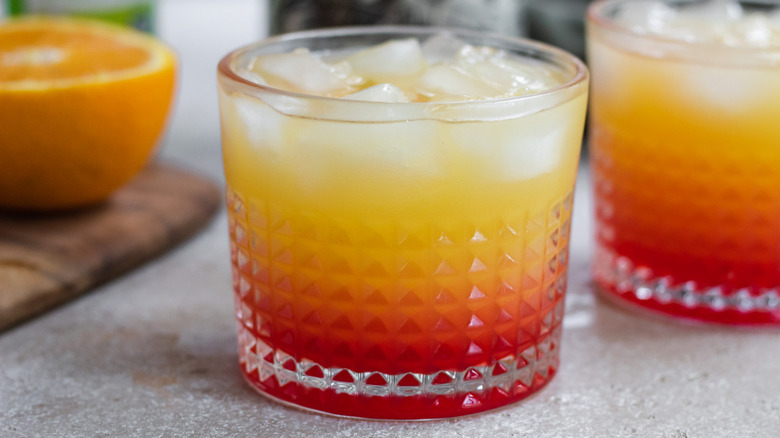 Jaime Shelbert/Mashed
Pour half of the grenadine down the side (the inside, of course) of each glass. Let it sink to the bottom, as this will make for a pretty pink-and-orange layered effect. Shelbert warns, "Do not stir, or the sunrise effect will be lost." Your drink will still taste great, but your Instagram moment will be ruined. Even if you're not into food photography, it's still fun to see the drink make like a lava lamp –- groovy!
Here are some tweaks you can make to this basic drink recipe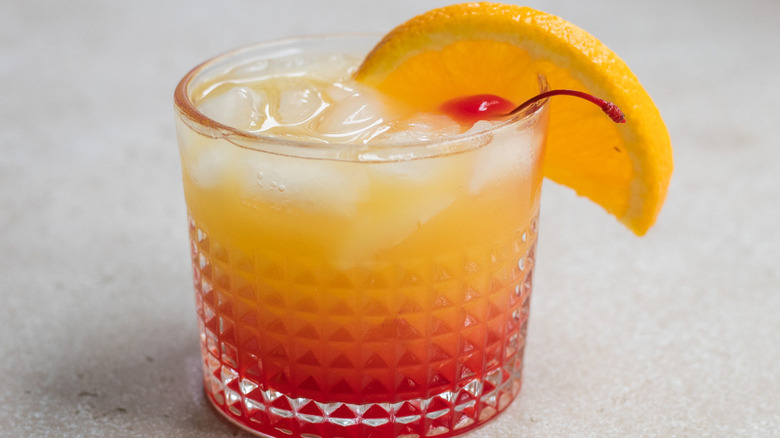 Jaime Shelbert/Mashed
As Shelbert tells us, there's also a drink called the tequila sunset. "The ingredients are basically the same," she says, but adds "however the sunset uses soda water." She suggests that you can also replace the orange juice with mango juice or add some pineapple or lime juice to the mix, or says you could opt for a spicy cocktail and muddle jalapeño in it, or an herby one with cilantro. A cilantro sprig and/or lime or pineapple wedge might be a nice garnish should you make any of these tweaks.
Classic Tequila Sunrise Recipe
This tequila sunrise recipe is sweet and refreshing, and it looks pretty, too!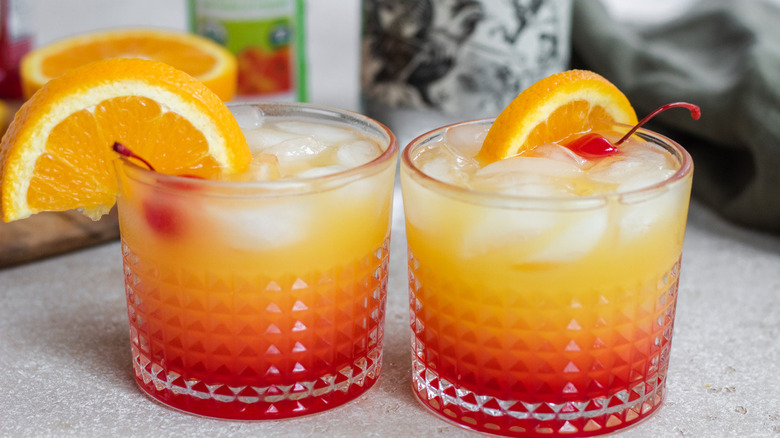 Ingredients
8 ounces orange juice
4 ounces tequila blanco
1 ½ ounces grenadine
Optional Ingredients
2 orange slices
2 maraschino cherries
Directions
Fill 2 glasses with ice.
Pour half of the orange juice into each glass.
Stir half of the tequila into each glass.
Pour half of the grenadine down the inside wall of each glass, allowing it to settle to the bottom.
Garnish each drink with a cherry and orange slice, if desired.
Nutrition
| | |
| --- | --- |
| Calories per Serving | 239 |
| Total Fat | 0.2 g |
| Saturated Fat | 0.0 g |
| Trans Fat | 0.0 |
| Cholesterol | 0.0 mg |
| | |
| --- | --- |
| Total Carbohydrates | 26.0 g |
| Dietary Fiber | 0.2 g |
| Total Sugars | 19.4 g |
| Sodium | 7.4 mg |
| Protein | 0.8 g |