Why Taco Bell Brought Back A Fan-Favorite Nacho For A TikToker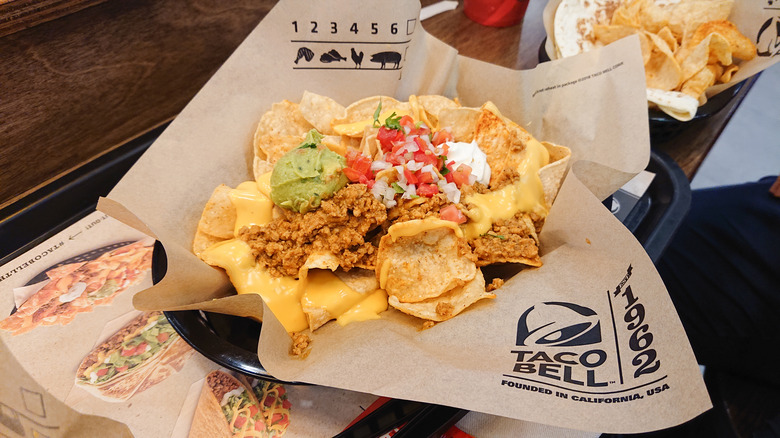 Suphachok Rengsomboon/Shutterstock
Wouldn't it be nice if a restaurant brought back a discontinued product just because someone asked? That's exactly what Taco Bell did after a TikTok user stated that he would commit to an intense workout plan until the chain brought back his favorite product — the Grilled Stuft Nacho.
Chris Sandberg named his TikTok account after the exclusive Taco Bell product, which he admitted he had only tried a week before it was removed from the menu (via The Washington Post). The Grilled Stuft Nacho is a fan favorite for multiple reasons, as it combines elements from another Taco Bell favorite — the Crunchwrap Supreme — while also adding in its own unique elements (via Brand Eating). It is filled with red tortilla strips, sour cream, and nacho cheese — making it packed with both flavor and texture. 
As of June 2022, @stuftnacho has 19.3 million likes on the video platform. Though Sandberg has been keeping up with his routine for over 500 days now, he did catch the chain's attention a few months earlier.
The product was actually a sample
On February 7th, Sandberg posted a video that revealed that Taco Bell had given him a sample of the Grilled Stuft Nacho. The social media sensation had not been back to the chain since the start of his journey, which was over a year at that point.
The TikToker filmed himself trying the gift for his followers to watch. In the video, he gave his input on the dish, which he stated was just as good as he remembered it, if not better. If he ever were to have this dish again, Sandberg stated that he would love to have Nacho Cheese Doritos sprinkled back into the dish.
As of April 2022, the Taco Bell fan had lost nearly 100 pounds from exercising every day since creating his account (via ABC News). Though Sandberg admitted that he enjoyed the dish, he stated that he would continue to exercise, as the food product was still not permanently offered on the menu.