Chipotle Just Added Its First Seasonal Beverage To The Menu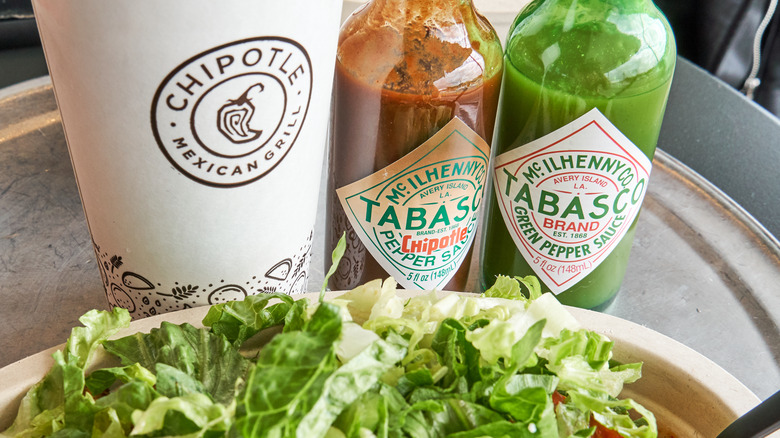 dennizn/Shutterstock
Chipotle has been consistently providing fast-casual Mexican fare over the last couple of decades. Now, the chain is dipping its toe into new waters, and adding a seasonal beverage to the menu. This is a first for the chain, which has long served a standard slate of regular drink offerings, like sodas, teas, and so on to enjoy alongside burrito bowls and that trademark guacamole.
The new summertime menu item will benefit "causes that support farmers." According to MSF Agriculture, these issues include climate problems (drought in some spots, excessive rain in others), economic woes, and debt, to name a few. 5% of profits from sales of the summery new drink will go straight to these causes, according to a company press release.
In a fitting twist, the new beverage was actually created by an organic farmer! Travis Potter, co-founder of Tractor Beverage, says that the company strives to "support the farmers who make all of our certified organic drinks possible." And now, for the big reveal on what Chipotle's very first seasonal beverage actually is...
All the details on the seasonal Chipotle beverage
Chipotle's first seasonal beverage is Watermelon Limeade, and although it's brand-new in most locations, it might look familiar to patrons in Orange County, California, Atlanta, and Kansas City. This is because it was tested there to great fanfare in 2021. In a press release, Chipotle reports that the drink "surpassed expectations," and "quickly became our best selling Tractor Beverage."
Per the press release, Watermelon Limeade was created specifically to compliment "Chipotle's 53 real ingredients." The Tractor beverage is reportedly made only with certified organic, all-natural, non-GMO ingredients. The drink also has no preservatives or additives. This new menu offering joins a slate of existing Tractor beverages available at Chipotle, including Mandarin Agua Fresca, Lemonade, and Berry Agua Fresca.
Many other restaurants through the years have seen significant success with seasonal beverage options. For example, Starbucks patrons are borderline obsessed with the coffee giant's Pumpkin Spice Latte, available every year starting around the end of August, just in time for cooler fall months. Only time will tell if the Watermelon Limeade will develop such a cult following.