Why Coors Light And Keystone Light Beer Packs Are Disappearing From Store Shelves
UPDATE 6/16/22: This story has been updated to include a statement from Molson Coors.
It's never ideal to realize that the beverage you might often have on hand in your kitchen has been pulled from store shelves. However, beer recalls do happen, and they can be quite serious. According to Food Safety News, in 2014, Constellation Brands Beer Division of Victor, New York, recalled Corona bottles after there were reports of small glass particles found in the drink. Labatt Brewing Company Ltd. had a similar glass particle recall for their Stella Artois beer bottles in 2018. And in 2020, there were reports of nearly two-dozen people being poisoned by a Brazilian beer.
An item might be recalled out of an abundance of caution when a problem is brought to a company's attention. But a beer brand doesn't always need to discover a potential danger to the public to remove its products from store shelves. Recently, Molson Coors, which owns products such as Keystone Light and Coors Light, voluntarily pulled variations of both products from distribution after a different kind of concern was raised.
Molson Coors is pulling Coors Light and Keystone Light products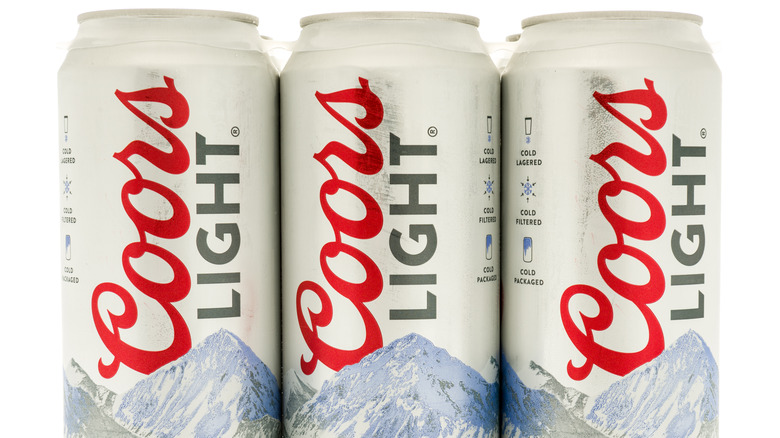 Keith Homan/Shutterstock
On June 8, Dierbergs, a supermarket in St. Louis, Missouri, issued a notice saying they were pulling packs of 12-ounce Keystone Light and Coors Light beer cans from store shelves. The supermarket noted that there were no food safety risks associated with the product withdrawal; rather, Molson Coors had become aware of "a quality issue" and has chosen to remove the cans in order to ensure its customers only receive the highest-quality product. (Though to some, Coors Light already had things wrong with it.) The beers apparently came from the Trenton production site in Ohio.
"We recently became aware of an issue on just one canning line at one of our breweries that supplies these two beers to a relatively small number of states," a representative for Molson Coors told Mashed in an emailed statement. "The impacted product does not pose a food-health risk, but it doesn't meet our quality standards."
Snopes reported that the product withdrawal could have something to do with viral TikTok videos that appeared to show a slimy substance coming out of the beer cans. A Reddit thread showed users' reactions to the beer's consistency, with one user giving a rather colorful description that read, "Looks like pouring out a spit can that's been sitting in the car all summer." Molson Coors didn't say when a new batch of products will return to shelves.