Me Or The Menu: Release Date, Challenges, And More - What We Know So Far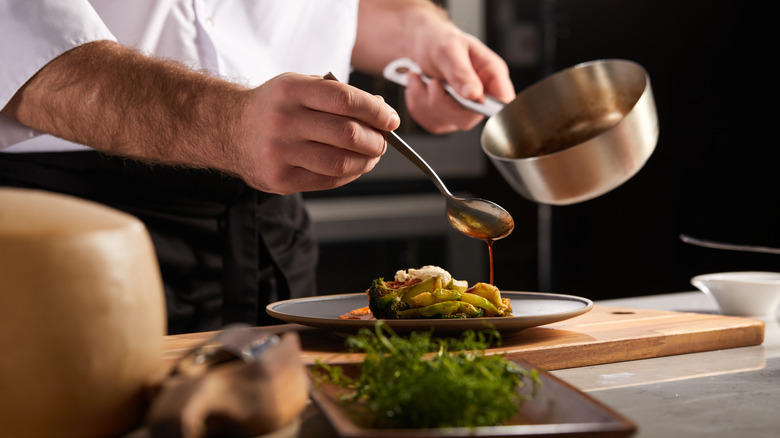 Roman Chazov/Shutterstock
If you've ever worked in a busy restaurant, you know that an average shift can feel a bit like theater — backstage drama and all. There's the front of house gliding about their sections with trays of fragile dishes in hand, pivoting ballet-like on the vertical axis to make room for diners on the move. There's the din of pots, pans, and sizzling butter coming from the kitchen, punctuated by blunt commands from the chef. There's the sound of silverware clinking against glass, a swell of music in the background, and voices of all registers laughing or fighting or whispering around the tables. And once the curtain draws come closing time, it's only a matter of hours until it opens again for another show. 
Take all that drama and passion and add a romantic bond between the stage managers, and you've got the new reality food show "Me or the Menu," premiering later this month on Discovery+ and Food Network. The docuseries follows four married or engaged couples as they start their first restaurants together (via Food Network), which we imagine makes for some pretty heated arguments — and surely some heartfelt moments — onscreen. Here's everything we know so far. 
Mark your calendars for June 30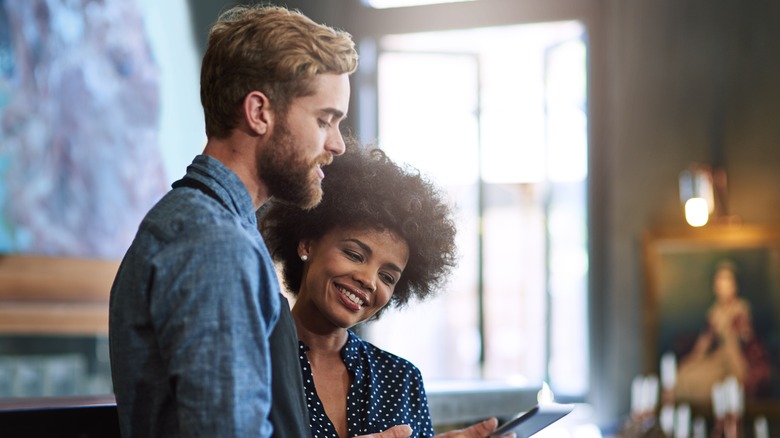 PeopleImages.com - Yuri A/Shutterstock
Premiering Thursday, June 30 on Food Network and Discovery+ (via Realscreen), the synopsis of "Me or the Menu" reads, "60% of restaurants fail, 50% of marriages end in divorce, and four couples are trying to beat both odds." Some couples on the show have recently opened their restaurants, according to the channel, while others are bringing the TV crew along on their high-stress opening day. 
There's burgeoning food truck owner Kathleen and her fiancé, Nate; there's Chicago up-and-comer James and his wife, Jessica; there's "industry veteran" turned debut restaurateur Randi and his fiancée, Jeanette; and there's vegetarian gastronome Nicole and her boyfriend, Alan. 
Based on the information we have so far, we have our eye on Nate and Kathleen as the most dramatic couple. Nate gets on Kathleen's nerves from the get-go with his "attitude," for instance, and the pair waits until the last minute to tell their son that they're using all their savings to open their restaurant. Nate and Kathleen may meet their match in the next episode, however, which sees Jeannette leaving Randi in the lurch to manage a "hectic brunch shift" without her. It looks like these couples won't need additional challenges from the producers because they seem to create enough of their own.