Ree Drummond's Secret For The Best Chicken Nuggets
The Pioneer Woman may have a knack for finding the best flavor combinations like her sweet Hawaiian Chicken Skewers. But being a celebrity chef also means having the right technique, and Ree Drummond certainly has a special touch in this area.
From filling out her meatballs with breadcrumbs to coating her pre-baked Christmas cookies with egg-yolk wash, Drummond definitely does things her own way in the kitchen. Though these methods are unconventional, the food blogger has achieved great recognition for her recipes, with her book, "The Pioneer Woman Cooks: Recipes from an Accidental Country Girl," becoming a bestseller. Furthermore, her work earned the title of Weblog of the Year at the Bloggie Awards in 2009, 2010, and 2011 (via Food Network). It's clear that many of her fans place a lot of trust in her skillset as a chef.
The recipe curator actually has a unique way of making chicken nuggets, and while this preparation method is definitely not mainstream, it results in the finished product being perfectly crispy. 
Ree Drummond panfries small pieces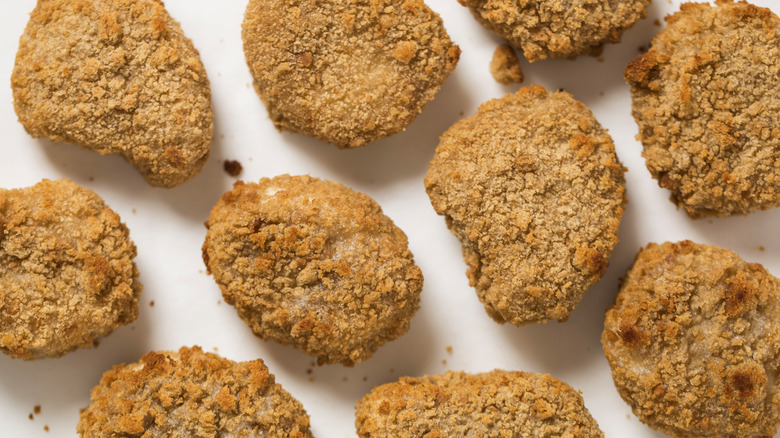 Dan Kitwood/Getty Images
At a lot of fast food restaurants, chicken nuggets are typically made by putting a mixture of chicken meat and seasonings in a fryer, before they are packaged and served to the customer (via Nowadays). Though Ree Drummond's first few steps look similar, in that she also salts and breads her nuggets, she panfries her chicken rather than deep-fries them (via Food Network). She makes sure that her pieces of meat are small before she throws them into the skillet. The smaller bits tend to fry more thoroughly than larger ones and require less time to cook.
Frying chicken nuggets in a pan like Drummond can also be beneficial if you're limited on space or time. Cutting the nuggets into small bits enables them to become especially crispy in texture when prepared in a pan. For chicken nuggets with an extra crunch, Drummond's method may be worth a try the next time you prepare a chicken nugget recipe.