How A Manhattan Convenience Store Is Helping Small Food Businesses Take Off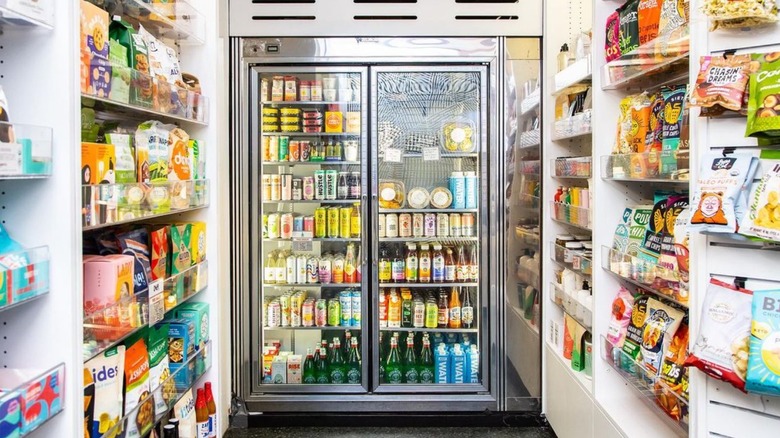 Instagram
Recent innovations in food science have facilitated the introduction of a bevy of new plant-based alternatives to meat and carbohydrates. Customers have lately seen the addition of dozens of new brands of seltzer — with and without alcohol — to grocery store shelves. In the consumer-packaged goods (CPG) space, Nielsen explains that new opportunities abound, as "people are focused on sustainability, eco-friendliness, and all-natural ingredients." This spring, enterprising small business owners made their gambit on "Shark Tank" for investments in their food and beverage companies that sold, to name a few products, prepackaged snacks made of dates, canned prickly pear cactus water, and fast-casual Korean rice cups.
Still, opportunities created by evolving customer demand and advancements in nutrition science are far from a guarantee that new businesses will find success — even if they manage to score a contract with a major big-box retailer or a deal with a "Shark Tank" shark. That's where entrepreneur and public relations expert Rachel Krupa comes in. 
"What's happening in the snack food industry is so exciting; it's an opportunity to really be part of something," says Krupa, founder of The Goods Mart, a better-for-you convenience store located in SoHo and in the lobby level of 30 Rockefeller Plaza in Manhattan. The stores are a "discovery zone" for customers, she explains, but also a forum for new food and beverage purveyors to build a fanbase and get their businesses off the ground.
The Goods Mart is a valuable resource for small business owners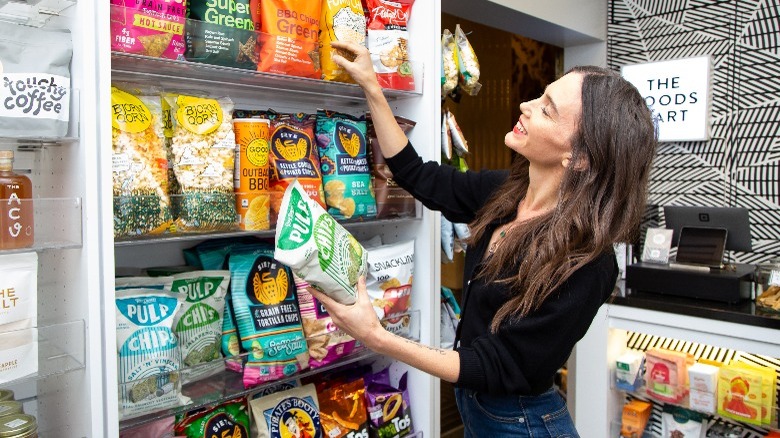 Rachel Krupa/Krupa Consulting
Let's rattle off a few facts before we get into how The Goods Mart is helping upstart companies: First, the retailer was modeled after 7-Eleven stores and bodegas but offers a selection of better-for-you snacks and drinks. Seventy-three percent of the brands are helmed by women, people of color, or LGBTQ+ entrepreneurs. And all products are free from GMOs, as well as artificial dyes and colors. 
Sustainability is also central to the mission of The Goods Mart, whose curation of new products preferences those made with upcycled, fair-trade ingredients that are plant-based where possible. The stores do not sell anything packaged in single-use plastic bottles, nor any non-recyclable cups for coffees or slushies.
"We're known, now, for being the first retailer for many new brands," The Goods Mart founder Rachel Krupa says. This allows upstart companies to learn by trial and error, giving them the space to learn and grow before being thrown into a contract with a big-box retailer whose purchase order might far exceed the manufacturer's ability to deliver, she explains. Fledgling businesses are likely making products at home — but when the brand scales up, the ingredients and assembly must be reformulated to be machine-made. Manufacturers of food and beverage products sold in The Goods Mart will often turn to the retailer for advice on implementing these changes, along with advice on finding a trusted manufacturer, distributor, or funder, Krupa says.
Krupa helps people do what they're great at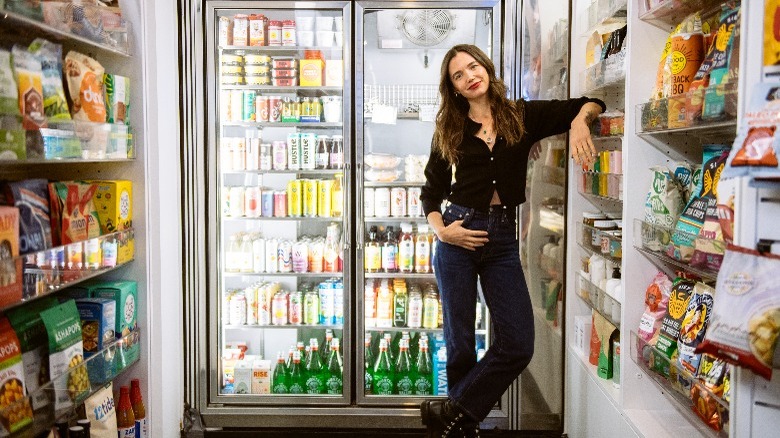 Rachel Krupa/Krupa Consulting
The Goods Mart founder Rachel Krupa has done branding and public relations work for high-profile clients, including major food and beverage brands. She started her own agency, Krupa Consulting, in 2010. Krupa explains that The Goods Mart stores are each 500 square feet: small enough that manufacturers can be confident their products won't be lost amid a sea of competitors. 
Staff at the stores are schooled on the stories behind each of the brands, Krupa says: "What we really do is train our team members to talk about the brands." Because they are trying the products, team members can make recommendations and create repeat customers, she adds.
Recognizing excellent on-the-go food and drink items that would be a good fit for The Goods Mart has been another key to its success, Krupa explains. Burritos from the beloved Zacatecas joint on the West Coast, Burritos La Palma, are sold for $5.50. Customers can also pick up La Colombe drip coffee for $1.25. Some of the founder's personal favorites — a non-exhaustive list, she hastens to add — includes De La Calle!, a centuries-old Mexican pineapple probiotic drink called Tepache; Mid-Day Squares, a refrigerated vegan chocolate peanut butter bar that's free from GMOs, gluten, dairy, and soy; and mushroom jerky (The Goods Mart sells three varieties, including Shark Tank alum Michael Pan's).