Why MrBeast Recreated The Willy Wonka Chocolate Factory And Invited Gordon Ramsay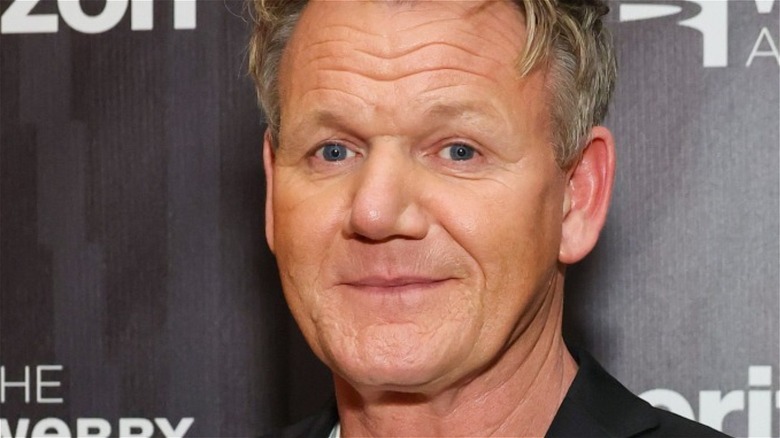 Mike Coppola/Getty
What do MrBeast and Gordon Ramsay have in common? Well, they both own burger restaurants, so that's a start. But why did the "MasterChef" host appear in MrBeast's recreation of the "Willy Wonka" chocolate factory? 
If you aren't familiar with his work, MrBeast, aka Jimmy Donaldson, is a YouTube personality who's been streaming videos since he was 12 — that's more than 11 years now. He has a net worth of roughly $25 million, according to Celebrity Net Worth. He hosts fun videos but is also a philanthropist, building wells in Africa and planting trees. MrBeast is also the owner of a chocolate bar, MrBeast Bar, and a burger chain, MrBeast Burger.
In a November 2021 video, MrBeast recreated the "Squid Games" set and invited contestants to play a real-life version of the competition from the popular Netflix series, giving $456,000 to the winner. The YouTuber is no stranger to recreating iconic TV and movie sets — but where does Ramsay come in?
What is MrBeast's Chocolate Factory all about?
In a June 4 YouTube video, MrBeast recreated the magical "Charlie and the Chocolate Factory" landscape — including the chocolate waterfall. The YouTuber sold and gave out chocolate bars containing those coveted golden tickets; the people who received those tickets became participants in his newest game. 
The 10 contestants visited MrBeast's chocolate factory set, where they had the chance to win the chocolate factory itself, along with and a major cash prize. The top three finalists took part in a cooking challenge, complete with Gordon Ramsay as the judge.
The contestants were given 45 minutes to complete their dishes. And in true Ramsay style, the chef quizzed the contestants about their process, with MrBeast commenting, "You're making everything much more intense, and I love it." Ramsay scored each dish based on appearance and taste. The winning creation? A Funfetti cake, complete with a banana boat and, of course, a chocolate waterfall. The winner was presented with the chocolate factory — but then MrBeast wheeled out a cool $500,000 in cash, offering to buy the factory instead. The video has received more than 64 million views, further confirming that fans absolutely love the adventure that is MrBeast's YouTube channel.