Pan-Seared Swordfish Recipe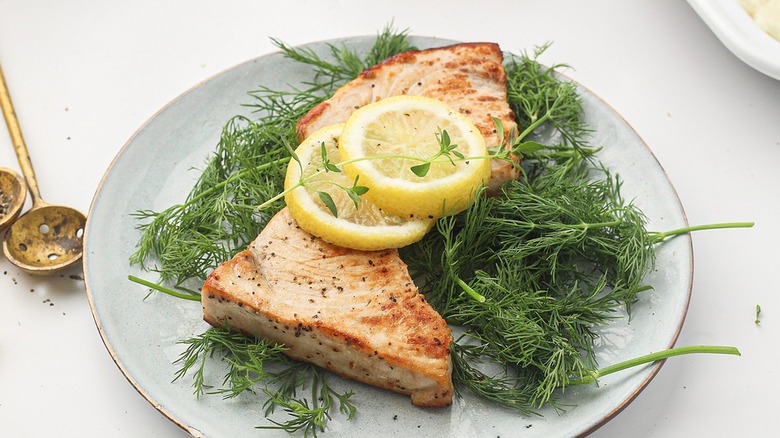 Susan Olayinka/Mashed
If you want to wow your dinner companion with a dish that is impressive but dead-easy to make, this pan-seared swordfish recipe from recipe developer and food photographer Susan Olayinka is just what you need. You only need swordfish steaks, basic pantry staples, and a little bit of time to get this deceptively simple entrée on the table.
This pan-seared swordfish dish is also a great seafood recipe for someone who isn't necessarily the biggest fan of fish. It's moist, dense, tender — some might even describe it as the steak of the sea! And, when cooked with a perfect sear, it's almost easy to forget that it's a piece of seafood that you're cooking up. But, rest assured that it does have plenty of fish flavor, especially if you give it a fresh squeeze of lemon right before serving.
Whether you're cooking up a romantic dinner for two or just rustling up a weeknight family dinner, this recipe takes very little time, very little fuss, and will please even the pickiest of eaters. Let's get started!
Gather your ingredients for pan-seared swordfish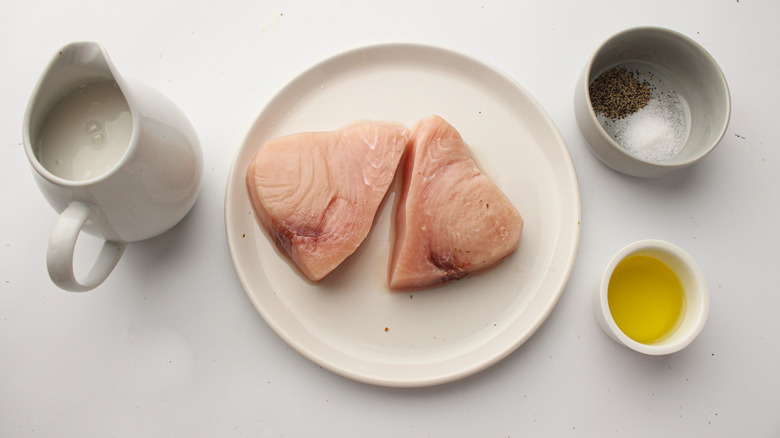 Susan Olayinka/Mashed
For this recipe, you'll need two swordfish steaks. You can use frozen swordfish, but make sure to fully thaw the fish before cooking. You'll also need salt, pepper, and olive oil. And last but not least, you'll need 2 cups of whole milk, though you could use reduced-fat or buttermilk in a pinch. If you're surprised to see milk in a fish recipe, don't worry! Olayinka even says it's her favorite part of this recipe. "It's quite rare to soak fish in milk," she explains, noting that "the milk tenderizes" the swordfish.
Soak the fish in milk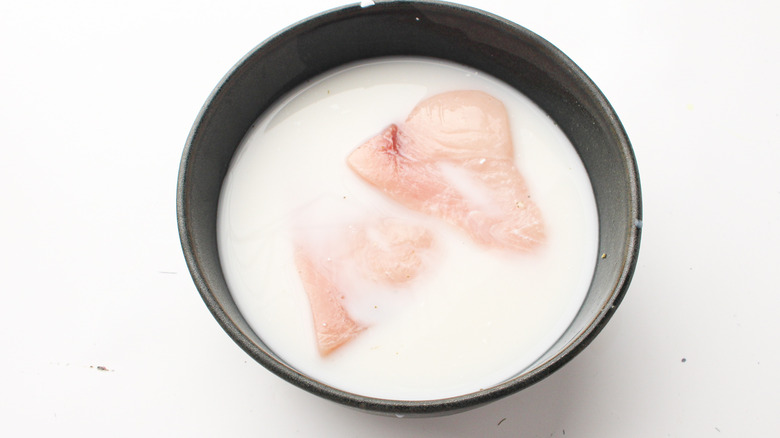 Susan Olayinka/Mashed
Begin by soaking the fish in the milk for 15 minutes. Like Olayinka said, the milk will help tenderize the swordfish, and according to Cook's Illustrated, it will also remove some of that particularly "fishy" smell and taste. It will still taste like fish, of course, but much milder.
Season and fry the fish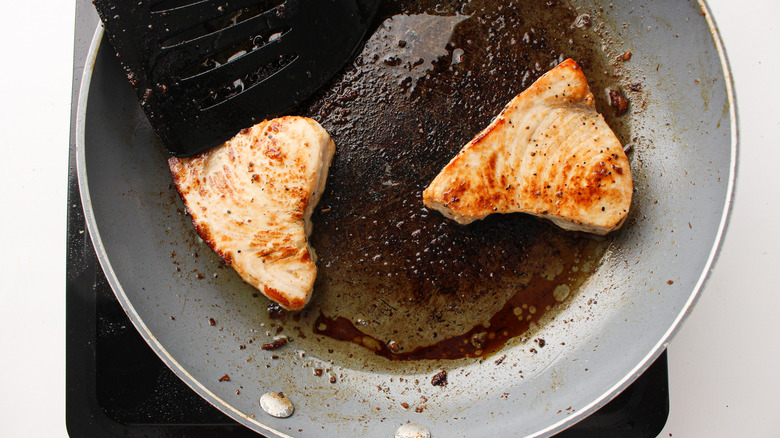 Susan Olayinka/Mashed
After they're finished soaking, season the swordfish steaks with salt and pepper. Heat the olive oil in a skillet over medium high heat. Once the olive oil is hot, add the swordfish steaks. Cook the swordfish for 3 to 4 minutes per side, or until cooked through and golden brown. While this is a very simple recipe, Olayinka warns that it is easy to overcook swordfish — keep an eye on your frying pan!
Serve and store the swordfish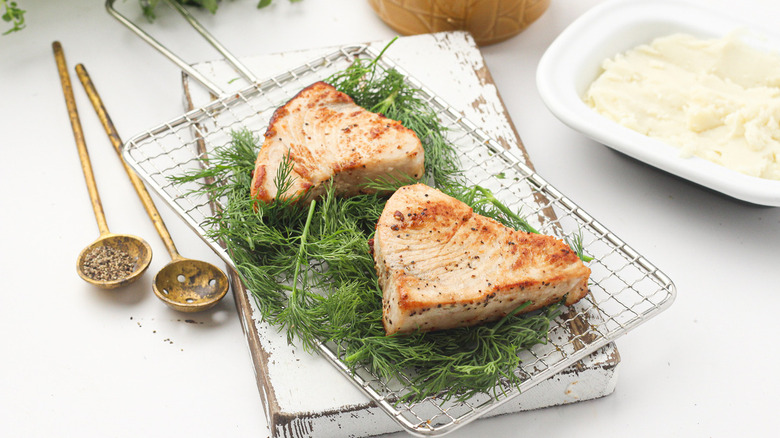 Susan Olayinka/Mashed
And that's it! Your pan-seared swordfish is done and ready to serve. Squeeze some fresh lemon juice on and enjoy right away, or keep the fish it in the refrigerator for 2 to 3 days at most. Olayinka warns that, since this is a seafood dish that is best eaten fresh, it's probably best not to freeze this.
Pan-Seared Swordfish Recipe
Believe it or not, swordfish is actually pretty easy to cook, especially when you follow this pan-seared method.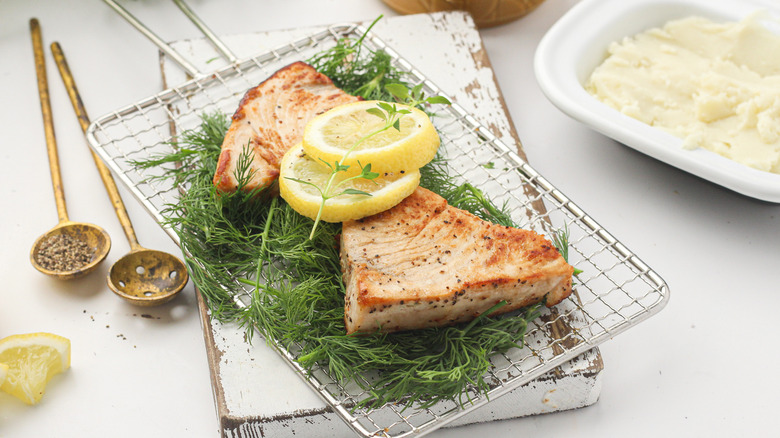 Ingredients
2 (6-ounce) swordfish steaks
¼ teaspoon black pepper
½ teaspoon salt
2 tablespoons olive oil
2 cups whole milk
Directions
Soak the swordfish steaks in the milk for 15 minutes.
Remove the swordfish steaks from the milk and season them with salt and pepper.
Heat the olive oil in a large skillet over medium-high heat. Once the oil is hot, add the swordfish steaks to the pan and cook for 3 to 4 minutes on each side, or until golden brown and cooked through. Be careful not to overcook.
Nutrition
| | |
| --- | --- |
| Calories per Serving | 514 |
| Total Fat | 32.8 g |
| Saturated Fat | 9.1 g |
| Trans Fat | 0.1 g |
| Cholesterol | 136.7 mg |
| | |
| --- | --- |
| Total Carbohydrates | 11.9 g |
| Dietary Fiber | 0.1 g |
| Total Sugars | 12.3 g |
| Sodium | 824.4 mg |
| Protein | 41.2 g |