London's Candy Shops Could Be In Huge Legal Trouble — Here's Why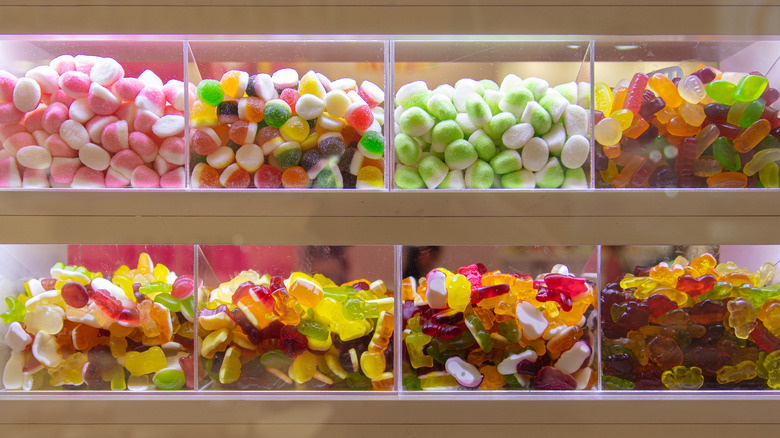 Robert Kneschke/Shutterstock
They have names like "Kingdom of Sweets," "Exit9 American Candy," and "American Candy Land," and their displays include selections of candy and snack foods that you might find in grocery stores across the United States. But these stores, located in central London's premier shopping district, now face government scrutiny for a number of suspected violations that include selling expired food, raunchy sweets, and fake Wonka bars, per BBC. 
At least 30 of these stores have also been caught selling thousands of disposable vapes with levels of nicotine that are above British standards. In all, the Westminster City Council has seized more than $571,000 worth of illegal and counterfeit inventory from these shops. And the Westminster City Council, which is acting on these stores, say the shops are seen as "far from regular and legitimate businesses."
"Anyone walking down Oxford Street is struck by the ever expanding number of U.S.-style sweet shops and poor-quality souvenir outlets. They are not only an eye sore; they are a threat to the status and value of what is supposed to be the nation's premier shopping street," Adam Hug, the head of Westminster City Council, which is undertaking the business probe, said to The Independent.
The candy stores may be used as fronts for illegal activities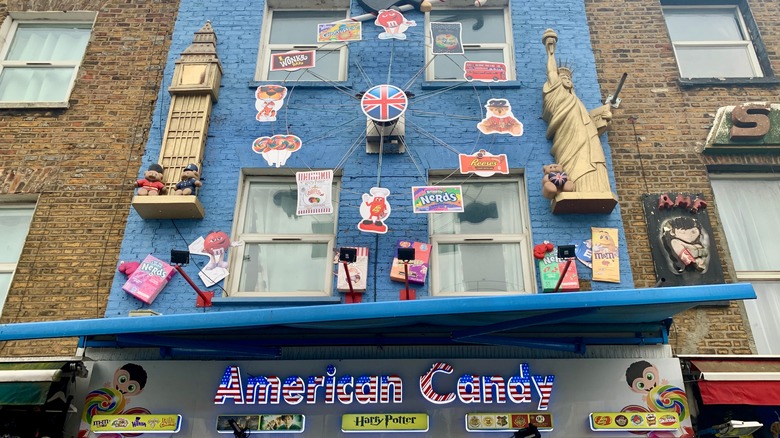 Alla Tsyganova/Shutterstock
London's candy shops first triggered suspicion because, as a spokesman for the city council put it to TimeOut, "There is a growing problem of candy and poor quality souvenir shops on Oxford Street and in the surrounding West End area. We understand that these shops are far from regular and legitimate businesses with very few serving sufficient customers to be commercially viable. Instead, we believe that these properties are used to avoid business rate bills and possibly commit other civil or criminal offenses."
Metro adds that officials were concerned the shops were being used as fronts by companies claiming to be the candy retailers' legal owners, which then close before they are charged business rates, which is a way of dodging taxes. The Daily Mail reports that two companies with ties to Kingdom of Sweets already owe more than $2.4 million in taxes. 
Another way of dodging taxes would be to set up shop in an empty space. The council spokesman told TimeOut, "Often there are complex chains or leases, sub-leases and licenses in place with the final sub-leases or licenses usually being highly questionable."
Oxford Street's stores were COVID-19 casualties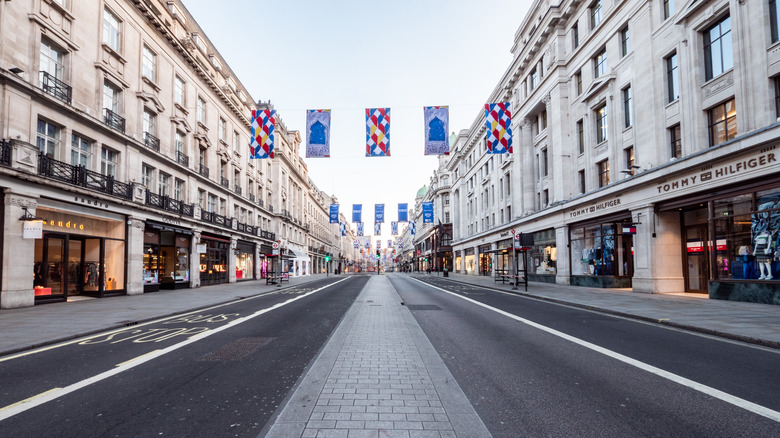 pxl.store/Shutterstock
It wasn't always this way.
Per The Guardian, Oxford Street was once one of the biggest commercial districts in London. It was home to some of the biggest names in High Street fashion retail, including Topshop, Debenhams, Gap, and French Connection. All of that changed when COVID-19 came around, and as people decided to stay home. Figures quoted by The Guardian show sales went from $9.67 billion — or about 8 billion British pounds — in 2019 to $2.41 billion — or 2 billion British pounds — in 2020. The area clawed back slightly to earn an estimated $6.046 billion (around 5 billion British) pounds in 2021. And hundreds of years before it was a retail mecca, Oxford Street was England's entertainment district. 
Still, TimeOut says the situation with the cheap candy shops shouldn't last for too much longer, as recognizable brands including IKEA, the Arcade Food Hall, and Outernet have already announced their intentions to set up shop in the neighborhood.