Ina Garten's Favorite Restaurant Is So Relatable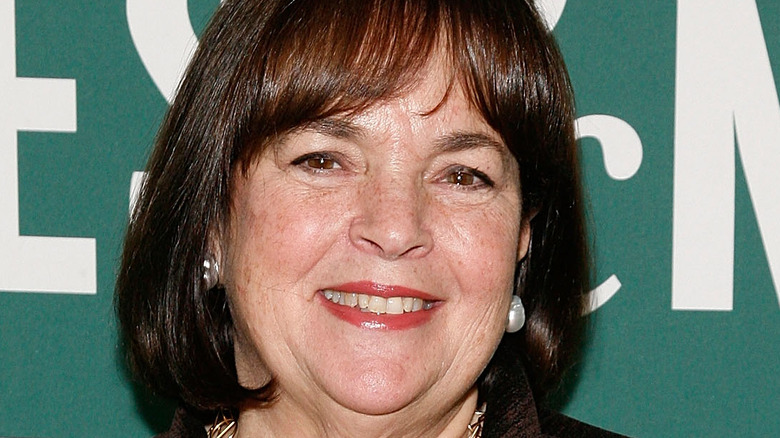 Andy Kropa/Getty Images
It might not seem like it when you're watching Ina Garten cook in her immaculate kitchen on "The Barefoot Contessa" or make cocktails for high-profile visitors like actress Julianna Margulies on "Be My Guest," but the Food Network veteran is pretty unassuming and accessible. One of her favorite catchphrases, after all, is "store-bought is fine" (via Today).
The more we think about it, the more down-to-earth and relatable the TV host, cookbook author, and food mega star is. She met her life partner, Jeffrey, when she was 15 years old and married him five years later (per Good Housekeeping). She left what sounds like a not-exactly-exciting policy job at the White House ("there's got to be more to life than this!") to check out an ad for the tiny boutique food store on Long Island that would eventually become her calling card, Barefoot Contessa (via Barefoot Contessa). Soon after, she was baking bread and desserts and preparing casually elegant meals for customers so they didn't have to (per Food Network).
Sure, she can travel the world and eat anywhere she wants, but Garten's Instagram makes it clear she has a love for simple pleasures: café breakfasts in Paris, home-cooked meals like chicken pot pie soup, Easter cupcakes with Peeps on top. So it shouldn't come as any surprise that one of Garten's favorite restaurants in New York City is also fuss-free and highly approachable.
Ina Garten's Brooklyn go-to
When Ina Garten isn't cooking for Jeffrey (and herself) or hosting friends, she frequents some favorite places in the Hamptons and elsewhere on Long Island, including the Pike Farms stand for fresh corn, the catch of the day from Duryea's Lobster Deck, elevated pub food with a local twist from The 1770 House, and gourmet takeout from Loaves and Fishes Cookshop (per Food Network).
In New York, meanwhile, Garten is a big fan of chef-owner Missy Robbins and her Italian restaurant, Lilia (per The New York Times). The destination restaurant in the Williamsburg area of Brooklyn is two restaurants in one, according to its website: a café by day serving coffee, pastries, and gelato, and a ristorante by evening serving what Eater calls "serious Italian food," including steaks, seafood, and plenty of pasta.
"It's a very casual, very approachable kind of restaurant; it's not fancy," Garten told the New York Times. "But Missy Robbins's food is so extraordinarily flavorful and fresh and seasonal. I mean, it's a problem. I just can't stop."