Chrissy Teigen's Go-To Hack For Healthier Fish Sticks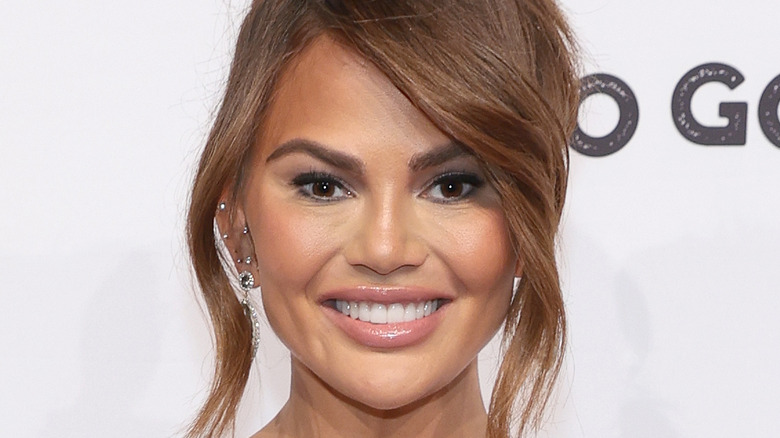 Dimitrios Kambouris/Getty Images
We may receive a commission on purchases made from links.
Anyone who is familiar with Chrissy Teigen knows that she's a woman of many talents. The Utah native launched her career as a model, skyrocketing to fame after appearing on the Sport's Illustrated swimsuit issue in 2010 (via Orange Coast). Since then, Teigen has co-hosted "Lip Sync Battle," acted on "The Mindy Project," and launched her own line of cookware and other products (via The Sun). To top that off, the former model is a New York Times bestselling author of the cookbook series "Cravings," which currently includes three volumes and a website of the same name.
As the name suggests, the "Cravings" series is not solely focused on healthy eating. Teigen's cookbooks include a little bit of everything, from classic comfort food recipes to a series of dishes dedicated to Teigen's Thai heritage. There's even a section that Teigen refers to as "Sober Stoner" food, which Epicurious describes as "a hybrid of model diet food and stoner food." Within the pages of Teigen's cookbooks, you can find recipes for lasagna with zucchini slices, mashed cauliflower, and a healthy-ish grilled cheese with peaches, onions, and sweet chili. As for fish sticks? According to Love Food, the cookbook author has a go-to trick to make her version of these savory snacks slightly healthier.
Chrissy Teigen likes to coat her fish sticks with panko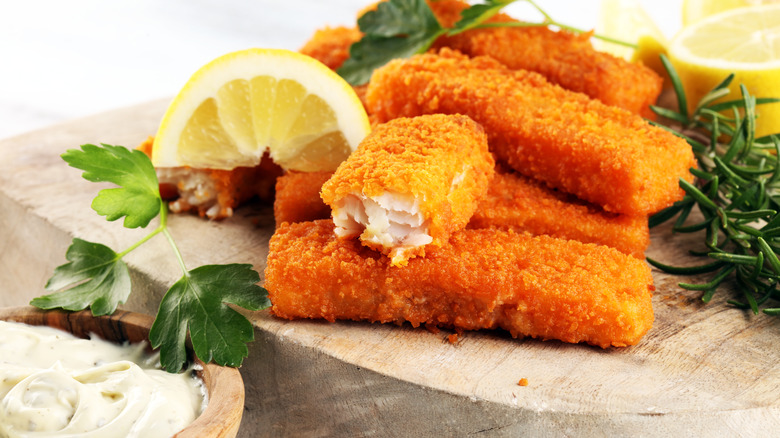 beats1/Shutterstock
When you think of fish sticks, a platter of fried goodness usually comes to mind. But what if we told you your fish sticks don't need to be fried to be crispy and crunchy? Instead of coating her fish with batter and frying it in oil, as one would do in more traditional fish fry recipes, model and lifestyle guru Chrissy Teigen has an alternate strategy for making these seafood snacks.
According to Love Food, Teigen starts by coating her fish with panko breadcrumbs. Although panko is traditionally Japanese, The Greatist notes that this type of bread crumb has been increasingly used in Western-style dishes in recent years. Unlike regular bread crumbs, panko is not made from crusty bread, but rather "crustless white bread." Spend with Pennies points out that panko is also a healthier alternative to regular bread crumbs, containing a relatively decreased amount of fat, sodium, and calories.
After covering her fish with panko, Teigen then opts to bake them in the oven on high heat. "They're so golden and crispy, you'd think they were fried, but NOPE," Teigen writes in the recipe notes. If you want to ensure that you fish sticks turn out extra golden, Teigen recommends adding a little paprika to your breadcrumb mixture. If you'd like to try this method out for yourself, the model's full fish stick recipe, as well as an accompanying tartar sauce recipe, are available on her website.