Why Father's Day Is 'Emotionally Complex' For Andrew Zimmern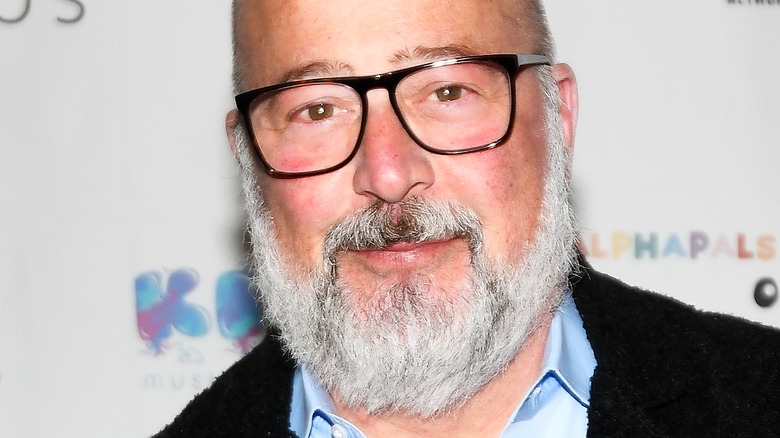 Alex Goodlett/Getty Images
Despite all evidence to the contrary (see: our fixation on seasonal Frappuccinos, national eating contests, the "Transformers" franchise), human beings are emotionally complex creatures. And some of the greatest emotional depths to mine involve family ties. The relationships that molded us as children have the potential to heavily impact the way we see ourselves as adults until such a time that we potentially procreate and invariably continue the cycle of shaping our own kids in new ways. So, when Andrew Zimmern posted on Instagram for Father's Day, calling the holiday "emotionally complex," there's no doubt that followers around the world nodded their heads in understanding.
The James Beard Award-winning chef and ex-host of "Bizarre Foods" is famously forthcoming about his background and personal life. "In every family, we can see reflections of ourselves," he told Travel + Leisure when explaining his interest in hosting "Family Dinner" on Discovery+. Zimmern went on to explain that his parents divorced when he was a child. That meant that he spent a lot of time doing family dinners at his friends' houses and exploring the eclectic food world of his native New York City with his dad. The show, about that family connection at the dinner table, wound up being a "healing" experience for Zimmern, for whom family dinners, as he told Parade magazine, were both "happy and very sad." So, what is it about Father's Day specifically that has all that emotional complexity rising to the surface?
Early trauma can lead to pain, but it can also lead to a lot of growth
Andrew Zimmern had a childhood in New York City filled with what he described to Artful Living as "privileged surroundings." But between his parents' split and his mother being rendered comatose for months and brain-damaged by a surgery gone awry, he needed ways to cope. Zimmern felt his father "did the best he could, but it wasn't enough." He went on to outline the dark years of hardship that nearly killed him.
Today, Zimmern seems able to hold both his childhood trauma and his gratitude for loving parents in the same space. "This day is a struggle for so many fathers for so many reasons," Zimmern wrote in an Instagram post to honor Father's Day. "I'm happy right now thinking about my son and my dads. 12 hours ago I couldn't stop crying about it." He acknowledged that some people might feel the pain of having lost a father, or "the day feels like a getting hit with the trauma stick."
Zimmern's post from last year's Father's Day reveals a little more about those loaded dad feelings: "My dads, Andre LaPorte and Bob Zimmern," he wrote, captioning photos of two older gentlemen. "The best parents a kid could ask for ... the best things I am comes from them and my mom." These days, as a dad himself, Zimmern seems keenly aware of the importance of thoughtful, supportive parenting from fathers and father figures.