What Dog Lovers Should Know About The Recent Freshpet Recall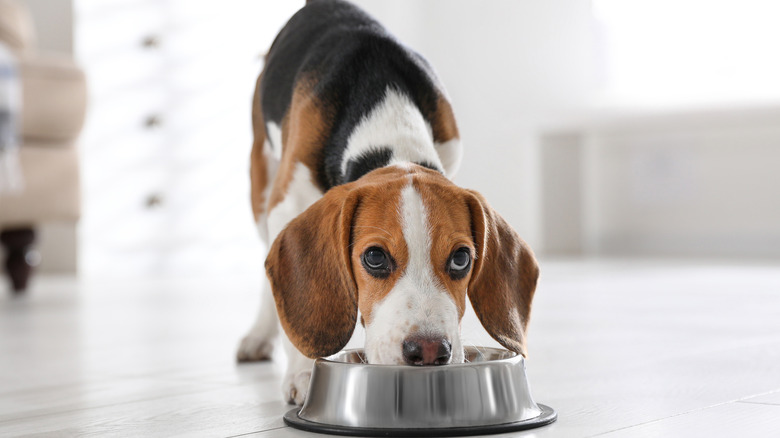 New Africa/Shutterstock
No one really wants to think about food contamination, but when we think about salmonella, we usually think about humans. Salmonella is a bacteria that resides in the intestinal tract of animals, including poultry and farm animals, and salmonella infection occurs most frequently as a result of eating contaminated food or drinking contaminated water (per Mayo Clinic).
An estimated 40,000 cases of salmonella infection are reported each year (per the Minnesota Department of Health), but the real number could be far greater because mild cases tend to go undiagnosed and unreported.
What's forgotten sometimes is that our canine friends can also become ill as a result of salmonella infection. And like their humans, they can develop salmonella infection from the consumption of contaminated food (per Country Living). Symptoms could include diarrhea (which might be bloody), dehydration, lethargy, vomiting, fever, and loss of appetite.
That's why Freshpet Inc. has recalled a product with potential salmonella contamination. It's not the scariest reason for a recall we've seen, but everyone with a dog should know about it.
Recall affects single lot of Freshpet Select product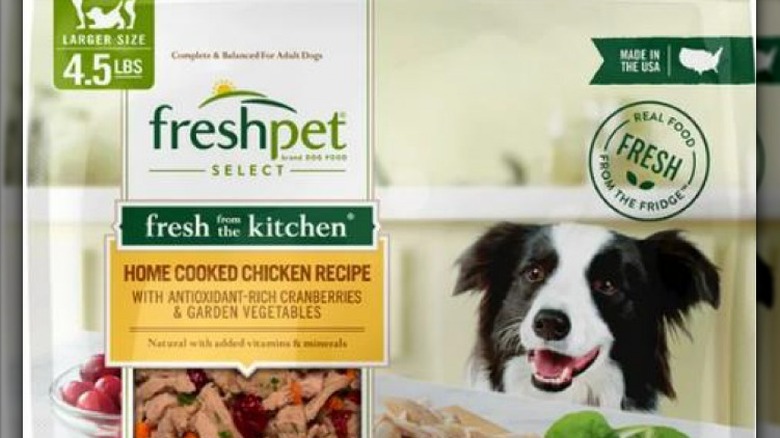 Freshpet
The first thing to know about the recall of Freshpet dog food is that the action is limited to a single lot of Freshpet Select Fresh From the Kitchen Home Cooked Chicken Recipe dry kibble in 4.5-pound bags. Technology could change how some product recalls are done, but in this case, consumers should look for UPC code 627975011673, lot code 10/29/22, and a sell-by date of 10/29/22 on the bottom of the bag.
Consumers who purchased the Freshpet product should stop feeding it to their dogs and get rid of it immediately. According to a company announcement (via U.S. Food and Drug Administration), the lot was earmarked for destruction but was "inadvertently shipped to retailers" in several parts of the country. The product in question may have been on shelves at some Walmart stores in Alabama and Georgia, as well as some Target stores and possibly other retailers in Connecticut, Massachusetts, Maine, New Hampshire, New Jersey, New York, Pennsylvania, Puerto Rico, Rhode Island, Vermont, and West Virginia.
Fortunately, Freshpet has yet to receive any reports of sickness or other reactions. Consumers can call 1-800-285-0563 with any questions or concerns or visit the Freshpet recall website.