Costco Shoppers Can't Get Enough Of Its New Savory Hot Sauce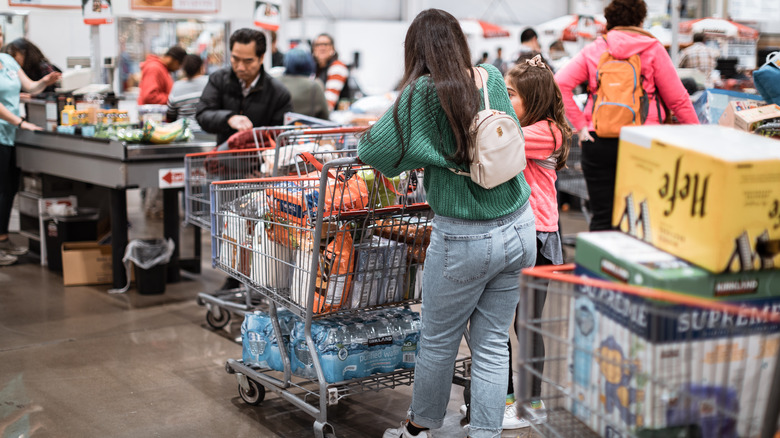 ARTYOORAN/Shutterstock
Chili crisp has become a darling of the culinary world, the condiment of the moment for a couple of years now (per Today). Its popularity surged during the lockdown phase of the pandemic when everyone was cooking more at home (whether they wanted to or not) and trying new things – to the point where things became no longer available.
Chili crisp is still hot stuff. It originated in China, and every restaurant there is said to make its own version of it. In its simplest form, it's a combination of oil and crunchy bits of garlic, shallot (or onion), and pepper flakes. Sometimes it goes by different names, including chili crunch, crunchy garlic with chili oil, Taiwanese chili sauce, umami chili oil – the list goes on (per Eater). Lao Gan Ma Spicy Chili Crisp has a loyal following and seems to be on store shelves everywhere, but there are many brands to choose from if you're looking to turn up the flavor and heat in your cooking.
Fly By Jing Sichuan Chili Crisp is a little different: In addition to chili flakes, it contains mushroom powder and bits of preserved black beans. It has a cult following, and soon after its introduction in the world of online shopping became the No. 1-selling hot sauce on Amazon (per Forbes). Now you can find it in stores like Target, Whole Foods, Wegmans, and Costco.
Hot stuff at Costco: Fly By Jing Sichuan Chili Crisp
At members-only Costco, Fly By Jing appears to be receiving a very warm welcome. During a spin through the aisles, Instagram account @costco_doesitagain was stoked to find Sichuan Chili Crisp: "@flybyjing Sichuan Chili Crisp!," the post exclaimed.
Some Costco shoppers have said you can skip trendy Fly By Jing, but followers of @costco_doesitagain are excited to see it – and are stocking up. Said Instagram user @r.kaylalynn, "You weren't supposed to tell the world about this one, now I have to buy 10 tomorrow before they sell out. It's sooooo goood."  And @ashleylong84 added: "My SIL (a chef) said this is the best thing she's ever discovered and has put it on everything." You can always do it yourself, chimed in @littlesarahc: "Make your own! Hetty McKinnon Everything Oil recipe." (Edible Brooklyn says McKinnon's aromatic oil is "perfect for dumpling dipping.")
For those who have never experienced Fly By Jing Sichuan Chili Crisp, the company calls it a "spicy, crispy, tingly, and deliciously savory hot sauce that you will find yourself putting on everything." "Everything" means vegetables, eggs, rice, noodles, meats, and even ice cream.