The Best Can Openers In 2022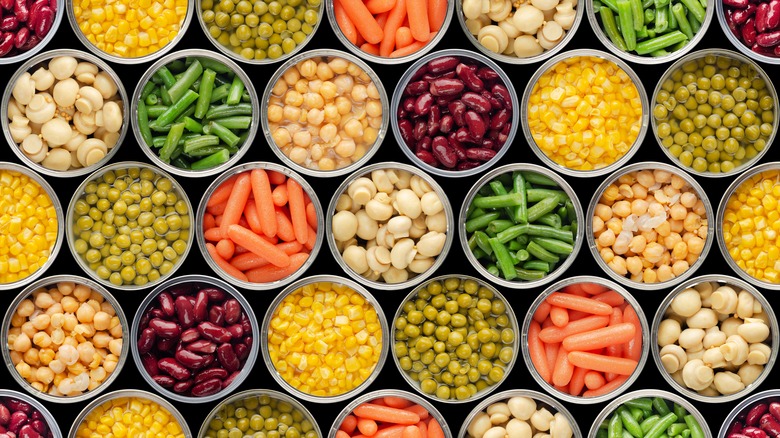 Mikhailov Studio/Shutterstock
We may receive a commission on purchases made from links.
Ever since canned foods were invented for the armed forces in the early 1800s, according to Britannica, this process of preserving food has become an essential part of our way of life. Contrary to popular belief, canning is often a great way to preserve the nutrients of various foods while still providing convenience and long term storage solutions. While we argue that some canned food items are better than others, the truth is that this style of food preservation remains popular. According to a 2013 press release from the Can Manufacturers Institute, the average American at that time ate five canned food products per week. 
Some of those canned foods, like the iconic Campbell's Soup cans, have a pull-top tab for easy opening, but for the most part canned foods need a can opener to get at the stuff inside. All of this means that can openers are undoubtedly one of the more common utensils found in an American kitchen. Most people don't give a second thought to the one kicking around their kitchen drawer, but perhaps that should change. You've got plenty of options, after all. Whether you're shopping for your first one or thinking about an upgrade, we've rounded up the best can openers on the market today for any kind of budget or lifestyle. 
How we chose can openers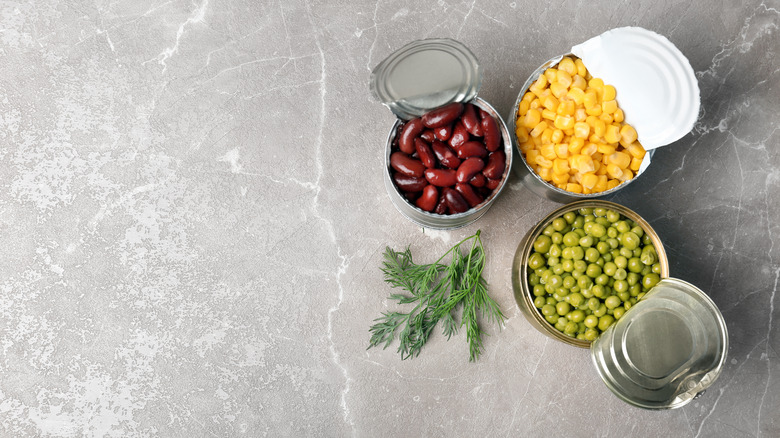 New Africa/Shutterstock
Can openers are a fairly ubiquitous item in the average kitchen, but it turns out that there is still a surprising amount of variety amongst the many different types and models available to the modern consumer. To find out which can openers were the best on the market today, we checked out new technology and old, including classic styles and some seriously newfangled technology. We also looked at honest reviews from real people who have purchased the products to see how the can openers fared when used in actual home settings. 
Additionally, we considered which models proved to be best sellers and leaders in the market for their special functions or features. Some best-sellers were just that for a reason. Meanwhile, product testing sites also provided valuable information about the true abilities of some of these can openers, beyond what was claimed in advertising copy.
Best overall can opener
For a great all-around can opener at an amazing price, the KitchenAid Classic really can't be beat. It's a best-seller on Amazon, where thousands of people have contributed to its almost-perfect five star rating. So what's with all the hype? First, there is the price, which even the thriftiest of consumers will find pretty pleasing. It also comes in fourteen attractive color options to suit any kitchen decor or personal taste. Best of all, it's strong, durable, and easy to use. 
Reviewers call this opener "unstoppable" and "smooth as butter". One reviewer praised the "cushy" handles on this can opening, which made it easy to operate even for someone with joint issues. What's more, some of the models come with an integrated bottle opener. However, some don't, so make sure to verify which model you are purchasing if that particular feature is important to you. 
The KitchenAid Classic can opener is available on Amazon starting at $10.79.
Best electric can opener
For an upgrade to the basic can opener, consider an electric option. Electric can openers can automatically turn and open a can with just the push of a button. This kind of opener can be great for people with arthritis, those facing other challenges with their grip, or anyone just looking to save a little time and energy. 
One of the best electric can openers available today is the Kitchen Mama Electric can opener. This model features a user-friendly ergonomic design. While it does take batteries, which may prove annoying for some, this opener's functionality doesn't come at the cost of space in your kitchen. It's designed to fit easily in your hand and in your kitchen drawer. Plus, it doesn't leave any exposed sharp edges. One reviewer raved about the curved can rim this opener leaves behind, which can save you from both cuts and annoying torn trash bags. 
Buy the Kitchen Mama Electric Can Opener on Amazon for $29.99.
Best manual can opener
When it comes to can openers, we must admit that there isn't a ton of variation in the features and functions. After all, the only thing a can opener must do is, well, open a can. This means that, for a manual can opener to have an edge worthy of a cost upgrade, it has to have a little something extra. The Spider Grip Can Opener has just that something. Namely, it boasts a powerful magnet near the cutting blade that grabs onto the can lid so you don't end up with dirty fingers. 
Some reviewers love the opener's ability to open cans without leaving behind sharp edges. Others love how easy it is to operate even with grip and joint issues. While it may seem too good to be true (especially for the price), there are definitely some downsides according to reviewers. Namely, many customers wrote about the can opener's issues with rusting. To avoid rust on your can opener or any other kitchen implement, but sure to always dry it thoroughly after each use or cleaning.
You can purchase the Spider Grip Can Opener on Amazon for $12.47.
Best compact can opener
Before rotary can openers became the standard in many American kitchens, there were fixed can openers that relied on the power of physics to open cans. This style of can opener may seem old-fashioned, but you may want to give it some consideration anyway. It is much more compact than other types, for one, meaning that it can be stored almost perfectly flat. That makes it especially popular in small kitchens. It also means that there are fewer moving parts, which means that there is less of a chance for wear and tear to reduce a can opener's functionality over time.
The Korin can opener is one of the most popular versions of this style can opener. Its smooth enameled handle is easy to grip, while its stainless steel construction is about  as durable as you can get. A lack of tight crevices means there is practically nowhere for bits of food to get stuck and gum up the works. One reviewer even described is as "deeply satisfying in so many ways." When's the last time you felt that way about your can opener?
You can purchase the Korin Can Opener on Amazon for $9.39. 
Best stainless steel can opener
For those looking for durability and longevity in their can opener but still want a typical design, KitchenAid offers just the thing . This model  features a stainless-steel construction that will likely outlast any plastic  utensil in your kitchen. While the body is made of already tough stainless steel, the blades are constructed from high-quality carbon steel which cuts through metal cans like butter. There's also a magnet that grips onto the lid once removed so you can grab it safely. 
One reviewer likened this can opener to the "jaws of life" for its strength and durability, while another appreciated how long theirs has lasted with daily use. In fairness, some reviewers did complain that the can opener did not function more than once, or not at all. It's not immediately clear whether this was because of the product design or user error. 
Purchase the KitchenAid Stainless Steel can opener on Amazon for $14.39. 
Best hands-free can opener
While some can openers can function automatically, they still require the use of one hand to hold it, if nothing else. If you prefer a truly hands-free experience, check out the Hamilton Beach Smooth Touch Electric Automatic Can Opener. All you have to do with this model is pop the can in. The machine takes care of the rest. There's no twisting, turning, or manual labor required whatsoever, apart from placing the can in the machine and removing it at the end. Whether you're opening something basic or something a little more out-there, the Hamilton Beach can opener leaves behind a completely smooth, touchable lid that's safe to handle. 
When it comes to longevity, this model can stay the course. It's interior motor comes pre-lubricated and doesn't need to be oiled again later. While 85 percent of users gave this model a glowing five stars, some of the negative reviews discussed the possibility of metal shavings being left behind with improper use. 
Buy the Hamilton Beach Smooth Touch Electric Automatic Can Opener on Amazon for $34.96.
Best design-conscious can opener
Some people have design on their minds all the time, and so want everything in their home to have a beautiful aesthetic, from the drapes all the way down to their can opener. Thankfully, this sleek and streamlined can opener from kitchen utensil designer Chef'n is as interesting to look at as it is to use. 
Apart from the pleasing look, the design of this can opener is intended to create optimal storage efficiency without compromising utility. Tho that end, the handle folds flat when not in use for maximum space-saving capability. Like some other can openers, this has a magnet that grabs onto lids once removed so they are easy to handle and dispose. Some reviewers did note that the design may not be ideal for left-handed users, and the gears may have a tendency to strip over time. 
Purchase the Chef'n Click+Store Can Opener on Chef'n for $16.99.
Best ergonomic can opener
While some can openers are built for speed or ease, others are built for comfort. If ergonomic quality is most important to you consider choosing a can opener designed with that in mind first and foremost. The Zero Resistance Ergonomic Can Opener by Phantom Chef is the best can opener with such a design. But first, it's pretty good-looking. The main body of the can opener is a colored stainless steel that's rust-resistance and eye-catching. 
The handle itself is made of a soft, wood-look material that's curved to fit comfortably in any grip without causing cramping or discomfort. Unlike other can openers, this option is fully dishwasher-safe, making for easy cleaning and maintenance. That said, the manufacturer recommends washing the blade with a soft sponge to ensure it's fully clean without dulling the edge. 
The Phantom Chef Zero Resistance Ergonomic Can Opener is available on Phantom Chef for $15.
Best American-made can opener
At one point in time, American manufacturing stood for quality construction and ingenuity. While many products that Americans use today are made overseas, some have stood the test of time and are still made right here on home soil. For consumers who want to support American-made products and businesses, EZ-DUZ-IT makes a well-crafted and solid can opener made in the United States. 
The EZ-DUZ-It Can Opener features a chromed steel body with rubberized handles for steady, comfortable grip. It also boasts a sturdy carbon steel blade. While over 80 percent of reviewers give it a five-star rating, some negative reviews remarked that the body is prone to rusting if left wet for long periods of time. The best practice for avoiding rust is to wash and dry the can opener by hand immediately after using. 
You can buy the EZ-DUZ-IT Deluxe Can Opener on Amazon for $14.50
Best table-mounted can opener
Anyone who has ever worked in a large-scale food service setting or any average restaurant knows that canned foods come in handy. Yes, even high-end places can use canned stuff. But they don't come in the same sizes you find at a grocery store. Sometimes called "ten cans" or "#10 cans", these extra-large cans are appropriate for high-volume operations. While cans this large can technically be opened with a standard can opener, the amount of time it would take makes that sort of action prohibitive. 
Luckily, there are table-mounted can openers that can open any sized can in just seconds and with minimal effort. The New Star Foodservice Manual Can Opener utilizes the stability of a table to secure the can and make quick work of cutting through the lid. While the cost is on the higher side, it can be worth it for the right consumer who finds themselves opening tons of cans. One reviewer still felt it was a "good value" compared to similar openers.
The New Star Foodservice Manual Can Opener is available on Amazon for $95.97.