The Secret Method To Tom Hiddleston's Bolognese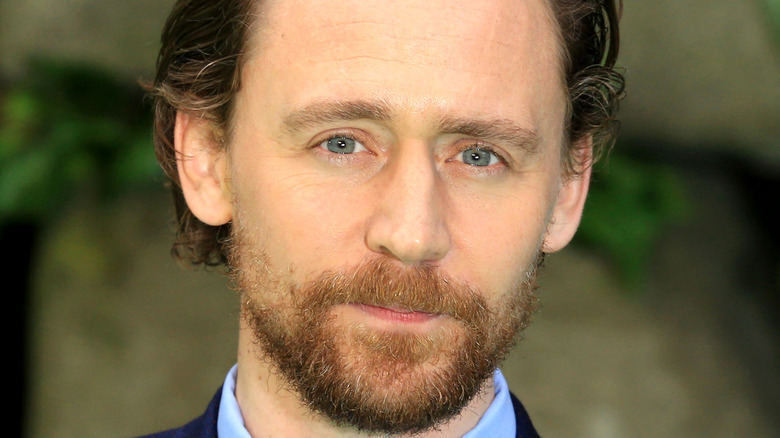 Cubankite/Shutterstock
From pasta carbonara to fettuccine alfredo, there are so many pasta dishes that have become established household favorites. But perhaps no dish is more beloved than the humble spaghetti bolognese. Thick, meaty, rich, and oh-so-delicious, this popular recipe is adored by children and adults alike. Funnily enough, unlike many pasta dishes, spaghetti bolognese is not traditionally Italian. According to Life Gate, this family-friendly recipe is more commonly consumed in British and German households.
One of the best things about spaghetti bolognese? It's pretty simple to put your own spin on it. Whether you are trying to sneak in a bunch of leftover veggies or want to use turkey instead of beef, it's difficult to royally screw up a batch of the stuff. With so many different recipes out there, you can also easily find one that appeals to your taste buds or dietary restrictions. While Anne Burrell's bolognese recipe incorporates celery, carrots, onions, and mixed mushrooms, Ina Garten's weeknight bolognese features garlic, red wine, heavy cream, and basil (via Food Network). On the other hand, Tom Hiddleston relies on other secret ingredients and an interesting methodology to whip up his special bolognese recipe (via GQ).
Tom Hiddleston cooks his bolognese on the stove and in the oven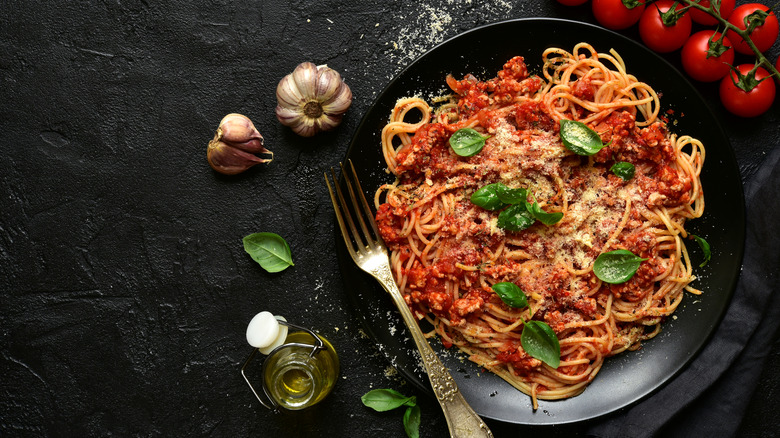 Liliya Kandrashevich/Shutterstock
While Tom Hiddleston may be best known for his acting, the Marvel star has become famous for something else, as well: his bolognese. People refers to his recipe as "kind of genius," while GQ writer Taffy Brodesser-Akner describes the dish as "the most incredible bolognese you've ever had." As if it couldn't get better than that, senior food editor Claire Saffitz from Bon Appétit described it as not too difficult to make. It sounds almost too good to be true!
The Golden Globe winner likes to use bacon, butter, carrots, celery, red wine, tomatoes, milk, and healthy garnish in his go-to recipe (via Bon Appétit and GQ). Sounds pretty standard, right? Well, the most unique part about the recipe is not the ingredients, but Hiddleston's methodology. Rather than cooking the sauce entirely on the stove, the London-born star puts his pan in the oven after all the ingredients have initially browned on the stove.
To make matters even more interesting, when Hiddleston served this dish to Brodesser-Akner from GQ, he didn't include pasta in his dish. Yep, no pasta. Just plain bolognese. Oh, and apparently, this dish is so good that it even tastes delicious cold. While there is no exact recipe for Hiddleston's take on the dish, you can still try to imitate it to the best of your ability (or give our 30-minute pasta bolognese recipe a go, instead!).