How Chrissy Teigen Adds A Bit Of Crunch To Mashed Potatoes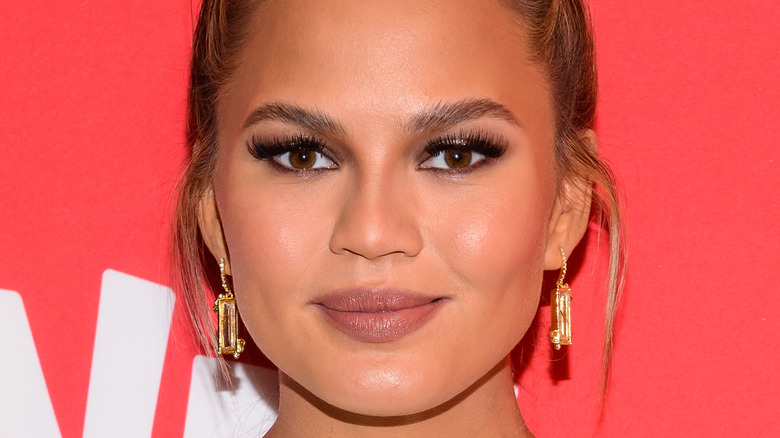 Sky Cinema/Shutterstock
When mashed potatoes are on the dinner menu, it's hard not to think of Thanksgiving. While the roast turkey may be the main event of the meal, the big bird is nothing without its most popular side dish. That said, these creamy carbs are not just loved on the fourth Thursday of November. According to a survey conducted by YouGov, mashed potatoes are the most well liked American dish in the United States. Yes, you read that correctly: Poll respondents collectively enjoy mashed potatoes more than any other dish (besides french fries, tied for the number-one spot).
One of the best parts about this simple side is that it's fairly easy to make. If you are sticking to a basic mashed potatoes recipe, all you really need is butter, milk, some seasonings, and of course, potatoes. But if you are getting tired of your same old technique, there are some mashed potato secrets you need to know. For one, there are additional ingredients you can add to spice up the flavor of your taters, from roasted garlic and caramelized onions to sour cream and fresh herbs. In a unique recipe on her food website, Cravings, Chrissy Teigen incorporates an ingredient that not only adds extra flavor to the dish, but an additional texture, as well.
The 'Cravings' author likes to add crispy shallots to mashed potatoes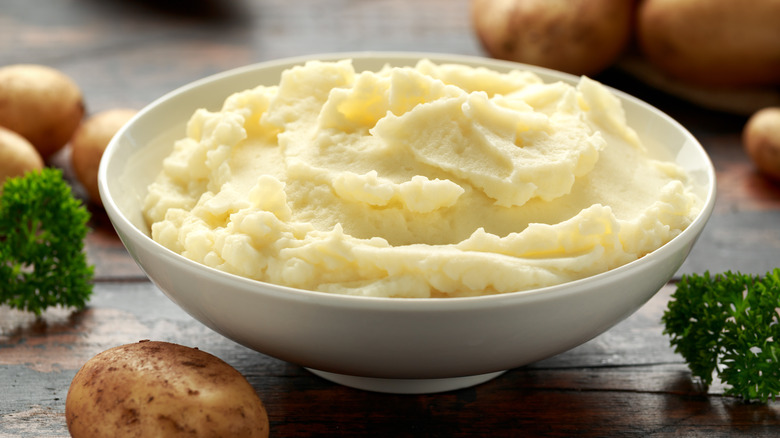 DrongG/Shutterstock
Leave it to Chrissy Teigen to come up with an out-of-the-box take on mashed potatoes. From her turkey and tater tot hotdish to cheesesteak soup, the former model has got innovative comfort food recipes down pat (via Cravings). In the television personality's spin on mashed potatoes, she creates a dish that is both creamy and crunchy. All it takes is adding one simple ingredient: crispy shallots. "The crispy shallots on top are sort of the Chrissy equivalent to icing on a cake, because as you all know by now I far prefer potatoes to cake," Teigen writes on her website.
Creating the crispy shallots is fairly straightforward. Teigen coats the shallots in flour before frying them in oil for several minutes. Aside from adding the crunchy topping just before serving, the cookbook author abides by a traditional mashed potato recipe, using typical ingredients like Yukon gold potatoes and lots of butter for her scrumptious Thanksgiving (or anytime) side.