Reddit Is Loving Cracker Barrel's Latest Ornate Cast-Iron Skillet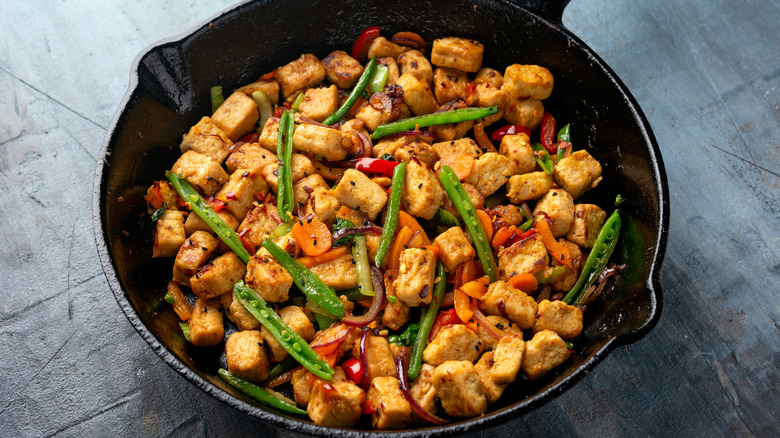 DronG/Shutterstock
Cast-iron skillets are useful things. Sure, they're heavy and a bit cumbersome. But they hold their temperature and provide even heat, unlike aluminum or other thinner metals. Many chefs swear by them; Ree Drummond says everyone needs one in their kitchen.
Cast iron has been used for thousands of years to prepare food, from breads and stews, to roast meats. In fact, cast-iron pots may have been used by ancient societies; the first known cast-iron cookware dates back almost 2000 years, according to the Webstaurant Store blog. Today, people around the world use cast-iron pots and pans as part of their everyday cooking routines.
Thanks to its durability and aesthetic charm, people love collecting cast-iron cookware. But in addition to their functionality, cast-iron pans are visually appealing. Some people collect them for their antique value, while others seek out cast-iron pans with images stamped into the surface, per Taste of the South. And some designs hold a bigger appeal than others. 
Cracker Barrel's new skillet has an inventive design
For years, Cracker Barrel has worked with cast-iron giant Lodge to produce an exclusive line of skillets. One of the more recent additions to the collection is the Lady Liberty Lodge Skillet, which retails for $27.99 on the restaurant's website.
In a Reddit post, user ew_modemac pointed out that while the skillet's official title is "Lady Liberty," the image is officially called "Walking Liberty," based on a 50-cent coin design issued by the U.S. mint from 1916 to 1947. 
Despite the name change, others on the r/CastIron subreddit were excited about Cracker Barrel's new release. "I stopped collecting a couple of years ago but I may need to buy this," one person commented. "Omg I need it," another wrote. "Wait. WHAT? How much is this? Is the quality not too horrible? Because that's gorgeous," commented another excited cast-iron lover. "I am so tempted to add to my burgeoning collection," wrote another Redditor.