The Food Top Chef Kwame Onwuachi Absolutely Will Not Eat
Former "Top Chef" contestant Kwame Onwuachi has returned to judge the competition and has seen plenty of success following his appearance in the show's 13th season, with the James Beard Foundation naming him 2019's Rising Star Chef of the Year. Onwuachi has gone on to become an author with his memoir "Notes From A Young Black Chef," which is being turned into a film in which LaKeith Stanfield portrays the "Top Chef" star.  He also penned "My America: Recipes from a Young Black Chef: A Cookbook." But fame takes second place to the food for the young chef, who is more focused on telling stories with his cooking.
In 2016, Onwuachi opened Shaw Bijou, a restaurant with a tasting menu carefully arranged by the young chef to tell his life story – but the restaurant flopped. He went on to open Kith and Kin, a hotel restaurant that serves Afro-Caribbean cuisine, much of it inspired by the dishes Onwuachi grew up eating such as his grandparents' goat roti and jollof rice (via The New York Times). It's clear that food is more than sustenance to the young chef, but just another medium for him to tell stories just as someone might write or paint. But much like an artist might not use every medium to express themselves, there are foods that Onwuachi won't eat.
Onwuachi refuses to eat large livers and bugs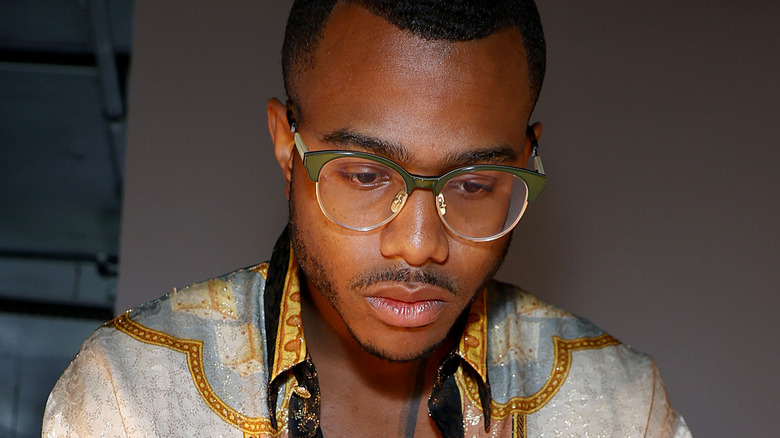 Arturo Holmes/Getty Images
In an interview with GQ, Kwame Onwuachi has discussed his eating habits, making it clear he's down to eat almost anything. He revealed that his diet is "all based on cravings for me." He's as likely to reach for the foods he grew up eating as he is the phone to order some Domino's pizza. However, an article from Yahoo! Life recently revealed the foods Onwuachi doesn't crave and absolutely doesn't eat: "Beef liver, or any large animal liver. Or insects." It's a pretty simple answer with a small list. But while livers from larger animals might be off the menu, he doesn't entirely shy away from the organ in other cases – in his cookbook, "My America," Onwuachi has a recipe for dirty rice with one of the primary ingredients being chicken (or pork) livers.
Yahoo! Life also highlights some of the foods Onwuachi does enjoy eating, with his favorite cuisines being Caribbean dishes and American foods. The chef also revealed in an interview with the Wall Street Journal what his favorite guilty pleasure food is: "the chicken wings and pork fried rice from the New York Chinese restaurant Chelsea Golden Wok."