The Best Toasters In 2022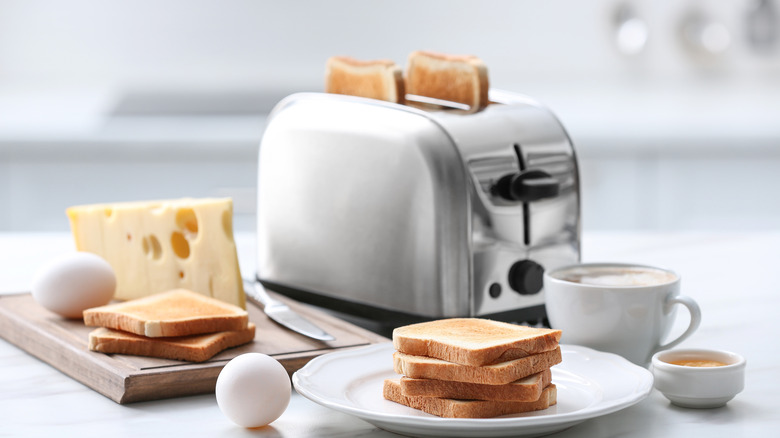 New Africa/Shutterstock
We may receive a commission on purchases made from links.
While some kitchen appliances are not truly necessary and accomplish tasks that could otherwise be done another (albeit less efficient) way, the toaster is not one of those appliances. For toasting basic foods like sliced bread, bagels, and English muffins, there's really no other method to get that crispy, browned texture without a toaster. Even though not everyone is using their toaster the proper way, odds are that the average person does own one of some type or another. There is a huge range when it comes to quality and range of features. 
Depending on what kind of cook you are, you'll have different wants and needs when it comes to a toaster. Some people only need to make the occasional slice of toast, while others have more elaborate projects planned. Think about the best ways you plan to use your toaster and read on to find the perfect model on the market for your needs today. 
How we chose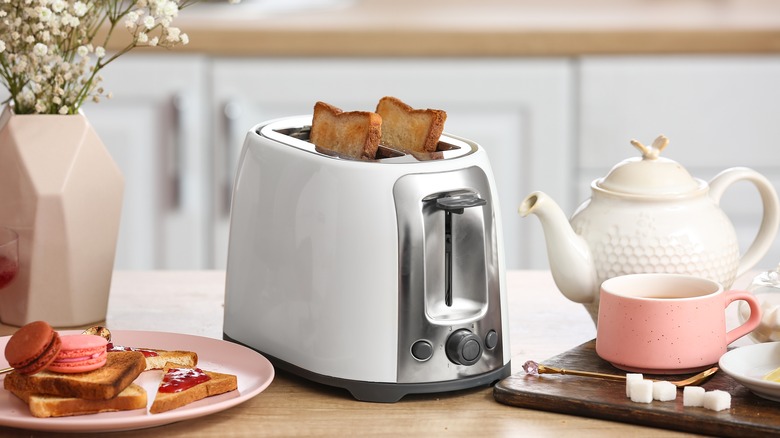 Pixel-Shot/Shutterstock
Before beginning any of our product reviews, we scan the market to see what newcomers have made their way to consumers this year. In this day and age, new technology is emerging all the time and people want to know what the hot, new products are. We also look at upgrades on old favorites, as well as classics that have continued to be best sellers despite a lack of innovation. Why fix what isn't broken, right?
As with all our product reviews and round-ups, we prioritize customer reviews from actual customers over all other aspects. The way that a toaster (or any other product) performs in a real kitchen under real circumstances is the best indicator of performance over time. We do look at competitor review sites and consider the tests they performed on the appliances as well so that we can get a clear picture of the product. 
Best all-around toaster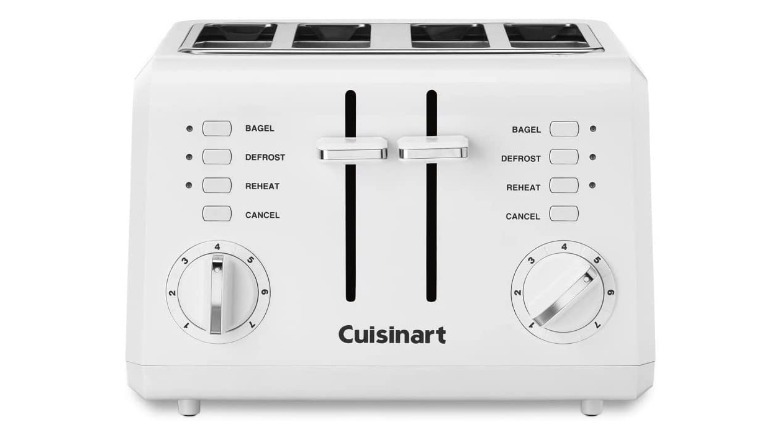 Amazon
For the best all-around toaster, we figured it should be affordable, functional, and simple. The best model on the market today is the Cuisinart 4-Slice Compact Toaster. While it's even more affordable cousin, the 2-Slice Toaster, is a great option, the 4-Slice offers more even toasting and better functionality overall. With options for bagels (that toasts one side darker than the other), defrosting frozen bread, and reheating old toast, this toaster really covers all the main bases. The dual sides let you toast one or two slices to one degree of darkness and one or two other slices to a different degree, for those in your household that just can't agree.
Even the most jaded reviewers found themselves loving this product and its results. As one other reviewer put it, it is "easy to use, nice simple and clean design." What more can you really ask for from your toaster?
In June 2022, the Cuisinart 4-Slice Compact Toaster was available on Amazon for $42.49.
Best flip toaster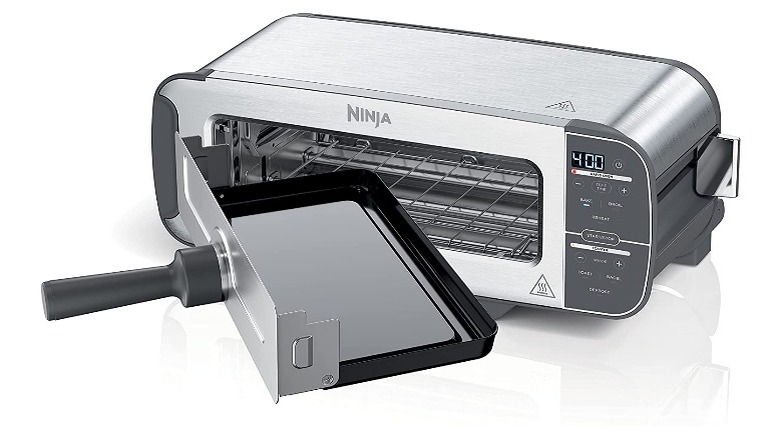 Amazon
Toaster design has come a long way since the original two-slot system. Since so many people were trying to "hack" their toasters by flipping them on their sides (don't do this), Ninja went ahead and designed a toaster that does that safely. The Ninja 2-In-1 slot toaster can function two ways: upright as a regular slot toaster for bread, bagels, and English muffins, or on its side as a deck oven for things like mini pizzas and grilled cheese. 
No matter the size of your kitchen, having versatile appliances that can do double-duty is always a plus. One of the major downsides of a toaster oven is the amount of kitchen counter real estate they take up. With the Ninja, you can still have the ease and versatility of a toaster oven while keeping the slim size of a standard slot toaster. We call that a win-win.
As of June 2022, the Ninja 2-In-1 Slot Toaster was available on Amazon for $199.99.
Best affordable toaster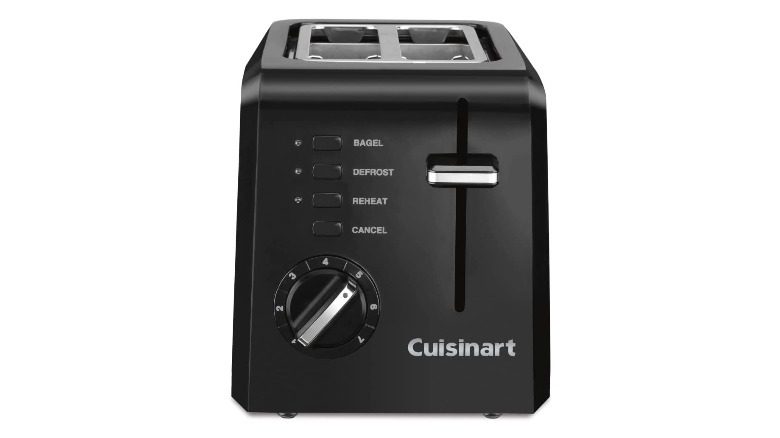 Amazon
There are plenty of toasters on this list that come with fancy features and tons of bells-and-whistles. For the basic option with no fancy features and a rock-bottom price, we have just the model for you. Cuisinart makes an affordable toaster that is loved by more than 20,000 people on Amazon. You won't find futuristic tech or chrome finishes, but if all you want to do is toast a slice of bread, who needs it?
Even though it is basic, it does still include options for defrosting a frozen slice, reheating a cold one, and has a "bagel" function, which heats only one side of the bread. As one reviewer mentioned, the lack of superfluous features lets this toaster work fast and a toast cycle is usually done in under a minute. As with most budget appliances, it's good to remember that they may not always be perfect, but rather adequate. 
In June 2022, the Cuisinart 2-Slice Toaster was available on Amazon for $29.99. 
Best splurge toaster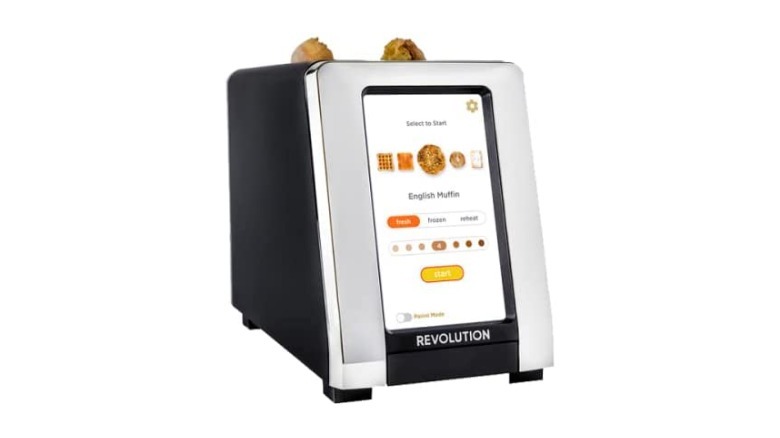 Amazon
It's fair to assume there have been some technological upgrades to the world of toasters, especially when shelling out a couple hundred dollars. For those looking for appliances on the higher end, there's a whole range of options with top-end features to match. Enter the Revolution Instaglo 2-Slice Toaster. It has a touchscreen for controls — no buttons or knobs whatsoever. The touchscreen comes loaded with a host of preset functions that allow customization and over 60 toasting algorithms! For example, just select "bagel" and the toaster will show you options for darkness, as well as choices between fresh, frozen, or simply reheat. 
While this toaster will set you back a fair bit, over 75% of reviewers left positive reviews, and one even described it as "worth every penny." 
In June of 2022 at the time of this article's writing, the Revolution Instaglo 2-Slice Toaster was available on Amazon for $349.
Best combination toaster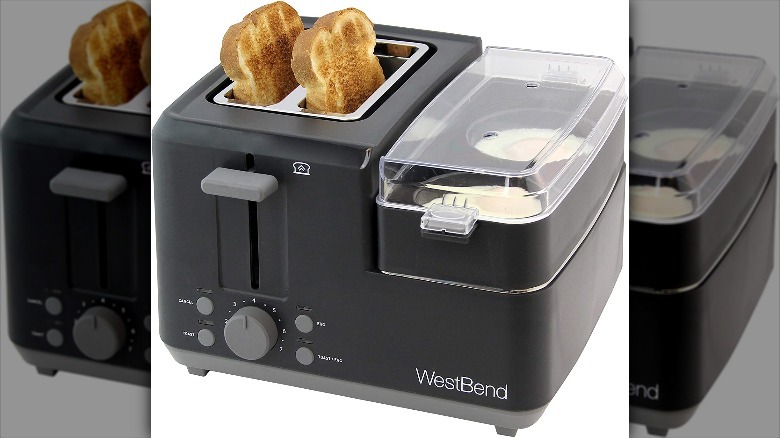 Amazon
These days, there are toasters that can do so much more than toast bread. While we already featured a two-in-one toaster above, this next one takes it to a whole new level. The WestBend 2-Slice Breakfast Station can toast two slices of bread at a time, along with cook six eggs and warm slices of ham or vegetables. The egg cooker section comes with attachments that let you hard boil, soft boil, poach, or scramble the eggs. 
Combination toasters such as this West Bend model are great for people that have small kitchens or even kitchenettes, but still enjoy a nice breakfast sandwich in the mornings. While most users agreed that the machine was great for their purposes and well worth the money, there were others that felt the controls were a bit fiddly and the egg cooker wasn't great at releasing the eggs. 
In June 2022, the WestBend 2-Slice Breakfast Station was available on Amazon for $69.99.
Best small-space toaster
Dash proves time and time again that great things can come in small packages, and its toaster is no different. This little toaster can function just as well toasting bread as it can heating up a handful of chicken nuggets. It's compact, lightweight, and won't break the bank. In addition to being space and cost efficient, it also comes in a cute, retro design that won't be an eyesore if you choose to let it live on your countertop. 
Keep in mind that this is truly a small appliance, and at just 7 inches wide and 6 inches deep, it can really only toast one slice of bread or half a bagel at a time. For some, that may not be an issue, but it's important to think about your typical routine and what you find yourself needing a toaster oven for. Most of the negative reviews for this toaster are from people who underestimated just how small this little appliance really is. 
As of June 2022, the Dash Mini Toaster Oven was available at Crate and Barrel for $24.95. 
Best high-tech toaster
In this futuristic day and age, we should expect a toaster just as technologically savvy. The best of this bunch is brought to us by Balmuda, which has sought to revolutionize the standard toaster oven. It claims to accomplish this with a patented function where the user adds a small amount of water before each toasting cycle that keeps moisture and tenderness in the bread while the outside gets crisp and golden brown. 
While the price may reflect the quality of construction, there were more than a couple of reviewers who felt it wasn't impressive enough to justify the cost. In a world where a basic toaster cost less than a hundred bucks, it can feel ridiculous to shell out $300 or more for something that may only work marginally better. Ultimately, it's going to come down to your budget and goals.
At the time of this article's publishing, the Balmuda Toaster was available from Balmuda for $299.99.
Best long-slot toaster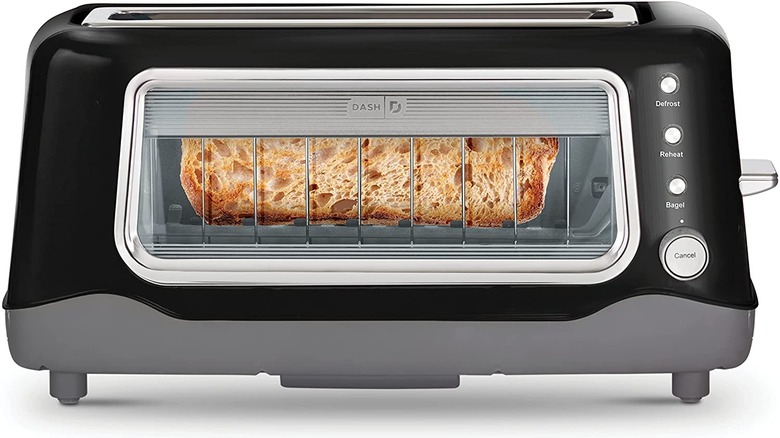 Amazon
Most slot toasters are designed with a single standard size of sliced bread in mind. If you have a taste for artisan boules of sourdough bread, then you already know that these toasters weren't designed with you in mind. Luckily, some appliance manufacturers caught wind of this and started making toasters with long slots that fit a wide slice of bread. The best of this type of toaster is the Dash Clear View, which lets you watch your bread on the inside while it cooks.
It is definitely a favorite among reviewers, who love being able to see their bread toasting while it's inside. Some buyers have remarked that the side that faces the viewing window doesn't get as toasted as the other side and can result in uneven toast. That may be the price you pay for a toaster with a view. 
In June 2022, the Dash Clear View Toaster was available on Amazon for $49.99