The TikTok Ice Cream Influencer Who's Ready To Deliver Treats To Your Door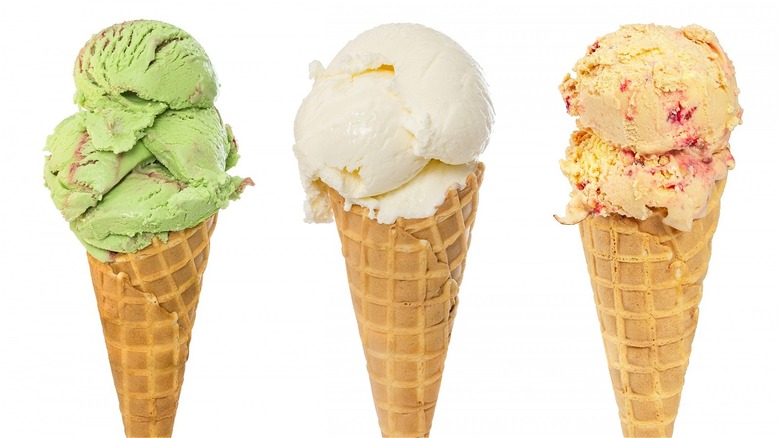 Nataliia Pyzhova/Shutterstock
If you spend any amount of time on the food side of TikTok, you've probably seen one or two of Dylan Lemay's videos. Lemay's TikTok channel has more than 11.2 million followers and over 571.2 million likes.
With the motto of "livin' the dream, scoopin' the cream" posted on his website, it comes as little surprise that Lemay gets his fame from his work with ice cream. Up until 2021, Lemay worked at Coldstone Creamery and several other ice cream shops, dishing up ice cream and decorating ice cream cakes (via Powder Blue Media). Last year, Lemay founded CATCH'N Ice Cream, his New York City shop set to open sometime in July 2022.
But he isn't stopping there. In addition to his new brick and mortar ice cream shop in NYC, Lemay plans to open a second location in Michigan, as well as countless delivery-only locations. How's a young TikTok influencer going to expand his ice cream empire so quickly? Well, it's simpler than you might expect. 
TikToker Dylan Lemay partners up with ghost kitchens
Ice cream lovers, prepare yourselves. Dylan Lemay recently teamed up with Nextbite to create a new, delivery-only virtual brand: Cake Cup Creamery. According to QSR, Cake Cup Creamery will run out of ghost kitchens — also known as "under-utilized" restaurant kitchens — across the country.
In a recent TikTok, Lemay explained the concept of Cake Cup Creamery. Each cup is a single serving with layers of cake, ice cream, and toppings. Although these personal ice cream cakes may not be as fancily decorated as a full-size ice cream cake, there's no doubt they'll taste just as good. And hey, who doesn't love having their own little ice cream cake?
Lemay and Nextbite gave Cake Cup Creamery's menu a trial run on June 27 with a sampling event in NYC (via Eventbrite). While neither Lemay nor Nextbrite have yet to announce an official launch date for the Creamery, they have hinted it will be sometime later this year. We couldn't be more excited!