The Best Bloody Mary Mixes Of 2022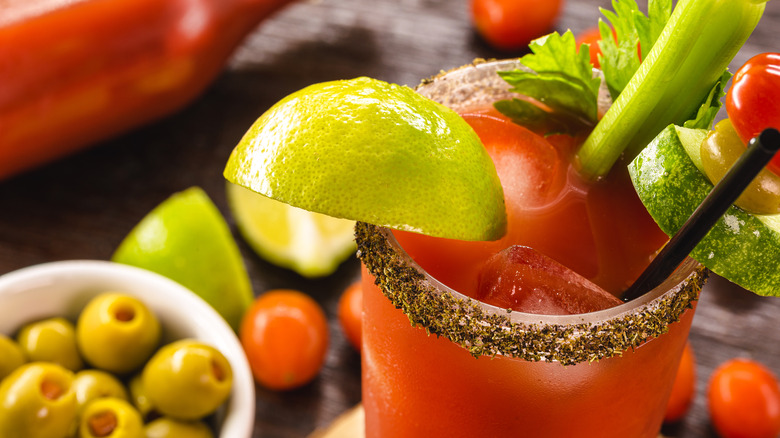 RHJPhtotos/Shutterstock
We may receive a commission on purchases made from links.
The bloody mary is just about synonymous with brunch. The foundation of this refreshing drink contains only two ingredients: vodka and tomato juice. While the drink itself comes from humble beginnings — it was created by a French bartender working in New York City during Prohibition in the 1920s (via The Real Dill) — the somewhat unappealing namesake of this tomato-based concoction has multiple plausible origins, making that part of the drink a bit murkier.
Sans alcohol, the bloody mary can be a rather healthy drink. Tomatoes are filled with different vitamins, minerals, and cancer-fighting antioxidants, like lycopene (via Healthline). Spicy foods — like jalapeño, horseradish, and pepper — help aid in digestion and reduce inflammation, as noted by the Cleveland Clinic. The enzymes in tomatoes may also help protect your liver (via Biological & Pharmaceutical Bulletin).
Still, making a bloody mary from scratch every time you want one is a bit of a pain. That's where bloody mary mixes come in, though some are better than others. These are some of the best bloody mary mixes of 2022.
How we chose bloody mary mixes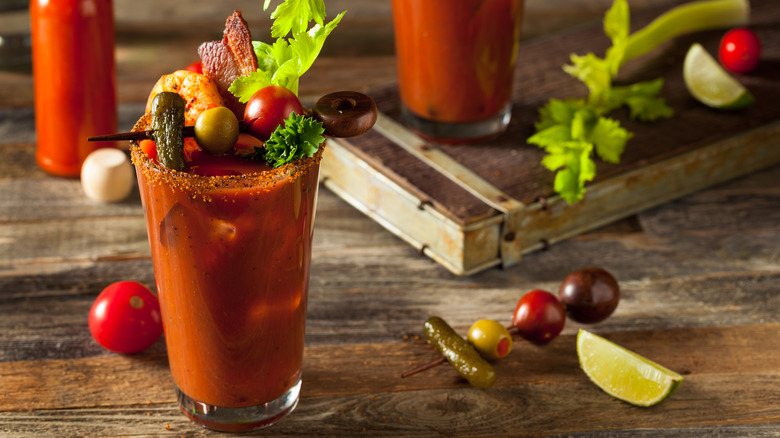 Brent Hofacker/Shutterstock
Given the versatility of the basic bloody mary drink, there can be a dizzying array of information about pre-made mixes. Luckily for you, we've done the hard part and sourced what we believe to be the best options out there.
First, we used trusted consumer reviews from big brand retailers and independent sources alike. We also took into consideration the quality of the Ingredients, price per volume, the taste and texture of the mix, spice level, and how well it works with other spirits (or without, for those seeking an alcohol-free bloody mary drink). 
When it comes to bloody mary mixes, there's no shortage of options, which can naturally be a bit daunting. But rest assured that you and your brunch-time crew will be able to turn to this list to find a flavor-rich beverage of choice tailored to suit your specific bloody mary needs. 
Best budget bloody mary mix
If you're unfamiliar with the wonderful world of tomato-based alcoholic drinks (or perhaps you're just interested in a more creative way to drink your morning tomato juice) Finest Call Premium Bloody Mary Drink Mix is going to be the way to go.
This beginner-friendly bloody mary mixer has just the right amount of flavor and spice, according to this reviewer on Influenster (they also appreciate that it's incredibly budget friendly). This exact statement is echoed over on Amazon, with customers stating that Finest Call's loaded bloody mary mix has a nice amount of spice and is great for pickier individuals who may want to customize their drink.
However, some reviewers found the mix to be lacking in viscosity and flavor. That being said, there are others on Amazon who prefer more basic, thinner mixes, as well as those who enjoy Finest Call's loaded bloody mary mix with and without alcohol.
Purchase Finest Call Premium Bloody Mary Drink Mix on Amazon for $13.72.
Best bloody mary mix with a kick
What makes Gary's spicy bloody mary mix unique, and what really elevates the flavor and spiciness, is the brand's unique use of Angostura bitters. This ingredient is normally found in daiquiris, martinis, and of course, old fashioned cocktails. However, it's a bit of a surprise in a bloody mary mix.
Does it work? Individuals on Amazon find that Gary's spicy bloody mary mix has just the right level of heat, which means it doesn't need doctoring. Other reviewers chime in that it's great on its own, and is just as enjoyable without the alcohol. My Big Fat Bloody Mary says that it makes a traditional Midwestern bloody mary with a nice viscosity and good spice factor. Gary's notes that its spicy bloody mary mix contains cocktail bitters, horseradish, spices, and 63% tomato juice. It's also good with not only vodka, but tequila and whiskey as well.
Purchase Gary's Bloody Mary Mix on Amazon starting at $15.99.
Best single use bloody mary mix
One of the worst things about giant jugs of bloody mary mix is that they will inevitably go bad if not consumed within a week or so. If they last longer than that, they're probably chock-full of preservatives, which you may or may not appreciate. In contrast, the Mr & Mrs T Original Bloody Mary Mix in 5.5 fluid ounce cans is the perfect size for picnic brunches. They're especially nice for when you don't want to lug around a giant container or open a large bottle, only for it to go to waste.
With over 2,480 reviews and 83% positive overall satisfaction on Amazon, Mr & Mrs T Original Bloody Mary Mix has just the right thickness and pourability, is nicely balanced, and isn't too spicy, which customers appreciate. Other individuals drink it as a tomato beverage, sans alcohol, with one reviewee noting that it helped his friend get though COVID (because it was the only thing he could stomach).
Purchase Mr & Mrs T Original Bloody Mary Mix on Amazon for $11.47.
Best organic bloody mary mix
This delectable bloody mary mix is made with all organic ingredients and is also vegan-friendly, making it especially attractive for drinkers with a plant-based focus. That said, Tres Agaves bloody mary mix is not for individuals who prefer the more mild-tasting tomato-based beverages. Amazon reviewers note that it's plenty spicy, so you don't need to worry about adding additional peppery ingredients. Tastings confirms that this a particularly spicy concoction, but that it's flavorful and rich, with smoky notes and hints of horseradish, red bell pepper, and celery.
Reviewers at MyRecipes enjoyed Tres Agaves bloody mary mix, though a touch of lemon juice was needed to give the mix a bit of brightness. One Amazon reviewer warned that it tasted like tomato paste, so perhaps this bloody mary mix is geared more towards mixologists or individuals looking to build on flavors.
Purchase Tres Agaves bloody mary mix on Amazon for $26.73.
Best unique bloody mary mix
Sure, everyone loves a traditional bloody mary. But what about those select individuals who want to try a bloody mary with flavors that are more outside of the box? Brewt's Bloody Caesar features a made-from-scratch recipe that includes the typical bloody mary ingredients, but also brings new flavors to the experience, like olive and lime juice, garlic, freshly-grated horseradish, Brewt's signature pickled jalapeño juice, and liquid from wild-caught Maine clams.
It contains no preservatives, which customers on Amazon love, and Brewt's Bloody Caesar is also relatively low in sodium compared to other mixes. Reviewers also appreciate the minimal sodium, especially since it doesn't seem to affect the flavor of the final result. Some tasters did note that Brewt's Bloody Caesar is a bit on the spicier side and will cost a touch more than some more common bloody mary mixes.
Purchase Brewt's Bloody Caesar on Amazon for $14.99.
Best bloody mary mix for vegans
Hold on, aren't all bloody mary mixes vegan? After all, it's just tomato juice, right? If you were under the assumption that bloody mary mixes contained no animal products, then you're in for a bit of a surprise, as some of them are far from vegan. For example, one common ingredient in bloody mary mix is Worcestershire sauce, which typically contains anchovies. So, if you steer clear of animal-based products but also happen to enjoy a zesty blood mary, this is a good reminder to always read the labels.
Thankfully, LAVA has created a premium bloody mary mix that's made with vegan Worcestershire sauce. It mixes well with tequila, too, as mentioned by one pleased customer on LAVA's website. Multiple reviewers on Amazon note that this particular mix is incredibly pulpy, which is due to the main ingredient — San Marzano tomatoes. Depending on your tastes, this may be a feature you enjoy or one that has you turning for a different mix.
Purchase LAVA's premium bloody army mix on Amazon for $17.99.
Best all-natural bloody mary mix
If you're following a low-carb, low-sugar, or low-sodium diet, but also want to enjoy a bloody mary with some flavor, Mrs. Mary's Morning Elixir is the wake-up call you've been waiting for. Crafted with all-natural ingredients and no animal products or common food allergens (like shellfish, wheat, soy, or gluten), MSG, or preservatives, Mrs. Mary's Morning Elixir may be just the thing. It also has a lighter pour that's also not too heavy on the spice. 
Amazon customers appreciate the mellow heat level, while another reviewer notes that it's not too thin and tastes great without alcohol. Other Amazon tasters find the "lighter pour" is a bit too watery, though you may be able to explain those issues via some mixology issues like too much ice or a mixer-to-alcohol ratio that's a bit off-balance.
Purchase a two-pack of Mrs. Mary's Morning Elixir at Amazon for $23.99.
Best bloody mary mix for barbecues
This award-winning company has created a bloody mary mix made with 25 all-natural ingredients that is also free from preservatives, gluten, MSG, shellfish, and high fructose corn syrup (via Spooky Craft Cocktails). With a slogan like "so good, it's scary," you know that you're in for a frightfully good flavor experience, especially when it comes to Spooky's Spicy Chipotle Bloody Mary Mix.
Spooky markets its spicy mix as not just for drinking, but for food as well, mentioning that the smokiness from the chipotle makes an epic marinade. A reviewer on Total Wine notes that it works great on duck and wild game meats. We imagine it would also taste delectable in drink form served alongside some tasty barbecue treats. 
What's more, this is a company that won't ghost you when it comes to customer service, as mentioned by a couple of enthusiastic Amazon reviews. Commenting critics have also left positive reviews on Spooky's Facebook page, which has garnered the company a 5.0 rating for its mixes.
Purchase Spooky's Spicy Chipotle Bloody Mary Mix on Amazon, starting at $24.99.
Best regional bloody mary mix
Turns out a bloody mary can vary quite dramatically from coast to coast (via VinePair). This Charlestonian bloody mary by Natural Blonde wins the award for most flavorful and unique regional bloody mary. What makes Natural Blonde unique is its use of golden tomatoes instead of more traditional red ones, leading to a strikingly different look in the glass. The mix also contains rather unique flavorants, like parsnips, mustard seeds, and honey. Natural Blonde is also preservative-free, gluten-free, and free from GMOs. Still not enough? It also was the 2021 Gold medal winner of the Drunken Tomato Award.
Good Spirits News reports that Natural Blonde is an explosion of layered flavors, all of which are balanced nicely with a little heat from the jalapeño. Customers love the bright taste and color, citing that nothing else comes close to this mix. The only downside is that it's only available through their website or at select stores in the southern United States. Illinois is also on the Natural Blonde radar, so hopefully it can move farther north and west soon.
Purchase Natural Blonde bloody mary mix at its website, starting at $14.
Best bloody mary mix for pickle people
Are you one of those individuals that always asks for extra pickles? Don't worry. McClure's sees you, and it has crafted a bloody mary mix that's practically designed for all of you pickle people. They know their pickles, because first and foremost, they're in the pickle market.
Eat, Drink, and Bloody Mary claims that McClure's Bloody Mary Mixer is a bit too thin and briny. But honestly, what do you expect from a Detroit-based pickle company that creates a blood mary mix? It's hardcore, just like the city. 
One Amazon taster clarifies that while it does taste briny, the vinegar-heavy flavor is incredibly complimentary to vodka. McClure's Bloody Mary Mixer also works well with beer (and maybe a side of chips and salsa). Other comments note that it goes great with tequila, too. This Influenster review mentions that the use of quality ingredients really takes McClure's Bloody Mary Mixer a step above the competition.
Purchase McClure's Bloody Mary Mixer on Amazon for $16.42.
Best overall bloody mary mix
Like a bolt of lightning, Zing Zang strikes out the competition. With an an average 4.8 stars on Amazon, this flavorful concoction uses all-natural ingredients and is made with seven veggie juices.
Amazon tasters state that Zing Zang has the perfect consistency and a well-balanced flavor — not too thin, not too thick, and with just the right level of heat. Some Amazon reviewers find Zing Zang lacking in flavor, and also thought it was much too salty. If you're looking for a low-sodium bloody mary mix, maybe take a rain check on Zing Zang. That said, others have mentioned that it makes a refreshing, nutrient-rich drink as-is. If you can manage the salt content of this bloody mary mix and perhaps don't mind a bit of mixing for a more complex experience, this may well be the mix for you.
Purchase Zing Zang Bloody Mary Mix on Amazon for $12.46.