Flash-Fried Snow Peas Recipe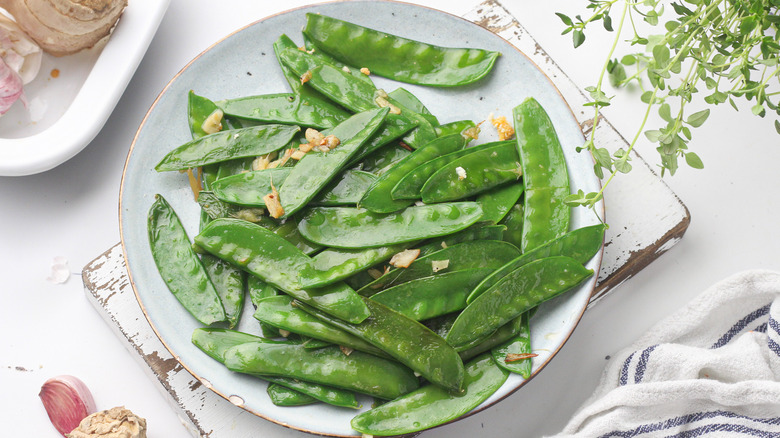 Susan Olayinka/Mashed
So you've got the rice cooked to perfection, the meat is minutes away from being ready, the table is set, and the kids are ravenous, but ... you forgot to make a veggie?! It happens to the best of us; we're all busy and spread pretty thin, right? And besides, there's no problem here, at least not if you've got some snow peas in the fridge and few basic pantry staples.
These flash-fried snow peas come to us care of recipe developer Susan Olayinka of The Flexible Fridge, and they're a perfect healthy side when you have all of 7 or 8 minutes to get your greens cooked and served. And it doesn't hurt that they're so tasty (and fun to eat — listen to that crunch!) that you'll find yourself preparing them even when you have all the time in the world to cook. (When that ever happens, however, we can't say!)
Gather your snow pea ingredients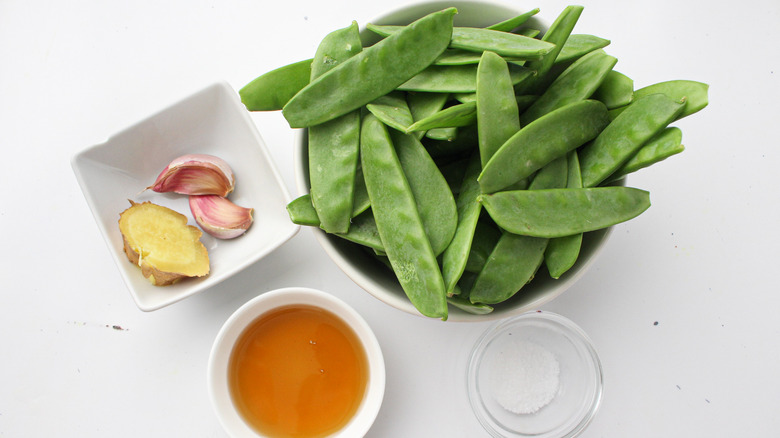 Susan Olayinka/Mashed
Because snow peas have such a lovely grassy flavor already, all you need to finish this recipe are some garlic and ginger, salt and pepper to taste, and some light sesame oil for the cooking. Olayinka says the sesame oil is the secret weapon here, explaining: "It's very fragrant and adds a great nutty flavor." Just make sure to use a light version; the darker, toasted variety is more suitable as a finishing touch to dishes.
Sauté the aromatics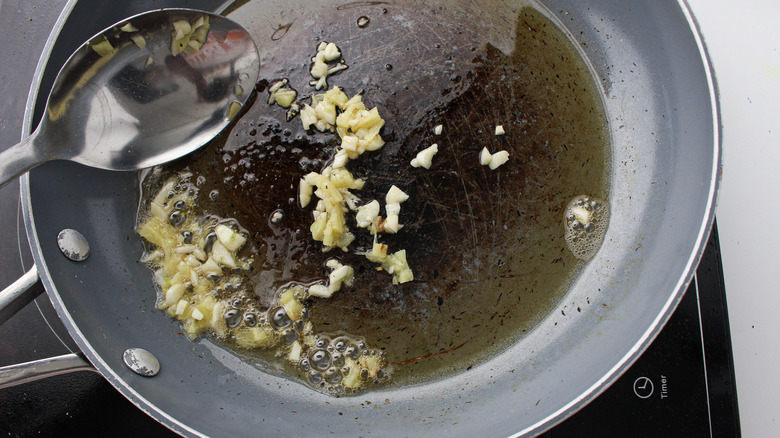 Susan Olayinka/Mashed
Begin the recipe by peeling and chopping the garlic cloves and the ginger. Next, drizzle the light sesame seed oil into a saucepan over medium heat. Once the oil has heated up, add the chopped aromatics and let them cook, stirring a few times so that they don't burn.
Add the snow peas, season to taste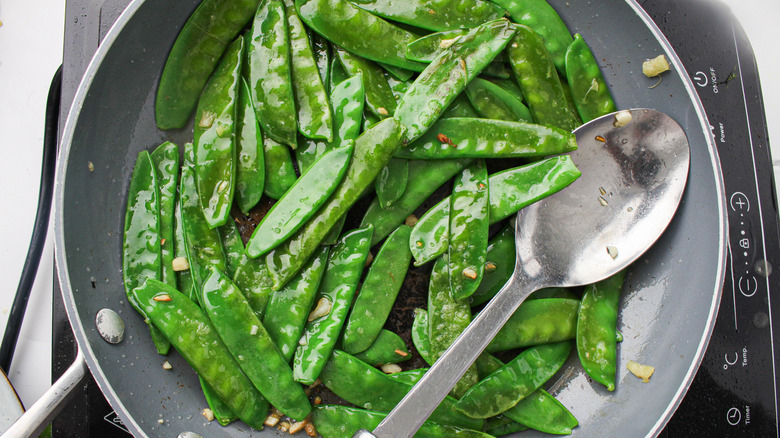 Susan Olayinka/Mashed
After a minute, the ginger and garlic will have softened and grown fragrant. Next, add the snow peas and spread them out in the pan. Cook the snow peas for 3 to 4 minutes, flipping and stirring them a few times, before adding salt and black pepper to taste.
And that's it! Time to serve your healthy, tasty side, rounding out a perfect meal. And all of 7 minutes spent, from prep to cook to serving. "Just be sure not to overcook them," says Olayinka, adding: "They will loose their crunchiness and be soggy!"
The health benefits of snow peas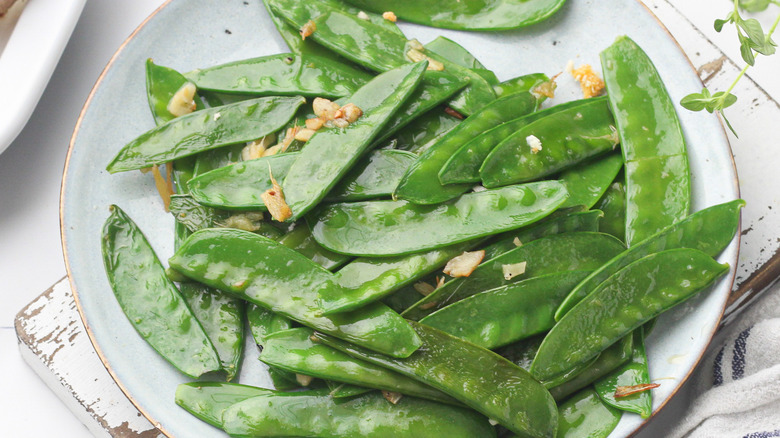 Susan Olayinka/Mashed
According to HealthLine, snow peas are one particularly healthy veggie. Technically a legume, they are packed with vitamin C, as well as a good source of vitamins A and K. They're also a very low-calorie, fibrous food. And snow peas may even help reduce blood pressure and improve cardiac health, so if you were looking for any reasons to eat them beyond their great taste and crunch, there are a few good ones for you!
Flash-Fried Snow Peas Recipe
What's better than a delicious side dish? How about one that's healthy and absurdly fast to make? Flash-frying snow peas ensures they stay fresh and crisp.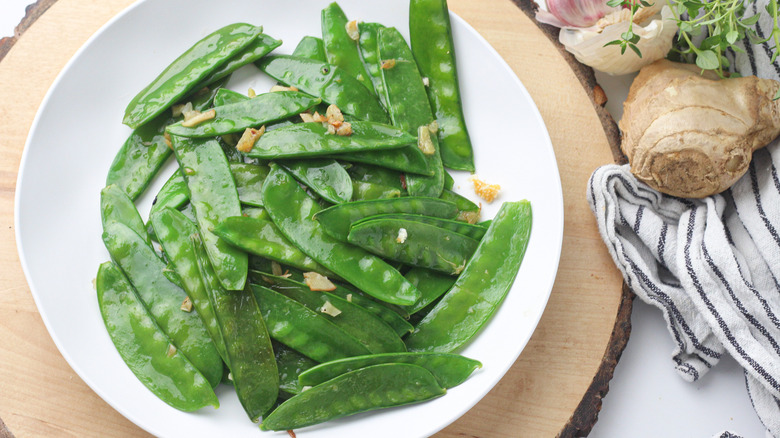 Ingredients
2 cloves garlic
1-inch knob fresh ginger
1 tablespoon light sesame seed oil
7 ounces snow peas
½ teaspoon salt
¼ teaspoon black pepper
Directions
Peel and chop the garlic cloves and ginger.
Drizzle the sesame seed oil into a sauté pan over medium heat.
Once the oil has warmed, add the chopped garlic and ginger. Stir constantly.
After a minute, add the snow peas. Cook them for 3 to 4 minutes, stirring occasionally, before adding salt and black pepper to taste.
Nutrition
| | |
| --- | --- |
| Calories per Serving | 76 |
| Total Fat | 4.9 g |
| Saturated Fat | 0.4 g |
| Trans Fat | 0.0 g |
| Cholesterol | 0.0 mg |
| | |
| --- | --- |
| Total Carbohydrates | 6.7 g |
| Dietary Fiber | 1.9 g |
| Total Sugars | 2.8 g |
| Sodium | 181.5 mg |
| Protein | 2.1 g |