Best Keto Meal Delivery Services Of 2022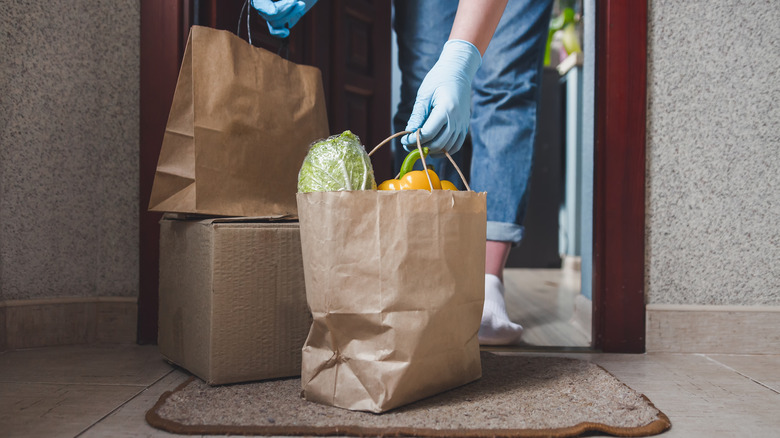 Shyntartanya/Shutterstock
Meal delivery services are one of the most convenient ways to grocery shop. Though most options are more expensive than going to the supermarket yourself, you will undoubtedly save time and energy by using one of these programs. These services are also advantageous because they easily provide you with meals to meet specific diets, like keto. Keto regimens can be tricky to follow if you don't have an intimate knowledge of the nutritional makeup of foods and don't want to spend the time learning. However, it's a very attractive diet because many people have had great results with weight loss and maintenance (via Healthline).
These elements make a meal delivery service that caters to the keto diet so helpful and valuable. These services employ professionals to ensure that your food is keeping you in ketosis, so you don't have to put in the effort. There are many options available, so we rounded up the best ones of the year to help you take the leap.
How We Chose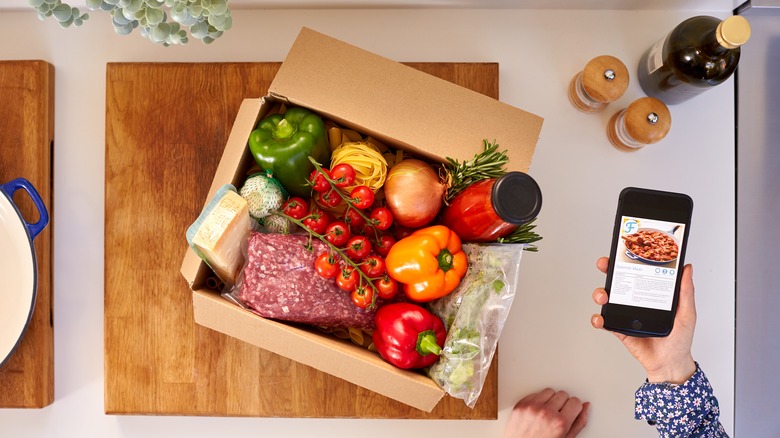 Monkey Business Images/Shutterstock
We vetted several different keto meal delivery service offerings, ensuring that each was specific to providing nutritious food for this diet. We also took into account the customizability of the meal plans, the quality of the food, and whether they were worth the price. Lots of services are wildly expensive and offer subpar food, but rest assured you will be satisfied with our selection.
We also looked at customer feedback and considered how long each company has been in business — a fair indication of whether it offers a good service. To make our final selections, we categorized the choices based on what each plan does best. While the services all have certain elements in common, each has something unique that makes it stand out. We highlighted these features to help you make the best choice for your own needs. These are the best keto meal delivery services of 2022:
Best Overall
Sunbasket is a meal delivery service that provides exceptional keto dishes. Although it might seem expensive at first, you get what you pay for. It's healthy and tasty, and you can easily customize your meals. Some of the dishes are made to cook yourself while others are microwavable — and all are tasty. 
It's clear that Sunbasket cares about constantly reinventing its menu wheel because it is always coming up with new and interesting flavors. The Spruce Eats notes that Sunbasket is one of the best meal plan services available and lauds it for its add-on options. Sunbasket has lots of great snacks too and myriad options to satisfy your sweet tooth such as nutritious cookies, cheesecake, and chocolate.
The selection also includes cheese, crackers, as well as some cured meats. Additionally, it offers plant-based meat alternatives, pasta sauce, and pasta, as well as a number of individual ingredients so you can put together your own meals. Sunbasket even has juice and granola bars for sale. This company has a fabulous line of customizable options and is straightforward to use, making it the best overall keto meal delivery service.
Get started with Sunbasket by ordering meals as low as $9.99 per serving. 
Best Affordable
Factor 75 is a fantastic option among the various keto meal delivery choices, with fresh (never frozen) dishes that fit your dietary needs. Although you can't customize the meals, you can select what you want so you're guaranteed to get something that suits your preferences.
Of course, there are plenty of keto meals, but vegan and paleo options are also available. The program allows you to choose how many meals you'd like per week, and the most popular frequency of eight meals per week comes out to $12.38 per serving. It's more expensive than buying groceries, but you won't have to spend time preparing food or cooking.
It's worth knowing that Factor 75 is not a good option for families because everything comes in single servings — which makes it great if you live alone or prefer to eat a different meal. Another neat feature is that every subscriber is offered a free consultation with a nutritionist. It's not a long appointment, but having access to a dietitian is very valuable if you are seeking a healthy lifestyle.
Real Simple reviewed Factor 75 and praised it for its flavor, especially since the meals are microwavable. If you're unsure about where to start with keto delivery and don't want to spend too much, Factor 75 is a solid choice.
Order from Factor 75 with plans starting at $11 per serving. 
Best Splurge
Every week, Trifecta Nutrition sends customers seven keto meals for $110.99. Although that is a splurge — it's more than what the average family in the United States spends on groceries, according to U.S. News – you absolutely get your money's worth for food you can heat up using your stovetop, air fryer, oven, or microwave.
The ingredients Trifecta uses are top-quality, and meals are cooked by professional chefs. There's free shipping, and you can store the items in the refrigerator for 10 days or keep them in the freezer for up to three months. You can skip weeks if you'd like, and you can have dishes sent in meal-prep style, according to the company's FAQs. Some of the featured meals include beanless chili con carne and grilled salmon with pesto. 
You'll love this service because using Trifecta is less time-consuming than buying groceries yourself. Many customers note that the program helped them lose and maintain their weight, and Healthline applauded it for its variety of meals and tasty food. Trifecta is perfect to try if you're comfortable with the cost.
Purchase Trifecta keto meals starting at $110.99 per week. 
Best Selection
Another great keto meal delivery service is Fresh N Lean, which gives you tons of variety in your selection. You can choose from a host of diets — including keto — and it's very easy to find foods that you'll actually want to eat. Options include a turkey bacon scrambler and roasted salmon with vegetables, and you can heat the meals up with any method you choose, making them extra appealing. 
Fresh N Lean lets you choose from either a weekly meal plan or à la carte, but the former doesn't give you quite as much freedom in selecting meals that fit your needs. The program still does its best to accommodate, but if you find the weekly assortment limited, don't forget that the à la carte menu allows you to choose exactly what you want.
Health reviewed this meal service and noted the quality of ingredients (all organic and non-GMO), as well as the free-range meats. You'll immediately love the fresh and tasty meals which make it easy to stick to a diet. Fresh N Lean offers free delivery and uses sustainable practices in its packaging and harvesting. 
Get Fresh N Lean keto meals for as little as $10.66 per meal. 
Best For Families
If you're looking for a keto meal delivery service that can feed your entire family, look no further than Green Chef. This service provides high-quality food that's organic and sustainably grown. Plus, it's focused on delivering everything in eco-friendly packaging, so you can feel good about what your kids are putting into their bodies. Under the larger HelloFresh label, Green Chef is also incredibly convenient and has an app that lets you place orders and track your deliveries, which is perfect if you're busy taking care of a family.
Green Chef is constantly coming up with new meals, so you'll never get bored with what you're eating. All the ingredients are ready to cook and come pre-portioned to eliminate food waste. Plus, you'll have access to meal options for different-sized families, which is hard to find among food meal services.
The Spruce Eats applauds Green Chef for its packaging and easy preparation but notes that it lacks customization. However, it tastes great and provides healthy foods that fit the keto lifestyle. You can even order groceries from the website, making it a full-service site that's perfect for families. "If you're going to use this kind of service, Green Chef is one of the best when it comes to flavor and quality," one reviewer wrote. 
Green Chef meals are available for as low as $12.99 per serving.
Best App
Freshly is an awesome keto meal service that delivers microwavable dishes, and it comes with an app that makes managing your subscription incredibly easy. On the app, you can swap out the meals you don't like or skip them altogether. You can choose plans from four to 12 meals with loads of options, like plant-based, dairy-free, and keto. Many of Freshly's meals are gluten-free too, which is another way this service stands out from competitors.
Freshly's meals are very hearty, like shepherd's pie and barbecue chicken, and the customers love it. The company also has staff available to chat with customers 24/7 to help navigate the site or answer specific questions about meals.
"They're easy to prepare; they have great flavor; and they have a pretty good variety of meals to choose from. I'm a happy customer and definitely recommend Freshly!" one customer shared about their experience. The app is a little bit easier to navigate than the website, but if you operate entirely on your mobile device, then Freshly is perfect for you.
Order Freshly meals for as little as $8.99 per meal. 
Best Low-Maintenance
MealPro is far different than the other keto meal delivery services on the market. While many companies are subscription-based and offer tons of variety, MealPro operates with a flat rate and sends you its own curated meal selection. You can order meals on a recurring basis, but you do not sign up for a subscription that takes into account your food preferences and buying history.
With MealPro you are given 10 set meals (two of each for a total of 20 meals) that have been chosen for you, all for a fixed price plus shipping. At first, this might not sound great, especially if you crave variety and only need a few meals a week. But, if you can eat the same meal a couple of times a week and appreciate a low-maintenance service that sends you food you only have to microwave, MealPro is the right choice.
Healthline praises the service for its healthy meals and customizability within its selection. You should also note that the meals change, so although you can't choose them yourself, you won't be receiving the same food each week. MealPro isn't for everyone, but for the right customer, it's hard to beat.
MealPro is available for $259.96 for 20 meals, plus shipping. 
Best Sourced Ingredients
For ultra-fresh meals, you can't go wrong with The Good Kitchen. The program's founder Amber Lewis wanted healthy foods herself and knew other people probably had similar goals. Now, her delivery meal plans are available nationwide. The Good Kitchen lets you choose a plan from six to 12 meals, as well as the frequency at which the meals are delivered.
You'll be able to select which microwavable meals you want and you can filter according to common dislikes, allergens, and dietary preferences. The Good Kitchen also offers rewards, so you can save money and earn free meals. You'll know exactly where your ingredients are sourced from, and in order to keep meals sustainable, the components (particularly produce) are chosen according to what's in season.
The Spruce Eats reviewed this service and noted that the vegetarian dishes don't have much protein and the food isn't always full of flavor. However, allergens are considered and the plan ensures you are eating responsibly. If well-sourced ingredients and sustainability are your main priorities when eating, then The Good Kitchen is the best service you'll find. Some of the meals include beef shepherd's pie and a tomato, asparagus, and spinach frittata with Yukon potato hash.
Get started with The Good Kitchen at $98.87 for six meals per week.  
Best Unique Meals
By now you're probably familiar with the way meal delivery services work: Choose a plan and receive meals. Sometimes you have to cook the meals yourself, sometimes you don't. So what stands out about Snap Kitchen? It has incredibly unique meals. You can also purchase meat and sides individually, and as a bonus, the company even has stores you can visit.
Many of the other keto meal services provide standard meals, and while there's certainly a place for that, Snap Kitchen offers dishes with creative ingredients, like buffalo and bison. Some of the stand-outs include lemon poppyseed pancakes with sausage and berry compote, peach barbecue brisket with loaded cauliflower, and an adobo chicken bowl with pickled red cabbage slaw. See what we mean about different? And these microwavable meals are constantly changing so you're always getting something new.
CNET notes that Snap Kitchen has small portions and doesn't deliver to every state. In any case, it's all keto and good for weight loss since you won't be able to overeat. To never tire of your food, sign up for Snap Kitchen.
Sign up for Snap Kitchen for as low as $11.34 per meal.
Best Customization
Territory prides itself on being a meal service for picky eaters, and thanks to its rotating menu, you'll be able to find something you like. This service is constantly creating new meals, so you'll never get sick of the options. As for prep, some meals can be eaten cold while others need to be heated in the microwave or oven. 
With Territory, you can personalize your plan to a certain degree and have food delivered once or twice a week, which is incredibly convenient. Unfortunately, it is not available everywhere, nor is it super cost-effective, but you receive nutritious food that you don't have to prepare yourself, so it has its perks.
As Self notes, Territory offers the most dietary choices among all keto meal delivery services, with 10 different options to check when filtering. And it doesn't differentiate between foods you are allergic to and foods you just don't like. It simply assures you that the ingredient won't be in your meal.
You can also be very specific with your macronutrients, which makes Territory a great option if you are dieting within certain parameters. It offers a lot of tofu options, as well, so it's wonderful for vegans and vegetarians. If customization is what you want, Territory is what you should get.
Get keto Territory meals starting at $13.95 per meal. 
Most Established
If you've only heard of one meal delivery service, it's quite possibly Home Chef. This company has been in business since 2013 and is still delivering quality meals to tons of people around the country.
While some services began by only serving keto meals, Home Chef did not. It started by simply sending ingredients to customers to prepare meals themselves. Eventually, it added a keto option and expanded to cater to more particular diets. Although Home Chef doesn't specify that it offers keto food, it has "Carb Conscious" foods, and you can find ones that are keto-friendly.
Home Chef is affordable, especially compared to other services,  and it has an app for convenient shopping. You're also able to customize it a little bit, such as making your meals more keto-friendly by increasing the amount of protein. You can purchase meals that you cook yourself, or you can pick simple microwavable options. 
Since Home Chef has been in business for nearly ten years, it has grown exponentially. Meals are even available in Kroger stores, so you're able to try them before subscribing. CNET remarks that some of the dishes aren't so creative, but for a company that's been around as long as Home Chef, some flops are to be expected. Still, this service has a large customer base, which is always a good sign.
Get Home Chef meals starting as low as $6.99. 
Best For Bulk Buying
Though it's nice to have fresh meals sent to your doorstep every week, it's also necessary to have extra food on hand, which is why 518 Kitchen is such a great keto meal delivery service. You'll find it convenient if you like to cook some of your meals yourself, but also want ready-made dishes on hand for when you're traveling, short on time, or just don't feel like cooking.
518 Kitchen only offers keto, keto-friendly, and low-carb meals, and macronutrients are listed for each item. Additionally, there are vegetarian, dairy-free, nut-free, and pork-free options, so a range of diets are accommodated. Customers have the option of buying by the week or purchasing meals in bulk. 
Meals stay frozen until you're ready to eat them — all you have to do is pop them in the microwave. "Hard to believe it was a frozen food," one user said of the products. If you want to buy keto food in bulk to stock your freezer, 518 Kitchen is your solution.
Subscribe to weekly food bundles from 518 Kitchen starting at $175 for 14 meals plus a few baked treats or side dishes.