Why Jack In The Box's Grilled Chicken Sandwich Disappointed A Reviewer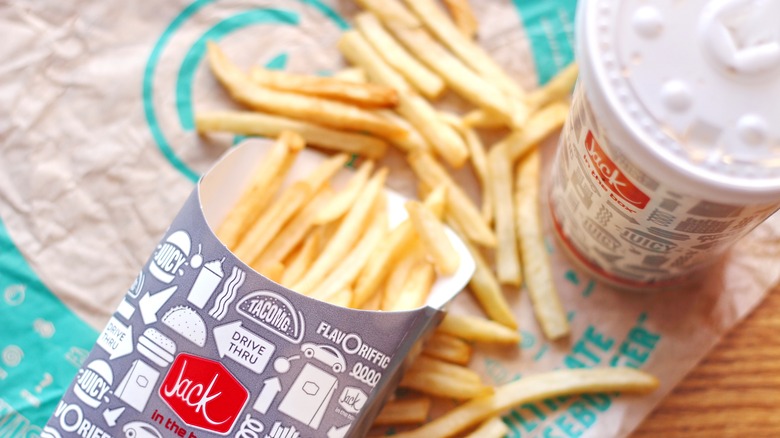 Birch Photographer/Shutterstock
It's been nearly three years since Popeyes debuted its infamous chicken sandwich on August 12, 2019 — a date that, as we now know, became the catalyst for the fast-food chicken sandwich war that is still raging on to this day. We've seen just about every major fast-food eatery launch a chicken sandwich of its own in the time since that fateful August day, all with the hopes of dethroning the version deemed the best in the biz. But while most chains are vying to win over the poultry lovers of the nation with a fried version of the succulent sammie, one fast-food restaurant boldly went where nearly no other has gone in the last three years and released an unbreaded take on the industry's trendiest food. Per Chew Boom, California-based Jack In The Box introduced a new grilled chicken sandwich at participating locations earlier this summer on June 4, which Business Wire reports recently became available at restaurants nationwide on June 30.
A replacement for the eatery's discontinued Sourdough Grilled Chicken Club, the Grilled Chicken Sandwich consists of a "grilled 100% all-white-meat chicken fillet, lettuce, tomatoes, and Good Good Sauce all on top of Jack's sourdough bun." It is described as being both "juicier" and "tastier" than its predecessor — though, for at least one YouTube food reviewer, JitB's newest menu item didn't quite live up to the hype.
Size matters to this reviewer
In a time where crispy chicken sandwiches are ruling the fast food world, Jack In The Box did the unthinkable this summer and launched a new grilled chicken sammie, per Chew Boom. Available now at locations nationwide, the chain's new-and-improved Grilled Chicken Sandwich was poised to be "juicier, tastier and better than ever." However, when YouTuber Peep This Out put those words to the test, he found JitB's newest entree didn't exactly come as advertised.
"It's not really juicy, it's not really tastier, it's just okay, but it's very, very tiny," the YouTuber said in their review, noting that the sandwich was hardly worth its $7.00 price tag. "At least look a little bit like the picture you're advertising outside of the restaurant ... Like I said, I'm really disappointed by the size of this and I keep coming back to it because it is a major thing that's really sticking out outside of the flavor," they added.
The YouTuber was hardly alone with his opinion, either, as The Impulsive Buy also found Jack In The Box's new Grilled Chicken Sandwich to be a bit of a flop. "I can't say I've ever had a GREAT fast food grilled chicken sandwich, and that's still the case," the outlet wrote, ultimately awarding it the dismal score of six out of 10, which was only half a point higher than Peep This Out's rating of 5.5/10.