Pasta Roni's New Product Is A Huge Departure For The Brand
From popping a couple of Eggo Waffles in the toaster before heading out for work to heating a pre-packaged dinner over the stovetop at the end of the day, Americans' houses are typically stocked with convenience foods designed to make meal time easy. While a lot of the U.S's love affair with ready-to-make meals can be attributed to not having enough time to prepare homemade food, there are other factors' that fuel people's choice to stock up on these types of foods.
During the shelter-in-place orders implemented due to the COVID-19 pandemic in 2020, packaged food sales increased by a significant margin. According to a Business Wire press release from ResearchandMarkets.com, the rise in pre-packaged food sales during the pandemic had a lot to do with their impressive shelf lives. And to top it all off, pre-made foods are generally affordable and easy to make no matter your cooking level. Even if preparing food on the stove is too intimidating, brands like Kraft offer microwavable options. And now Pasta Roni, a well-known boxed pasta brand, is adding a new convenience product to its ranks.
Pasta-Roni Heat & Eat will make for a fast microwavable pasta dinner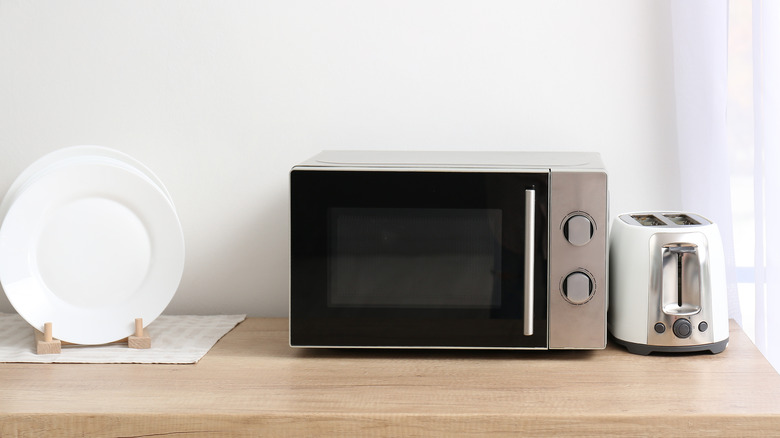 Pixel-Shot/Shutterstock
PepsiCo, which owns Pasta Roni and its partner-in-crime Rice-A-Roni, revealed in a July 5 press release that fans of these brands have a new offering to choose from: Pasta Roni Heat & Eat. This is not Pasta Roni's first foray into microwavable products; it also sells single-serving microwavable pasta cups in two different flavors, Butter and Garlic and Parmesan and Romano. Pasta Roni Heat & Eat, however, will be sold in microwavable packages rather than cups.
Per the press release, Pasta Roni Heat & Eat will arrive in grocery stores sometime this July in the flavors Penne Alfredo and Rotini Marinara, and each option will be able to be prepared "in 60 seconds."
While this particular microwavable product is new to Pasta Roni, a Heat & Eat version of Rice-A-Roni in the flavors Herb & Butter, Garlic & Olive Oil, and Spicy Spanish became available to consumers in August of last year, according to another press release. With a 90 second prep time, it takes slightly longer to microwave than this new Pasta Roni product reportedly will.