The Sitcom Episode Named After Rachael Ray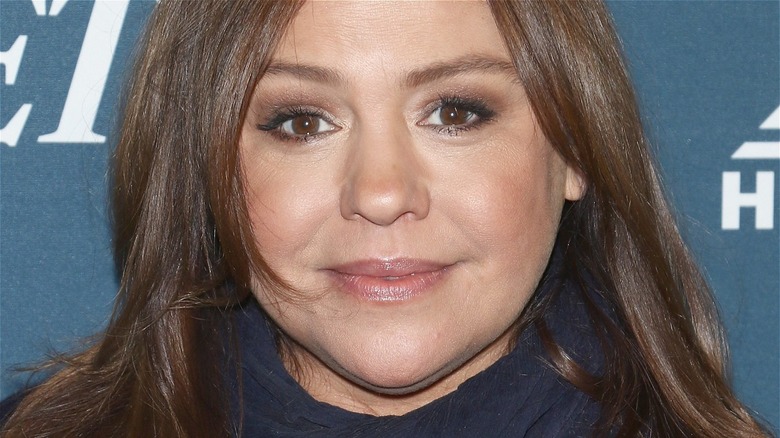 Jim Spellman/Getty
Rachael Ray has been a household name for more than a decade. After hosting a number of Food Network shows and other television programs, including the Emmy-award winning "Rachael Ray" show, she's become one of the most iconic celebrity chefs around. Her fame and cooking demonstrations have aided in the success of her best-selling cookbooks as well as her lines of cookware and pet food products.
What's not as widely known about Ray, though, is that she's also done some acting. While she hasn't delivered any Oscar-worthy performances yet, she's acted on a few popular sitcoms and has even done some voice work.
Ray's first acting opportunity came in 2016, when she guest starred on an episode of "Young & Hungry." The sitcom centers on a wealthy tech millionaire, Josh, who hires a spirited food blogger, Gabi, to be his personal chef. It was the first time Ray had an actual script in her life, as she explained to Kym Whitley, one of the show's stars, per E! News. The name of the episode? "Young & Rachael Ray."
Rachael Ray guest-starred on the cooking-centric show
The episode aired on March 9, 2016, on Freeform and features Rachael Ray portraying herself on her own show, on her own set. Sofia (Aimee Carrero) and Gabi (Emily Osment) appear as Ray's guests to promote their new food truck. The scene is set up just as a real episode of Ray's show would be; Ray introduces the guests to the audience and starts asking questions. Nothing new for her there, but as the scene progresses, things get a little more ... interesting.
During the conversation about the food truck, Ray inconsiderately reveals to Gabi that Josh, the ex-boyfriend who dumped her, suddenly got married the night before. The news leaves Gabi shocked and confused, so Ray cues a commercial break. Still in shock, Gabi takes her anger out on some walnuts that were intended for a cooking demonstration. She aggressively smashes them with a hammer, sending pieces flying through the air. Ray shriek and takes cover under the table. She later tries to comfort Gabi and cues one final commercial break, ending the scene.
So, how did Ray perform in the episode? She completed the entire scene in just one take, according to Rachael Ray in Season. The episode received generally positive reviews, with an IMDb rating of 8 out of 10. Fans can watch the full episode on Netflix, where all five seasons are now streaming.