The Taco Topping That Has Costco Shoppers Raving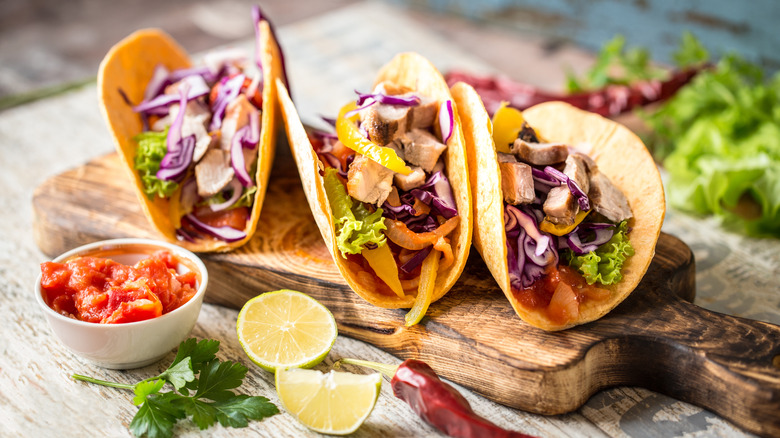 Natalya Maiorova/Shutterstock
The process of pickling vegetables has been around for thousands of years. In fact, pickling is one of the oldest food preservation methods known to man, according to History. Experts believe the first pickled food was invented all the way back in ancient Mesopotamia in 2400 B.C., when Mesopotamians preserved vegetables in salty brine.
Evidence has been discovered in the Tigris Valley showing that ancient Mesopotamians likely developed the world's very first pickles by curing cucumbers that were native to India in the brine, per Almanac. This practice of preserving veggies spread across the world, from the Middle East to Europe and North America, and it remains one of the most common ways to store, transport, and enjoy many different kinds of foods. And while pickles might be the most popular cured food in America today, just about any vegetable can be preserved in brine.
Throughout history, people have enjoyed everything from cauliflower and carrots to cabbage and plums and just about everything in-between as a pickled variety. And recently, Costco shoppers were excited to see a new pickled vegetable hit the market. The wholesale store has just started selling Marco Polo's sweet pickled red onions with jalapenos, and many shoppers can't seem to get enough of this sweet, sour, and spicy condiment.
Costco fans posted positive reviews of the spicy pickled condiment on social media
This pickled snack combines the sweetness of red onion with the vinegar bite of pickle brine and adds a kick of spice with jalapenos, making it a popular topping for tacos. But while this flavorful condiment complements just about any type of taco, from veggie to al pastor, it is certainly not limited to a single dish. Instagram user costco_doesitagain posted a photo of the new product online, which garnered over 11,000 likes and quite a few comments expressing excitement over the topping.
Many people couldn't wait to add it to their next Taco Tuesday night. "Omg. I bought these earlier today! Can't wait to try on our tacos," one excited follower replied. "This sounds so yummy," wrote another fan, while excited shopper @nikitafay called the item a "must find."
Other followers shared their favorite ways to enjoy the spicy, pickled condiment, adding it to everything from tacos to toast. "Drain some of the juice and add some shredded cabbage and eat it on top of pupusas!" recommended @lisarmztx, while another user suggested using it as an avocado toast topper. But no matter how they enjoy this sweet and spicy jar of pickled red onions with jalapenos, it certainly seems that Costco fans can't get enough of this uniquely satisfying treat.